Fans can't wait to read Kimetsu no Yaiba 204 spoilers and Demon Slayer Chapter 204 raw scans and the official release date.
Today we will be sharing all the details regarding the upcoming chapter here with you. If you are someone who dislikes reading spoilers before the official chapter release, please click off this article and wait for the official release.
Demon Slayer/ Kimetsu no Yaiba has finally reached its end phase and the next chapter will be its climax. The famous manga is ending soon and fans are not very happy with it.
Tanjiro is back as a human and the manga will be ending soon, what are your thoughts on it? Do you want it to continue?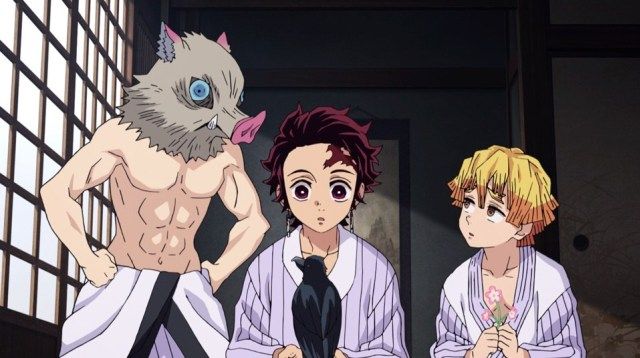 Today, we will be discussing the upcoming Kimetsu no yaiba Manga Chapter 204 spoilers and raw scans as they are going to be released soon and we can't wait to read it online.
Kimetsu no Yaiba Season 2 anime will be releasing soon as well, many famous titles have been delayed because of COVID-19 and you can check my best 2020 anime list if you are looking for ways to pass your time.
You can also check our list of sites to watch anime free online if you are looking for sites to stream anime.
So, returning back to the topic of Kimetsu no yaiba Manga spoilers and raw scans, we have shared all the information below for you to check, but let's do a recap of the last chapter first.
Make sure to check our articles on Black Clover 249 and One Piece 979 while you wait for the KNY 204 spoilers to be released online.
Check here:- Kimetsu no Yaiba Manga 204 Spoilers Released
Demon Slayer Manga Chapter 203 Recap & Summary
The Demon Slayer 203 starts with Tanjiro fighting against Muzan in his subconscious mind. The cure has already been injected and it should start working soon, but for that to happen Tanjiro must fight Muzan's will.
The last chapter was all about Tanjiro fighting Muzan's will and Muzan trying to corrupt Tanjiro's mind and forcing him to stay back using mind games.
Tanjiro wants to become a human and return to his home with Nezuko, but Muzan asks him that everyone is dead so there is no one to return to.
Muzan tries to trick Tanjiro by telling him that Nezuko is dead and Tanjiro is the one who killed her.
Tanjiro sees through all of Muzan's lies and keeps resisting. Muzan tries to lure Tanjiro into staying as a demon with offer of immortality but Tanjiro is not interested.
Muzan tries his best to keep Tanjiro back, but fails repeatedly. The last chapter was titled "Voice of encourgagement" and as the name suggests, Tanjiro is repeatedly hearing his friends voices.
It's Muzan vs Tanjiro's friends and at last it's Tanjiro and his friends that win in the end and Tanjiro wakes up among his friends.
Tanjiro is human again and so is Nezuko and everyone is happy to see him back as a human.
Everyone is crying with happiness, Inosuke and Zenitsu are overjoyed and finally, the chapter ended and now fans can't wait to read the upcoming Demon Slayer Chapter 204 spoilers and raw scans.
Kimetsu no Yaiba 204 Spoilers
To all those who came here with the expectations of reading the spoilers, we make sure you understand that spoilers will be released on 6th May 2020.
Today we will be sharing Demon Slayer 204 predictions with you to pass your time.
Shonen Jump announced that the next chapter will be the climax, what does that mean? Will Kimetsu no Yaiba end soon? What happens next?
We expect that Chapter 204 to be the last chapter of the Demon Slayer/ Kimetsu no Yaiba manga and we have no idea on if there will be a sequel to it.
Tanjiro will return back to his home village with Nezuko and the remaining demon slayers will work to build the organization back up and choose new Hashiras maybe.
Inosuke and Zenitsu will be the new Hashiras maybe, Tanjiro will return to hunt humans once again. It's not the end, somehow I feel that new demons will be introduced and a new sequel will be released soon.
As we wrote earlier, the Kimetsu no Yaiba Manga Chapter 204 spoilers will be released in the 2nd week of May and we will be sharing them here as soon as they get released.
Will there be a Sequel to the manga?
There are chances that Kimetsu no Yaiba might not end when though we have got sequel warning from the creator and Shonen Jump.

We have shared with Gotouge's comment from Shonen Jump issue 21 and 22, there are talks of an imposter.
Who is the imposter? Is someone in the demon slayers an imposter? Will this be the plot for a sequel to or this series to continue without any hiatus.
Demon Slayer Chapter 204 Raw Scans
As we all know, manga is prepared and drawn in Japanese, which is then translated to English and other languages. A group of scanlation teams work day and night to translate the raw scans as they get released.
Since mangastream stopped doing KNY scanlations, many new teams have popped up but the translations are still not 100% perfect.
The raw scans for the Demon Slayer manga chapter 204 will be leaked by 4th May and we will be sharing all the links as they get released, make sure to check the subreddit regularly for all the latest updates.
Ongoing Hate on the Manga Author
Since we all know that the upcoming Kimetsu no Yaiba 204 is going to be the last chapter of the series, the author of the manga have started receiving death threats from people over the Internet.
Koyoharu Gotouge have been getting hate messages and death threats on his social media handles for over a week now, and for what? Just because a manga is ending?
This should not happen to one of our beloved mangaka's and we need to support her in the time of need. She has given a masterpiece in form of Demon Slayer manga and anime and we can't thank her enough for that.
When will Kimetsu no Yaiba movie: Infinity Train get released?
KNY infinity train movie is set to release on 16th October 2020, but the dates can be delayed because of the ongoing COVID situation and we will be sharing all the Demon Slayer updates with you as soon as they get released.
One Punch Man Season 3 and Jujutsu Kaisen anime has been delayed as well, so let's wait for the new release dates to be released.
What is the official Kimetsu no Yaiba 204 release date?
KNY Chapter 204 will be officially released on 10th May 2020 for everyone to read.
Will the manga end after Demon Slayer Chapter 204?
Yes, there are high chances that the manga will end after Chapter 204.
Where can we read the upcoming Kimetsu no Yaiba Manga Chapter 204?
You can read it on Viz website or Viz mobile app when it gets officially released.
Let us know what you think about the upcoming chapter in the comments below and keep visiting us for more anime and manga news.
More news has been published about the manga and it seems like it will be finally ending after Kimetsu no Yaiba 205.