And the climax is here! Vinland Saga Chapter 175 will finally be the long-awaited departure. Rejoice fans, we are going to Vinland. Thorfinn's dream has come true. We set sail next month!
Vinland Saga is Makoto Yukimura's masterpiece. This historical seinen manga is currently serialized by Kodansha. It releases in the monthly magazine, Afternoon, which is for young adult men. As of now, Vinland Saga has 23 volumes.
This chapter was very convenient for Thorfinn. He finally caught a break. Time after time, his Vinland journey is being put in jeopardy. But Sigurd's timely arrival saved him from a very sticky situation.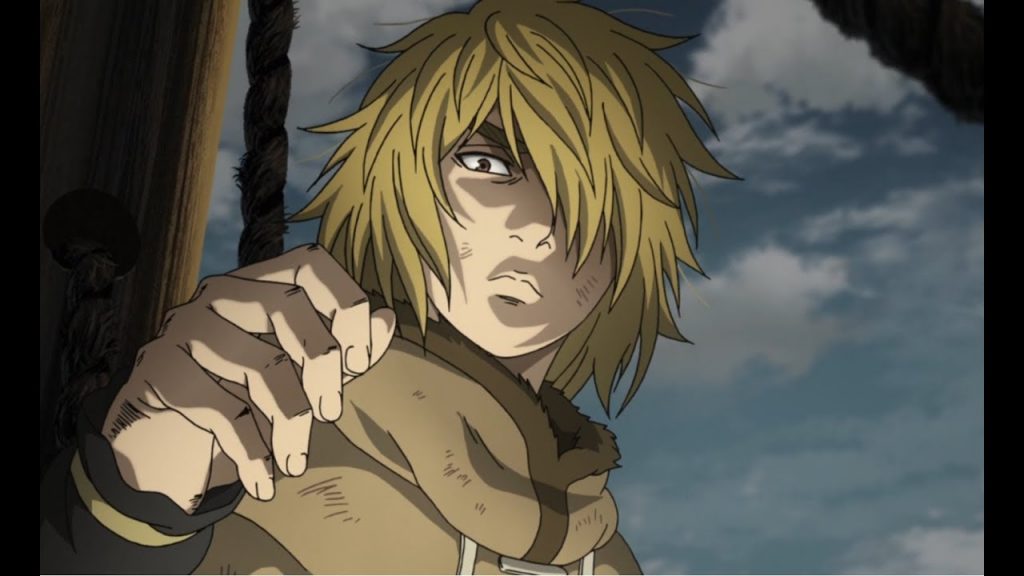 While the bystanders might think that Thorfinn lost, in reality, he is the winner of the negotiation because he has all he wanted.
Halfdan is in pure bliss right now. His farm's future is secured. His beloved son is back and he looks more responsible than ever. He has a grandson, who is the heir to his property.
A safe fortune, a safe family and an interesting investment – what else can a man want from life? Vinland Saga Chapter 175 will probably show his happiness.
One Piece 986 and Black Clover 259 are going to be releasing soon so make sure to check them out.
Vinland Saga 174 Recap:
Sailing to the West Part 8
Halfdan, having lost his son, offers to adopt Thorfinn, a boy who lost his father. Thorfinn will inherit Halfdan's property and use it as he pleases. However, he would have to stay at the island for that. This irks Thorfinn. Inheriting means forgoing the opportunity to go to Vinland himself.
So Thorfinn must refuse. He will definitely travel to Vinland. But he can't do it in public, as Halfdan will lose face. He realizes how Halfdan has trapped him, the master negotiator he his. Thorfinn can't accept because he wants to sail; but he can not refuse either, because doing so would insult Halfdan.
Thorfinn decides to mull it over and find another solution to refusing Halfdan. Right then, a ship approaches. After two years, Sigurd has return with his wife and a child. Everyone is overjoyed to see them. Halfdan meets his grandson Njall.
Njall utters some noises and Halfdan immediately takes a liking to his infant grandson. He believes that his grandson talked. He believes that an eight month child talking means he is a genius. He declared that all his property will be inherited by this kid. As for Thorfinn, Halfdan retracts his offer.
Sigurd greets Thorfinn and wishes him luck about his Vinland expedition. Thorfinn is glad that everything is going well. But he has one remaining problem – Eyvar. He is the one guy who Thorfinn could not convince. And he is still worried about Eyvar's words. Nevertheless, he will go to Vinland. Its his own will and he will follow it.
Vinland Saga Chapter 175 Release Date:
Vinland Saga Chapter 175 will be released in the second last week of August. We know Afternoon is released monthly and so, Vinland too. The exact date isn't known but we will have a better estimation when August arrives.
Some fans wish that the chapters will be longer. Even though it is monthly, Vinland only releases 19-24 pages per chapter. This length is suitable for weekly series, not the monthly ones.
Vinland Saga 175 Spoilers:
We are trying our best to get Vinland Saga Manga 175 raw scans to you. They are the best sources of spoilers. Unfortunately, none of it is available so soon. You will have to wait until mid-August to find these spoilers. So please be patient and keep an eye on our site.
Discussion and Predictions:
Vinland Saga Chapter 175 will show us the final state of Halfdan before we launch into the new arc. The old man has found peace in his life and will probably soften down. We will probably see Sigurd learn from his father and this time, he won't be a mindless brute like earlier.
Vinland Saga 175 will probably give some time to Eyvar. He truly rattled Thorfinn. He will probably act as the last hurdle. We believe he will accompany Thorfinn on this trip. His role will be like Hild. Hild makes sure that Thorfinn doesn't kill. Eyvar will see whether Thorfinn's words and ideals about peace come true.
Eyvar's two friends might join the expedition too. They are probably wishing for leadership. As shown earlier, they are convinced that Thorfinn will fail and they will take over. And this is why we believe some weapons will be smuggled to Vinland.
We aren't sure about this but Chapter 175 might show some malicious people will weapons aboard the ship. Thorfinn will have to deal with them when they reach Vinland. Our hero has so many challenges ahead of him.
Vinland Saga Manga 175 will also show Thorfinn and Gudrid bidding farewell to Ylva and Helga. It will probably be a tearful goodbye. Thorfinn spent years apart from his family and they have no idea if he will return from Vinland or not.