Igris got schooled by Hunter Cha and now it's Beru for the fight. Fans can't wait for the Solo Leveling Chapter 114 to get released and know-how Cha Hae-in fares against the previous ant king.
The upcoming chapter will be the fourth chapter of Solo Leveling Season 2 and fan's are very hyped to be getting regular chapters once again.
First, it was believed that the chapters will be released every Saturday, but to our surprise chapter 113 got released last Wednesday and that became the new regular schedule for the Solo leveling manga.
Now every Wednesday we will get a new chapter of Solo Leveling and since the Wednesday is coming near, we thought it would be great to talk about the upcoming Chapter 114 spoilers and when its raw scans will be released.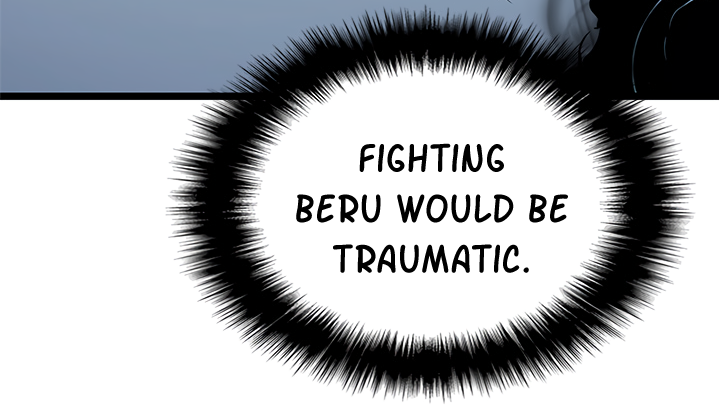 It didn't come as a surprise that Hunter Cha Hae-In wanted to join Jin woo's guild but Jin woo putting a term so that she can join the guild definitely came as a surprise to everyone.
Jin Woo proposed that she must win against one of his shadows if she wants to join the guild and Hunter Cha agreed. When Hunter Cha asked which shadow she will be facing, Jin woo said "the strongest".
But the last chapter showed us something different, instead of calling Beru, Jin woo called Igris to fight hunter Cha who she destroyed in seconds.
Jin woo knew about the trauma and defeat she had to go through because of Beru and that is why he didn't summon him to fight her.
But Hunter Cha is confident and ready to face Beru and thus Jin woo summons its strongest shadow Beru.
The match is taking place in the association gymnasium for no one to witness and we can't wait to see what Hunter Cha does against Beru.
Beru defeated Hunter Cha in one hit when they first met, so the chances of her besting Beru is very slim but still, if she has personally requested Jin woo to summon Beru then she surely has something in mind.
How will the match go? Will Hunter Cha once again face a cruel defeat or will Jin woo stop Beru before that happens? Or has Hunter Cha gotten stronger and can defeat Beru now?
Too many questions are popping in everyone's minds and only the upcoming Solo Leveling 114 chapter can answer all those questions for us.
In this post today, we will be sharing when the spoilers and raw scans will be released and what is the official release date for Chapter 114 online.
So keep reading and don't forget to check our article on One Piece manga 988 while you wait for Chapter 114 to get released.
Solo Leveling Chapter 114 Spoilers & Discussion
Cha vs Beru is going to be huge because they have fought before and we all know that Hunter Cha stands no chance against Beru.
Before we start talking about the actual spoilers, this is a spoiler alert for everyone who doesn't want to read the spoilers. So please click away.
Also, we will be sharing the Solo Leveling 114 spoilers in brief so that you get to enjoy the official chapter when it releases.
So here's the spoiler.
Jin Woo summons Beru and orders to fight seriously against Cha but not to kill her in the process. So the fight starts and as we expected, Beru is too much even for Cha Hae-In.
Beru starts playing with hunter Cha and she takes it up a notch and start giving her all. It gets so serious that Beru starts feeling threat for Jin woo and rushes towards Cha Hae-In with the intention to kill her and Jin woo intervenes to stop him.
Thus the fight stops and this might be a downer for everyone but Cha doesn't get accepted as a guild member.
Now let's continue with the discussion.
As we all know, something mysterious is behind all the powers and the way Jin woo is now. He knows that he is peculiar and the world is not an easy place.
This is why he wishes to test hunter Cha's strength so that he knows she can take care for herself.
Since she lost against Beru, it's better if she is not with Jin Woo because Jin woo knows even harder battles are coming his way with all the monarch's moving.
A lot is going to be unveiled in the upcoming Solo Leveling chapter 114 spoilers and we ask you to support the official creators by reading the official release as well.
Solo Leveling 114 Release Date
As we mentioned, Wednesday is now the official release date for all the upcoming Season 2 chapters.
Solo Leveling Chapter 114 will be officially released this Wednesday on 12th August. Raw scans are believed to be released a day before the official chapter release, and we will share them here once they are out.
For now, let's wait for the official release and keep visiting Strawhatmanga for all the latest manhwa news around the world and the Solo Leveling anime will be releasing soon as well.