With the upcoming break, Vinland Saga Chapter 176 is up for wild anticipation from the fans. With the ongoing ending rumors, fans simply want to see more of Thorfinn.
In the latest chapter, Yukimura made a mistake as pointed out here :
 The mangaka was humble enough to immediately admit to it :
The bathing pose of Thorfinn is very similar to Eren's fight monologue pose. Yukimura said that it is a complete coincidence.
Vinland Saga 176 will launch us into the new phase in the manga's final arc. All that awaits is unknown and unexpected – which is why Thorfinn looks more serious than ever. The long journey of our hero has finally taken its true path, the path to peace.
Vinland Saga Season 2 is also supposed to release soon, the release dates for Darwin's Game Season 2 and Plunderer season 2 are going to be out soon so maybe Vinland S2 will be out in 2021 as well.
Vinland Saga 175 Recap:
Sailing to the West Part 9
Iceland endured a long Winter and then was relieved by the Spring. Spring means it's time for Thorfinn to head out. The ice that closed the Western route is now melted. Thorfinn bathes in front of his home. He has a stern look on his face – the look of a determined man, who has been hardened by fate.
Later, the travelers are busy loading their ships. Einar is amongst them, helping them with their tasks. As he places down a big box, he clarifies that it has the 'Goddess' inside and so, everyone must be wary of handling it. She is the Guardian of them all.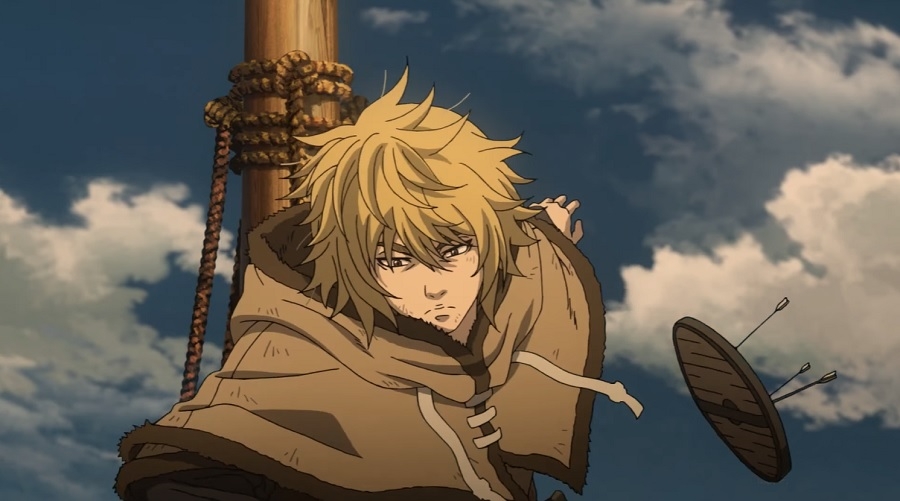 Meanwhile, Ylva gives a new dress to Cordelia. It is a woman's robe and the girl is overjoyed. Cordelia is moved to tears by their kindness. Nearby, Eyvar's group arrives. They're impressed to see the 5 ships. Gudrid welcomes them and directs them to the second ship. Gudrid inquires if Eyvar still has his sword to which the man denies. He lifts his robe showing he has no weapons.
Gudrid moves on. This baffles the group – they're surprised that there isn't a strict checking for weapons. Eyvar is still unconvinced about Thorfinn's ideals. He takes it as over-friendliness and is annoyed. Turns out, they have brought weapons with them and will take them along despite the taboo.
At the dock, a happy and cheerful Thorfinn makes the final confirmations. We see that Hild is onboard the first ship. Gudrid is surprised that Thorfinn does not have a moving speech prepared and is willing to leave casually. But Thorfinn plans to travel frequently between Greenland, Iceland and Vinland so he doesn't want long farewells.
Thorfinn hosts his son up on his shoulders. Karli gives out the order – DEPART! The ships sail out – Thorfinn stands at the front of ship one. He is serious – his eyes show his readiness for the unexpected.
Vinland Saga 176 Spoilers:
Vinland Saga 176 will be available in October. Plus, you will be able to access the volume scans! Be patient and watch our website – we will keep you posted about the spoilers. Visit 'r/VinlandSaga' for content like theories, artwork, easter eggs, etc about the manga.
What dangers await Thorfinn are truly unknown to us. The common ones should be the danger of sea and the danger of pirates. The former can separate the 5 ships and cause disarray. The latter will be impossible to handle peacefully. Vinland Saga 176 will bring us perils.
Nevertheless, Thorfinn's experience is immense and we already know that Leif Erikson has travelled to the destination safely. So even if it is tough, Thorfinn will reach Vinland. Any problems he faces, he will take them on and overcome.
There is one major issue though and that is Eyvar's group. They have smuggled in weapons. They want to overthrow Thorfinn as well. Now the latter is a fool's errand since Thorfinn is far out of their league. But the former can be a huge problem. Vinland Saga 176 won't have these problems – it won't be until we reach Vinland that we will see how this affects the story.
The cycle of hatred and violence that Thorfinn wants to break – as soon as weapons get involved, the cycle starts. How will Thorfinn handle the situation when he discovers the hidden weapons? He has to prove to Eyvar that his ways are right. Can he establish a trade relation soon enough? We will find out as we progress in this arc.
Vinland Saga Chapter 176 Release Date:
The Raw Scans of Vinland Saga 176 will be available in the second half of October, possibly the 4th week. It is after all a monthly manga, published in Kodansha's Afternoon magazine.
Project Vinland is in charge of scanlations and they will deliver Vinland Saga 176 within 1 day of its release. Right now the exact date is unknown.
Vinland Saga Volume 24 will be up for sale on October 23, 2020. It will be the Japanese volume. The English Volumes are released 2 at a time. Volume 23 and 24 will either be released in the final 2 months of 2020 or the first quarter of 2021.
You should also check our list of best 2020 anime and if you are looking for anime streaming sites, then you should check our list of sites to watch anime online as well.