The all out war has started, Qin is going to be fighting Zhao as well as Chu armies at the same time in the upcoming Kingdom 651.
Today in this article we will be discussing the Kingdom Chapter 651 spoilers and the expected release date of the raw scans.
Kingdom manga has been giving us one good chapter after another and once again Chapter 650 was an awesome one.
Even with all the things going on in Zhao, their King's death, Riboku fleeing, the armies of Zhao are still going strong and overwhelming Qin's army trying to attack Kantan.
Qin thought conquering Gyou would weaken Zhao and thus prepared for an attack against Kantan but soon they were met with overwhelming numbers at the Zhao borders and Qin's army starts having problems.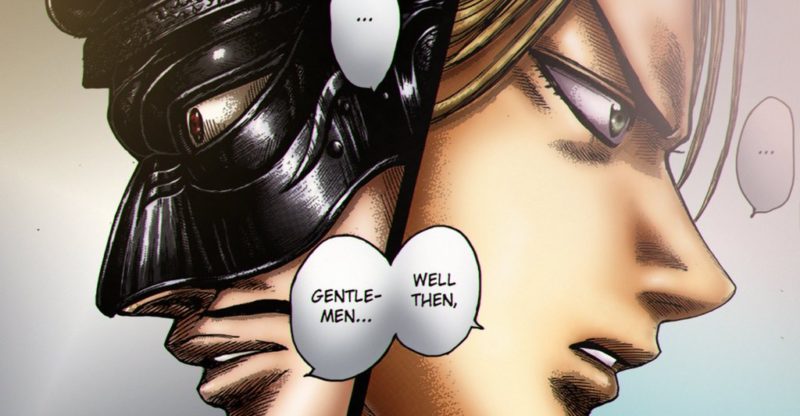 Qin thought that since it's only been year since the quest of Gyou, Zhao would not send more than 20,000 soldiers but when Shin went to war, the reinforcements kept coming up and now it has become impossible for Qin to penetrate Zhao army first defense line.
In this dire situation Qin there is only one way to win over Zhao and then is to ally with the neighboring state of Wei and we all know that once Qin wins Zhao, Wei will be their next target.
So why will Wei help Qin? To form an urgent alliance to win over the Zhao forces, Qin offers three years of peace and in most shocking turns of events, offers the Juuko city.
Juuko city lies at the border of the four states of Wei, Chu, Han, and Qin. Juuko city is one of the most important strategical locations in the entire land and having Juuko will mean an upperhand for Wei.
But it's not that easy to conquer Wei, so Qin proposes an alliance where Wei and Qin both attacks the Juuko city and when they win the way, Qin gifts Juuko to Wei.
General Mou Bu from Qin will lead the attack and Wei will support. The news reaches the Juuko city and as we saw, it's an city of war maniacs and war mongers and they have been desperately waiting for a war to take place.
So now Juuko city vs Qin and Wei will take place. The General of Juuko Man U gets the news and sets out for the war.
The news reaches the state of Chu as well and the reinforcements gets sent. The war will take place at Geechi plains.
Mou bu is an infamous General of Qin and is known for taking down even great general Kanmei.
So in Chapter 650 of Kingdom manga the war starts but the Wei army is no where to be seen. Mou bu starts without them as the Juuko army advances towards them.
So what will happen in Kingdom Chapter 651? Will Qin be able to defend with mere 30,000 soldiers that Mou bu has? Will Wei come to assist or not?
Fans are eagerly waiting to know what happens in the next chapter and that is why we are looking forward to Kingdom 651 spoilers and raw scans release.
Also, One Piece 989 and Solo Leveling 116 will also be releasing this week so you should check them out too.
Now let's take a look at the English or Korean raw scan news and spoilers of the upcoming Kingdom Chapter.
Kingdom 651 Spoilers & Raw Scans
To all those who don't want to know spoilers before the official release, this is an official spoiler alert as we will be spoilers today so if you don't want spoilers to click away from this chapter.
The Korean raw scans are released first which then get translated to English and only then the spoilers are released online.
So what do you think will happen in the upcoming Chapter 651? While we wait for the official spoilers to drop, let's take a look at some fan predictions and discussions from the Internet.
Since Juuko heard the news about the attack, General Man U set out to start the war and have already reached Geechi plains where Mou Bu is already stationed.
Mou Bu is right now there with only 30,000 soldiers and unless Wei comes soon with the reinforcements, Qin is sure to lose.
Even though Qin sent a proposal of becoming allies and Wei accepted. We all know that most alliances always end in betrayal.
So if Wei decides not to send troops to aid General Mou bu then it will be a big setback for Qin. Now all rests on Wei and how they respond.
The war has already started and General Mou bu is demolishing Juuko troops. Mou Bu is surely an indistinguished general but we all know he needs support in this fight.
What if Wei doesn't send reinforcements? Will this be the defeat of Mou bu? There are high chances of a betrayal from Wei but what if Mou Bu conquer Juuko city even without Wei?
It will be a big win for Qin if Mou bu is able to pull this off alone. Many new things are going to unfold in Kingdom 651 spoilers and we can't wait to read it.
Kingdom Chapter 651 Official Release Date
Chapter 651 will be officially released this Friday on 28th August 2020. The day might differ depending on the timezone.
The raw scans get leaked every Tuesday and once the translations are done, the English chapter gets released. So if you are someone who reads raw scans then check back on 25th or 26th August this week.
We will keep you updated with all the latest Kingdom chapter spoilers and raw scan news. So stay tuned and if you are an anime fan then you should check this list of best 2020 anime and sites to watch anime online.