After the beautiful Chapter 122, fans are really eager to find out more about Act Age Chapter 123. We're here to discuss this with you and inform you of the spoilers and raw release date.
As the chapters keep flowing, we are getting a clearer image of Manami. She is like this mirage whom we're all trying to reach.
Whether this mirage can turn into an Oasis or not we will find out. Right now, we can only see the Prologue. It will be Satsuki, Ren, and Kei, who will show us the true Manami.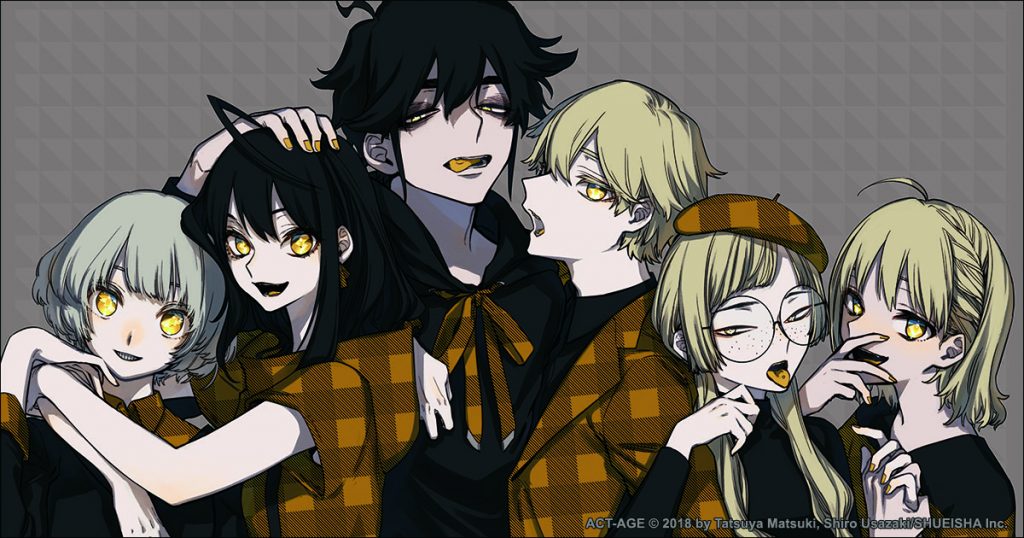 Manami's daughter is a strange enigma. She is curt with the young actresses and yet, her aura shows a great appreciation and respect for her mother. Fans are really curious to see more of this old woman and how she brings life to Manami. Act Age Chapter 123 might give us more insight on her.
Act Age 122 Recap:
It's the final day at Kamakura. Satsuki, Kei and Ren are sitting at the table, rehearsing lines from the upcoming job. Kei notes that Satsuki is slowly improving and coming around as the character.
Ren notices Kei's passion and focus and remembers when Kei was envious of Satsuki being able to pursue acting as a child. Ren realizes that Kei is trying to connect to Manami through Satsuki, who've been actors since childhood. She is impressed.
With this, their visits comes to an end. As Satsuki tries to dig shells from the beach, Ren talks to Kei about her method. Ren is not like Kei – she can't absorb others. She knows that Kei and Sumiji want to steal the spotlight from her and become the star themselves.
But Ren is an amazing sport letting Kei sponge off her. Ren is talented too and doesn't feel the least bit threatened. Before heading back, they decide to visit the grave of the late Manami. It's the anniversary of Manami's death – 40 years have passed and still, everyone worships her. Manami Yakushiji was Japan's greatest actress.
Even Kei knows about it. She used to watch Manami's works and was mesmerized. Despite making Black and White films, she used to be very colorful and her performance was like a calming lullaby. Satsuki feels inadequate but Ren comforts her.
At this moment, Manami's daughter arrives with her flowers. She feels sorry that even though her mother is being featured in a drama, the actresses aren't capable enough to play her. Ren, Kei and Satsuki are determined to prove that they're capable enough.
Act Age 123 Manga Release Date:
In the new issue of WSJ, Act Age 123 Raw Scans will be available. The date of release is 5th August, 2020. These scans will be in Japanese and various scanlation teams will translate them for us. The fan versions will be available on August 7, 2020.
On 10 August, 2020, Act Age 123 Official English translations, HD scans will be out on Viz and Mangaplus websites and the Shonen Jump app.
Chapters like One Piece 987 and Solo Leveling 113 will also be releasing this week so make sure to check them out too.
Act Age Chapter 123 Spoilers:
As of now, there is literally no spoilers out there. You have to wait until 4th or 5th August to get leaks or raw scans released.
You just have to patient. We will be the ones to scoop out the spoilers from different forums and make them available for you in this section. So keep an eye on our website.
Discussion:
Act Age Chapter 123 will take us back from Kamakura. Now that our three key actresses are prepared for the role, we will get to the first stages of shooting. We believe there will be another confrontation between Manami's daughter and three actresses.
Right now, Satsuki is the one most affected by Manami's daughter. The old woman is quite intimidating and commands a lot of attention. Satsuki is too delicate and gets hurt by the elder's curt words. But we believe she is more than ready to take on the role.
Act Age Manga 123 might give us time with the director and producers. Our beloved trump card, Sumiji might make an appearance. It will be a great chance for Kei to tell him her experience with Ren. Kei has the challenge to prove herself to Manami's daughter as well as steal the show from Ren. Will she succeed in such a troubling job?
We might get to see a different side of Manami's daughter in the future. Currently her actions seem very contradictory: She has given a green light to the Taiga Drama Project, meaning she wants others to portray her mother. Despite this, the woman acts harsh with the very actresses who will portray Manami. Why does she do it? Is it a method to make the greenhorns more mature?
Lastly, Act Age 123 might show us a confrontation between Sumiji and Ren. These old partners are now rivals. How will their meeting go? Will Kei succeed in getting a word edgewise or will she get crushed under the emotions and competitiveness between them? We will find out soon enough.