Qin vs Chu was already raging on in the last chapter but in the upcoming Kingdom 652 we will finally get to see if Mou Bu has any chance of winning against Man U and conquering Juuko.
When Moubu arrived at the Geechi plains, he was already at a disadvantage. Chu has arrived with reiforcements of 80,000 soldiers and Moubu only has 30,000.
Mou bu is a great general but even to him, it must be an impossible task to conquer Juuko city by himself. If Qin wants to win this battle then Wei must weigh in and send reinforcements.
The Kingdom Chapter 652 Korean raw scans have been leaked and the English translation process has already started. The spoilers will be dropping soon and we can't wait to read what Moubu plans on doing in this fight.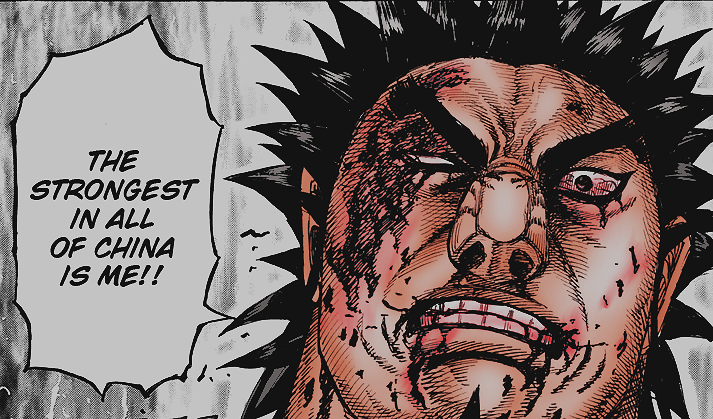 In the last Kingdom chapter, we saw the war going at full force. Moubu is lowering enemy numbers at a staggering speed, but against 80,000 soldiers he alone will not be able to do much.
We see Man U in action and he is bigger and stronger than we expected. He rushes through Mou bu's army and starts cutting everyone in half. With ever slash Man U is able to cut people and even horses in two.
Juuko city doesn't see many wars and is home to some of the strongest war maniacs and since they see war after so many years, they are going crazy and the war front is the warmonger Man U.
Man U is heading the center formation while Sen-To-Un is leading the south and Gen'U on the right. Only Man U's center army is signaled to engage right now, the left and right wings are waiting for signal.
As we know, all of Juuko commanders are war mongers and since only Man U is engaging, Sen-To-Un is getting impatient and orders his wing to move without waiting for the signal.
Now Man U and Sen-To both will be going against Moubu. Just when we thought everything was over for Qin, General Tou arrives with a reinforcement of 20,000 soldiers.
Now Qin looks strong even without any help from Wei. Just when everything started looking good, Chu reinforcements arrive, General Kouyoku and General Hakurei arrive with 30,000 new soldiers and thus the gap once again widens.
Now its Chu's 110,000 soldiers vs Qin's 50,000 soldiers. What do you guys think will happen in the war? Will Moubu be able to win?
All will be revealed in the upcoming Kingdom Chapter 652 spoilers and raw scans once released. One Piece manga 989 and Black Clover 263 will also be releasing soon so you should check it out.
Read Kingdom 652 Spoilers And Discussion
As we mentioned above, the raw scans have been leaked and the translation process has started. No confirmed spoilers have been released yet and that is why there's no spoilers to share with you right now.
You should join Kingdom manga subreddit (r/kingdom) to stay updated with all the raw scan translation and spoiler news.
All spoilers for Kingdom Chapter 652 will be shared here once they get released. So be patient and let's discuss what might happen in the upcoming chapter for now.
Man U seems to be a very strong general and Moubu knows that he cannot win this war of 110,000 soldiers vs his 50,000 soldiers. That is why he is moving towards Man U directly to take him head on.
From the looks of it, Man U is bigger and stronger than Mou Bu. But as we all know, there are many factors that go in winning a fight. Qin is spent on all the war fronts right now and a defeat at the Geechi plains now will only hurt Qin more in the future.
Great general Moubu must win and for that he needs to take Man U'e head and that is what we will be seeing in the upcoming Kingdom 652 spoilers.
Moubu vs Man U will be a battle to die for and we can't wait for it to get released. As we mentioned, we will be including the spoilers once they get released online.
Kingdom Chapter 652 Official Release Date
The official Kingdom 652 English chapter will be released on 5th September 2020 for everyone to read. For now there's no official site to read the English chapter, so if you search online you will get many official ones out there.
The raw scans are supposed to be translated by 2nd September 2020 and will be shared on the subreddit for everyone to check out.
Let us know if you have any questions or suggestions in the comments down below and don't forget to check our articles on the best 2020 anime and best anime streaming websites.