The time has finally arrived for the Solo Leveling Chapter 115 to be released online and today we are here to share all the details about the upcoming chapter here.
Hunter Cha easily defeated Igris but once they crossed swords, hunter Cha instantly knew that Igris is not Jin-woo's strongest shadow soldier.
So she asks Jin-woo to summon Beru, he is hesitant at first but after hunter Cha insisting, Jin-woo finally summons Beru and the fight started.
Before the fight against Hunter Cha and Beru started, jin woo instructed Beru to defeat Cha Hae-In without hurting her.
Jin woo is trying to play it safe while defeating her effortlessly. He wants hunter Cha to feel the overwhelming difference in strength so that she doesn't insist anymore and doesn't get hurt in the process.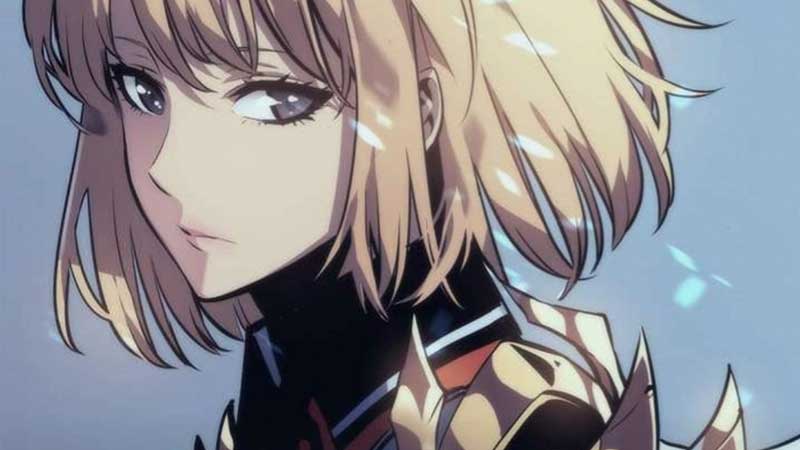 As we all know, it's the feelings of hunter Cha that made her come to Jin woo and ask to join his guild and this is why she couldn't backdown.
The fight starts and in a moment, the skill and strength difference between Hunter Cha and Beru becomes clear and even though it's Cha Hae-in's defeat and she can't win, she refuses to backdown.
She is now at her full power and even though Jin-woo ordered Beru to not go full strength and harm her, Beru's past instincts kicked in and he started seeing Cha Hae-In as an enemy and goes berserk mode.
Beru is ready to strike for real and even though Jin-woo shouts to Beru to stop, Beru keep going on and Cha Hae-in uses skill blade of lights but that is not enough and so Jin woo decides to intervene and stop the two.
Thus the fight ended, Beru immediately starts begging for forgiveness. Jin woo can't figure out what made Cha Hae-in push so hard and why she wants to join a nameless guild while she can join any guild she wants.
Jin woo flat asks her if she likes him, to which she replied yes. Hunter Cha is all red in this scene and this is how the last chapter ended.
Now fans are eagerly waiting to read Solo Leveling 115 when it releases. Today in this article we will be discussing the raw scan translations, release date, and the spoilers for the upcoming chapter.
Solo Leveling chapter will be released this week alongside One Piece 988 and Black Clover 261, so if you are free you should check them out and see if you like them.
Solo Leveling Chapter 115 Release Date
The first chapter of Solo Leveling season 2 was released on Saturday, but then the schedule changed and now all the upcoming chapters will be released every Wednesday-Thursday depending on your timeline.
Solo Leveling 115 will be officially released on 20th August 2020. The korean scans will be released and translated online and only then the English chapter will be available for fans to read.
Solo Leveling 115 Spoilers
If you are here before Aug 19th then you are too early and the spoilers have not been released yet.
The spoilers will be shared here for everyone to read when available. So stay tuned and feel free to read our predictions till then.
So now that Cha Hae-In has confessed, what will Jin woo do? Will Jin woo accept her feelings and make her his girlfriend? I think not.
There's lot going in his life to play boyfriend and girlfriend. So I think he will shoot her down and since she lost, and Jin woo refuses to acknowledge her love, she doesn't join the guild.
Once again after this small love chapter, the Solo Leveling manhwa will return to dungeon fights. Jin woo will soon be entering the D rank dungeon where he got his powers and fan's can't wait to see what goes on in there.
If you are someone who is very eager about spoilers, you should read the Solo Leveling novel.
Let us know your thoughts and predictions about the upcoming Solo Leveling Chapter 115 in the comments below and come back when the spoilers are here.