Kingdom Chapter 640 spoilers and Kingdom 640 spoilers will be releasing soon and the official release date has been announced too.
If you are someone who doesn't want to read spoilers before the offical chapter release, then please click off this article and wait for the chapter to be officially released.
In Kingdom 639 we see that the food has finally reached Gyou and the Qin soldiers are finally happy to be not starving anymore. The food supplies from Qi have finally reached and everyone is happy to have some food.
The soldiers were on the brink of death and had no hopes of ever eating ever again, but suddenly they heard the Gyou gates opening and find out that the food has finally arrived.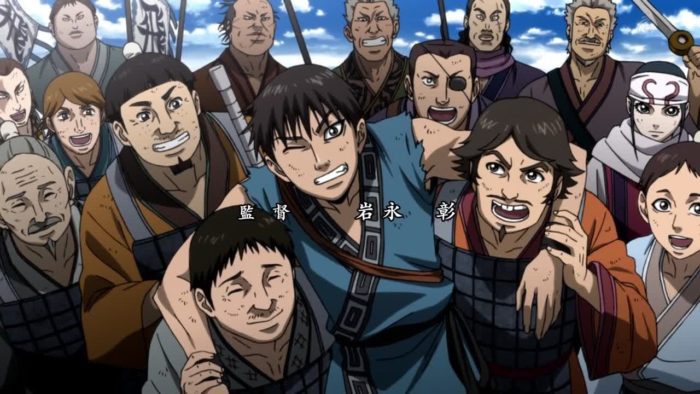 Since it's all raw materials, the soldiers need to cook the food first before they start eating. Karyo ten and Ryuu the chef start preparing the food for everyone and start serving.
Everyone is hyped to have food again and start devouring it like never again. Bihei and the rest of the soldiers are overjoyed and enjoying the taste of food from Qi.
We all know how greedy Qi's king is from the Kingdom Season 2 Episode 2, and he will do anything to make a profit and that is why Ousen had him deliver the food.
Shin asks Karyo Ten to take it easy and rest, Shin praises Ousen on how he already knew that this will be happening and had already found a solution to their food problem before it even happening.
Gyou now has enough food to last even a year, and once all the soldiers are full on food and well rested, they will continue their expedition in Zhao borders.
Qin's army has done something that everyone thought was impossible, they have conquered the impregnable Gyou.
The news reach the royal court and everyone is overjoyed with the good news. Riboku has been imprisoned, and there are chances that he might get executed in the near future.
Riboku warns them about how Qin will be continuing their raid if nothing is done. Riboku tells them about his plan but no one pays heed to his words and as Riboku predicted, and now Qin will be rading Retsubi.
Now fans can't wait to read what happens next in the upcoming Kingdom Chapter 640 and we will be sharing all the details regarding the upcoming chapter here for all of you to read.
Tower of God Episode 4 and One Piece Manga 978 will be releasing soon, so make sure to check them out while you wait for the Kingdom manga Chapter 640 release.
Kingdom 640 Spoilers Releasing Soon
Qin's army has withdrawn from West Zhao and now they will be marching towards Retsubil. As Riboku predicted, a fresh Qin army will be reaching Retsubi and the army from Gyou will be marcing to Retsubi as well.
So as we all know by now, the next point of attack will be Retsubi and if Ousen and Shin are able to take control of Retsubi, Qin will have command of all the Southern Zhao.
Riboku always wanted Zhao's well being, but with his imprisonment Zhao has taken a loss already.
Shin will soon be promoted to a General, fans can't wait for his reward ceremony and we don't think it to be happen in the upcoming Kingdom Manga Chapter 640.
Fans are eagerly waiting for the release of the upcoming chapter and the spoilers will be here very soon for everyone to read.
Spoilers will be shared once the Chapter 640 raw scans are translated, so make sure to keep an eye on the raw scans and we are sharing details about it down below.
Kimetsu no Yaiba 203 and My Hero Academia 269 spoilers will be releasing soon, so make sure to check it out as well.
Kingdom Manga Chapter 640 Raw Scans
The raw scans first get released on Sunday, which then gets translated to English and then shared all over the web.
The spoilers are available for everyone to read once the raw scans are leaked and translated and we expect the Kingdom 640 raw scans to be released by 19th April 2020.
You can expect the spoilers to read early 20th April 2020. We will be sharing the links to the upcoming Kingdom spoilers and raw scans once they get released, so bookmark this page and stay tuned.
The Kingdom Season 3 anime is going strong as well, we have shared a list of sites to watch anime online for you to find a way to watch the ongoing Kingdom anime, so check it out.
Many of the manga and anime title release dates have been delayed because of Corona, but we have got no news about the Kingdom anime yet.
We will keep you updated if the ongoing Kingdom anime or manga goes on a break this week or the next.
Keep an eye on the news for Solo Leveling anime and Jujutsu Kaisen anime, as the release date has not been announced for them yet.
When will Kingdom Chapter 640 get officially released?
The chapter will be officially released on 23rd April 2020.
Keep visiting us for latest news on Kingdom manga and check out our articles on One Piece as well. Stay safe!