Kingdom fans are filled with bittersweet feelings this week. While they're eagerly waiting for the new revelations in Kingdom 649, let us go on and discuss it.
Ryo Fui is without a doubt the best villain in the series. His calm, uneventful death comes as a major shock to us all. However, here we are forced to wonder – it is shown that RyoFui faked his death! But Shiji says he did die of poisoning. So maybe writer Hara is changing the events a bit to suit the fans.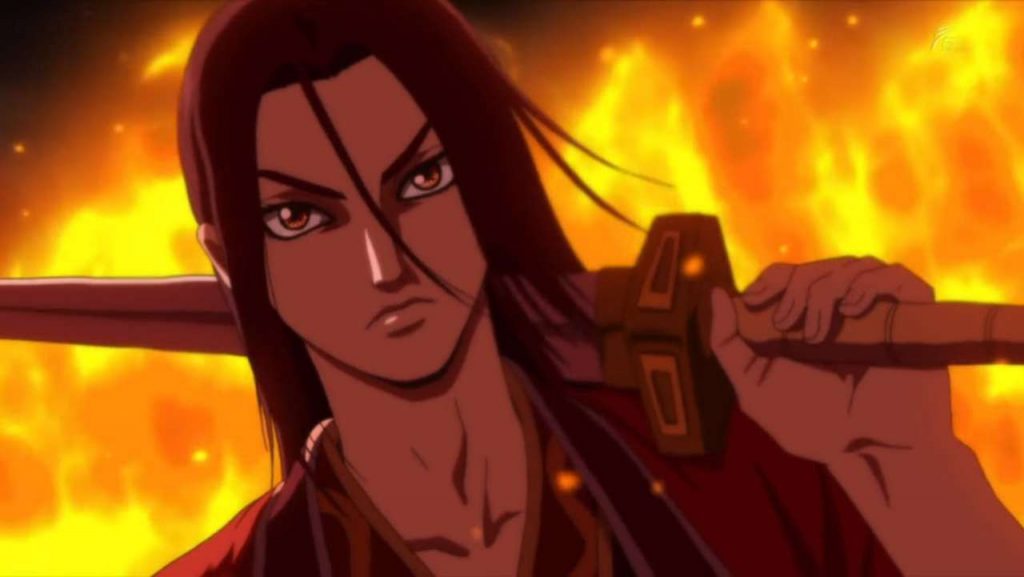 Sei's actions have been truly Kingly. He went to the enemy's territory alone and brought him down easily.
The enemy being as formidable and cunning as RyoFui, Sei's action truly show that he has risen above the normal fear – he is a truly ruler now. Kingdom Manga 649 will show more of his greatness.
One Piece 986 and Solo Leveling 111 will be releasing soon, so it will be great if you can go and check them out before we start with the recap.
Kingdom 648 Recap:
ShouBunKun and Mister Shi decide that it is too risky to let King Sei visit RyoFui. As they are going to persuade him against going to Kanan, they find out that the King has already left. In Kanan, Sei confronts RuoFui. It is a meeting after 3 long years.
RyoFui notes that Sei looks fatigued. He says that the Gyou Campaign must have been very challenging. Sei retorts that RyoFui hasn't changed. His eyes are still the same – the eyes of a man that lost to him. Sei is confident that he has successfully defeated RyoFui even though the latter doesn't act so.
RyoFui questions the King's safety and Sei assures that he has brought a capable guard with him. Sei further says that he will not be needing a guard either. Sei asks why RyoFui is gathering men and tells him that treachery will lead to capital punishment.
RyoFui assures him that he is simply helping. He has gathered all the opposition so that he can control them. But it has proved to be difficult as people hold grudges. He further says that if keeping such a small area calm is taking so much work, keeping United China calm will be even more difficult.
RyoFui further says that there is a problem in King Sei – he is too kind. He says that killing him would have been a far better choice but the King spared him. In fact, executing RyoFui after the RouAi incident would have been best. He says that while this kindness is a strength, it might as well become Ei Sei's only weakness in the future.
RyuFui says that these words were his first and last advice to Sei. He then mentions that it seems like he was the one who won at the temple debate. He knows that Sei strongly disagrees and he encourages his king to go ahead and unify China. He then calmly embraces Sei and wishes him good luck.
RyoFui leaves, saying he will handle Kanan and that he is sorry he won't be there to see China Unified. Sei returned to Kanyou and a month passed. RyoFui made no suspicious moves. Kanan kept growing in power. Kanyou sent a warning message to them, and tells them of the impending punishment.
The messenger returns with shocking news. In 235 BC, RyoFui passes away after drinking poison. Both Shiji and RyoFui's biography states this. In the snow, a cart passes away. A man inside says that his fake death will be discovered soon. A man says that he will travel and see the world being created by his King!
Kingdom Chapter 649 Spoilers:
Kingdom 649 should reveal whether RyoFui dies or not. We believe King Sei will find out that he is alive but he will go along with the charade and let the Shiji record his death.
This is one of the grey areas. History says something and Hara says otherwise – it is up to us to believe what's true. But in this story, RyoFui is alive and broke with a couple of followers.
How will Sei's weakness affect him? We believe Kingdom Chapter 649 will show Sei wondering about his weakness. It is true that ruling a nation takes a lot of capability and one must act harshly once in a while for the sake of peace. We believe King Sei will adapt with time.
Here, we would like to mention a manga named Bokkou. There, Ei Sei was shown to be ruthless. Maybe that depiction is true – with time, maybe Ei Sei will grow stern and realize how much force is needed to Unify China. We know kindness won't be something that can stand in his way towards his dream.
Kingdom manga 649 might also show us the next order of business for Qin. Even after 650 chapters, Qin has not expanded a lot. It is time we see major development. We have an upcoming war involving 3 countries and we believe Qin, Han, and Wei will fight in it. Let us see what awaits us.
Lastly, it seems Zhao front will be quiet for now. The nations are at an impasse – neither Qin can invade, nor Zhao can retaliate. So we will probably have the focus shifted from there. But worry not, as long as RiBoku lives, Zhao has a chance to be back.
Kingdom 649 Release Date:
Kingdom Manga 649 will be released on 30th July, 2020. That is actually the release for the fan translated English version. Currently Sense Scans and Turnip Farmers are doing the job and they are hiring. The French version drops 1 day earlier.
The raw scans for Kingdom 649 are being delayed. The 2020 Tokyo Olympics was scheduled for next week and Shueisha has had a break planned in advance. Even though the Olympics got delayed, the holiday stays. So the raw scans will be dropping around 27th July, 2020.
Kingdom 649 Raw Scans:
We are always trying our best to get these for you. Right now, Kingdom Chapter 649 raw scans are not released. Due to the break, they are delayed. So you need to wait atleast 10 days before we can find them.
There are always chances for early spoilers. If we find any leaks or scans on the internet, we will get them to you. All you have to do is keep an eye on our website. This is the section where we upload the raws. See you soon.
One Piece Episode 932 will be releasing soon and the Kingdom anime will be back soon as well.