Kingdom 648 is subjected to great anticipation from the fans as Ryofui is considered by many to be the best villain of the series. Fans eagerly want to see more of this conniving man who can give any general a proper run for his money.
Kingdom Volume 60 is starting will a bang. Ryofui vs Sei was an absolute marvel to watch and their debate is still fresh in all our minds. What new debate will see this time? What does Sei plan to talk about? What is Ryofui planning this time?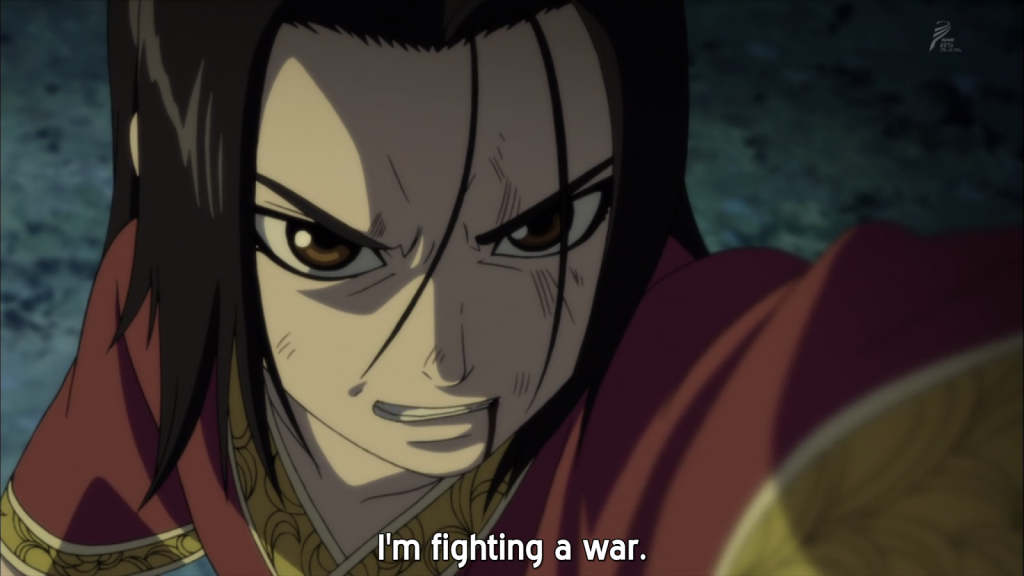 It seems we will be seeing less of Riboku for a while. With the man out of action, will Zhao calm down?
Fans are somewhat dissatisfied that Riboku gave up the idea of laying siege of Kantan and reinstating Ka's rule. However, it is how the world works and it is how history went down. Hara can't change the Shiji.
One Piece 985 and Boruto Chapter 48 will be releasing soon, so check them out while you wait for the Kingdom chapter release.
Kingdom Chapter 648 Release Date:
Raw Scans of Kingdom 648 will be released within the 13th of July, 2020. These Japanese scans need to be translated for everyone to read. Currently, the responsibility of scanlation is assumed by Turnip Farmers + Sensescans.
On 16 July, 2020, the fan translated English scans will be uploaded. While there are occasional imgur links found, the Sense Scans website is the fastest, most reliable place for Kingdom Manga 648.
Unfortunately, there is no official English release for Kingdom manga. However, there is an official release in French. We hope in the future, we will get an English version too, but the piracy is making it impossible.
Kingdom 647 Recap:
Kaine feels embarrassed after comforting Riboku. It was her first time seeing Riboku depressed and she instinctively helped. She feels she has crossed a line and is glad that Riboku is uplifted slightly. When she was going out, Riboku apologized and thanked her.
As Kaine is busy with her thoughts, Bananji, Shunsuiju and Futei arrive. They're all glad to see each other alive. Shunsuiji asked for their next move as they have become criminals due to disobeying the King's decree. He says there are 3 options for them.
The first, Surrender to the throne which will probably result in public execution.
The second, keep running and hiding which will tire them and eventually kill them one by one.
The third, attack Kantan, defeat the current ruler and put Ka on the throne.
He also suggested that instead of Ka, Riboku can be the starter of a new dynasty. Riboku stops his thoughts and said option 3 is not right. Fighting for the throne publicly is a terrible ordeal and anyone who secures the throne that way can't be a true King. And Riboku is neither suited for King nor he wants to be one.
Riboku reveals their plan is to run but it is not their last choice. In the future, Qin will need Zhao, who in turn, will need Riboku. Until Riboku can regain command of the army, they will lay low.
The vassals all agree to it as Zhao can't stop Qin's machinations alone. By then, the small misunderstandings will be cleared too.
Riboku reveals their new destination is Seika, under the banner of Shibashou. That man is a candidate for Zhao's Three Great Heavens. He stopped Ordo from invading. He doesn't care for the intricate politics of Zhao. In fact, he had already granted passage to Riboku. All the vassals agree.
In 236BC, Kakukai deployed all the strategies passed to him by Riboku – mobilizing the Kantan army, strengthening frontlines, creating military strongholds in Hango and Heiyou.
This completely stopped Qin's advance and they were left at a stalemate. Soon 235BC arrived and it would be the year where 3 states will engage in warfare.
As its starts snowing, Qin will see another significant even. As everyone is wondering how to break into Zhao, Shi arrives with news. He takes Sei and Shoubunkun alone. In Kanan, lives Ryofui.
He was stripped of all titles and sent to exile. However, he has another group once more. All the misfits who never joined Sei's faction, they've flocked to Ryofui.
Ryofui has gained lot of momentum and his faction can rival the royal one. It is time to end him for good. Sei says that before killing Ryofui, he must meet the man again. He wants to talk to him once more. In Kanan, Ryofui is looking at the snowfall.
Kingdom 648 Spoilers & Predictions
As of now, no spoilers of Kingdom 648 are found on the internet. However, this is a retelling of history, so we do suggest staying off Shiji, wiki pages for Kingdom characters, lest you might fight distant spoilers.
We believe some leaks will be available soon. When they are, we will upload them for you to read. Until then, please keep an eye on our site.
Kingdom Chapter 648 Predictions:
Kingdom 648 will be the much awaited chapter where Sei meets Ryofui. We might see another debate between them. In fact, this time Ryofui might be more humble towards Sei. Sei has upheld his part of the debate – he has proved that the law is superior indeed. Additionally, he has racked up great achievements.
Kingdom Chapter 648 might give us a small peek at Riboku meeting Shibashou. Shibashou has been a mysterious character so far and how important he will be in the future wars is very relevant. If he allies with Riboku and decides they will stand against Qin together, even Ousen might have problems.
Who will be the 3 nations fighting in 235BC? This further solidifies our Han attack theory – it seems like Qin will battle Han and Wei. At least that is what we believe will happen.
Chu might actually attack but knowing Moubu, its unlikely that they will make it in. But General Karin can be very intriguing, so fans are awaiting her return.
What does the future hold for Shin? How fast will Qin expand? Is Ryofui planning a coup? Will Rishi betray Sei? How long can Kakukai hold on? We will find out about some of these in Kingdom Manga 648.