Kingdom fans are in wild dismay as Zhao steadily progresses towards its ruin. Kingdom 646 will show us the new direction this story will move and the future battles we will witness.
Kingdom Volume 58 is topping the sales charts this week with a staggering 420,296 sales. It will keep its position in the top 10 bestselling series of the week for the next 3 or 4 weeks. Here is the cover art for the new Volume.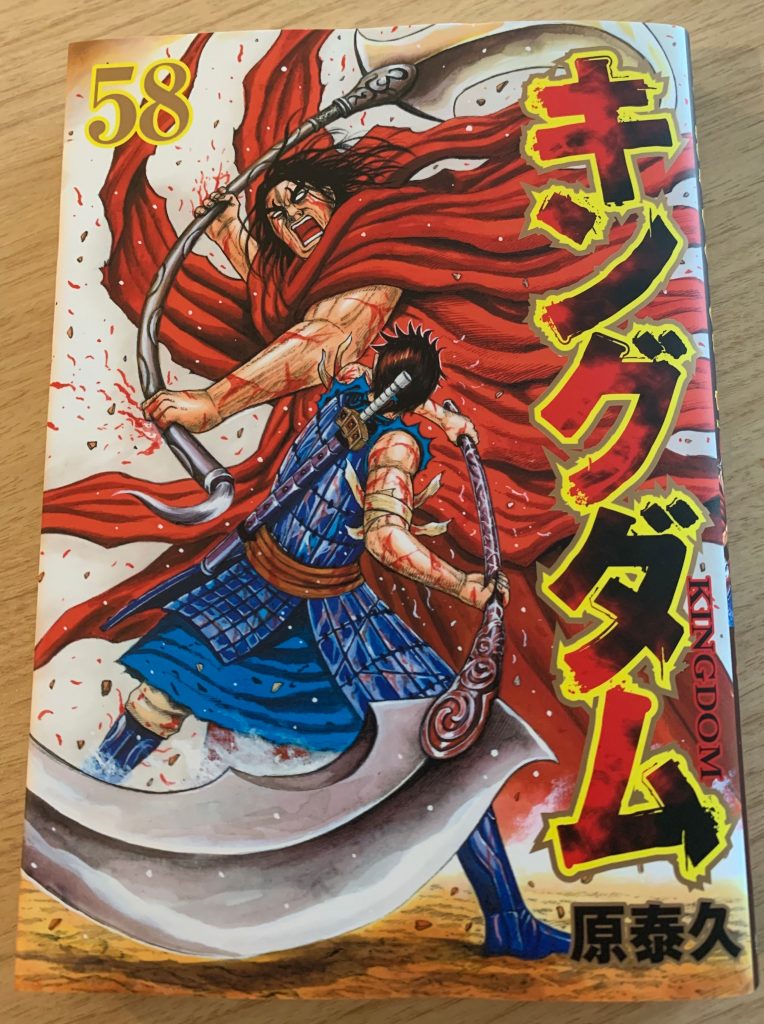 King TouJou came back from behind the grave to cripple Zhao once more. The shining beacon of hope, that was Prince Ka, is struck down and a depraved, psychopathic kid is named the new successor.
Zhao has nothing short of terror and injustice in front of it. How do you think Prince Sen will handle his reign over Zhao?
With Zhao seemingly out of the fray and a lot of ambiguity in its future, it is unlikely that Qin will attack there. With the conclusion of the Zhao Invasion arc, Kingdom Chapter 646 will probably show us, Qin, setting its eyes on a new conquest and a new era of warfare is dawning on Qin. What do you think the new arc will focus on?
A lot of news manga will be released next week including One Piece 984 and Black Clover 256 and we will have a lot to read.
Kingdom 645 Recap:
General OuSen has deployed his troops to break through General KoChou's army. He gathered all generals for a meeting – DenRiMi, SouOu, AKou, MouTen, OuHon and RiShin. But before they could get to business, a messenger arrived informing them of King TouJou's death.
Kantan is in chaos due to losing their king. KakuKai orders the soldiers to capture all RiBoku supporters for interrogation and the kids who were with the King. But the soldiers denied his orders as they follow the throne, not the minister. The throne belongs to Crown Prince Ka.
Prince Ka is the new hope for Zhao. He immediately freed all the talented men who were wrongfully imprisoned. He gains their loyalty and plans to rebuild Zhao.
RiBoku is finally freed and he has a heartfelt reunion with Kaine. Prince Ka met RiBoku who immediately advised him to mobilize Kantan's troops.
The Qin generals are all shocked by this. As they ponder what to do next, and wonder how Zhao will be reborn under a truly competent King, they see that the Kantan army has already arrived. OuSen realise that they have to start from square one and falls back to the second defense line.
In Kantan, KakuKai meets up with Clerk Ei and KouHi. As the Zhao officials decide KakuKai's punishment due to his corrupted nature, royal troops suddenly surround them. KakuKai arrives there with Clark Ei and Kouhi.
Here, the last will of King TouJou is read out. The late King had removed Prince Ka from the succession line and instead, appointed his younger son, Prince Sen as the new king. This will has been properly drafted and sealed by the Royal Seal. A shadow is cast on Zhao.
Sima Qian, the writer of the Shiji, commented that this decision by King TouJou is an absolute travesty.
Kingdom 646 Spoilers:
Right now, the raw scans of Kingdom manga 646 have not been released. We will upload them as soon as they are available. The wait won't be long so remember to check out the website within 29th June 2020. We will have the leaks for you by then.
These scans are our main sources of spoilers. SO right now there are no spoilers to be revealed. The upcoming events, the fate of Kantan, the new direction for Qin, the future of Ri Shin – all of this is currently under speculation and will be revealed with time.
What are your thoughts and theories about Kingdom 646? Tell us in the comments section and we will surely reply back to you. If you want to do more discussions, join 'r/Kingdom' subreddit or 'Kingdom Hohposting' group on facebook.
Kingdom Manga 646 Release Date:
The kingdom is a weekly releasing seinen manga. We are expecting the raw scans to be released on July 30, 2020. Of course, they will be picked up by scanlation teams as we don't have official Kingdom release in English.
The scanlated Kingdom 646 will be released on either 1st or 2nd July, 2020. The current scanlators are Sensescans, who are urgently looking for staff members. So if you are skilled at Japanese or manga art, you might want to apply there.
With Chapter 646 of the Kingdom Manga, we have enough chapters for the release of Kingdom Volume 59. But it won't be released until the last 2 or 3 months of 2020.
Predictions and discussion:
The Qin espionage seems very efficient. It was very fast in revealing the latest developments in Kantan to the Army posted at the borders. But this does not ensure anything. Right now, Zhao is in a state of complete chaos and General OuSen won't risk attacking when there is so much ambiguity.
Kingdom 646 might show us a calmer Zhao and that is when OuSen will take his decision. This is the state – RiBoku's capture led OuSen to start planning an attack. TouJou's death and RiBoku's release led OuSen back to square one as Kantan troops bolster the borders. Ka's removal has put Zhao is more confusion and no one knows how Sen will lead the nation. RiBoku might or might not be allowed to fight – so OuSen's strategy is not going anywhere.
It seems dirty politics will always be a part of history. Zhao faces corruption from its Prime Minister and is crippled once more. Maybe Kingdom 646 will show us how it tries to stabilize. Even though Qin is unlikely to attack, Zhao has to adjust to a new King and no one knows how this slavemonger will handle things.
However, we Kingdom readers are fans of Qin – our allegiance lies with Ei Sei. So even though we are all feeling bad for Zhao and its misfortune, we must remember that Zhao must fall for the sake of a Unified China, an idea that is far more important than whatever fate befalls Ka or RiBoku or even Zhao as a whole.