One Piece Episode 930 has finally been released on 28th June 2020 just as we expected and you can go watch it on Funimation.
The anime was delayed for the longest period of the time but finally it will be releasing tomorrow worldwide and we will update the links to the episode once they are out.
We recommend you to watch it on official anime streaming websites and let us know how you liked it.
Every Sunday people are trying to find the upcoming episode only to get disappointed by not seeing the episode online.
However, it cannot be helped. Due to the Covid-19 outbreak, the world is in the midst of quarantine and everyone is encouraged to do social distancing. The Japanese Govt. has issued orders about working and quarantining.
Due to this, several anime studios are unable to work efficiently. A lot of seasonal anime is being delayed to a later date, like Re: Zero, Food Wars and so many more. Amongst them is the long-running One Piece and Black Clover as well.
One Piece is considered to be one of the Big 3 series, along with Naruto and Bleach. It is still one of the most famous series. Currently, it is made in the Toei Animation studio and produced by Shueisha, Toei and FujiTV. It still has incredible viewership and high ratings.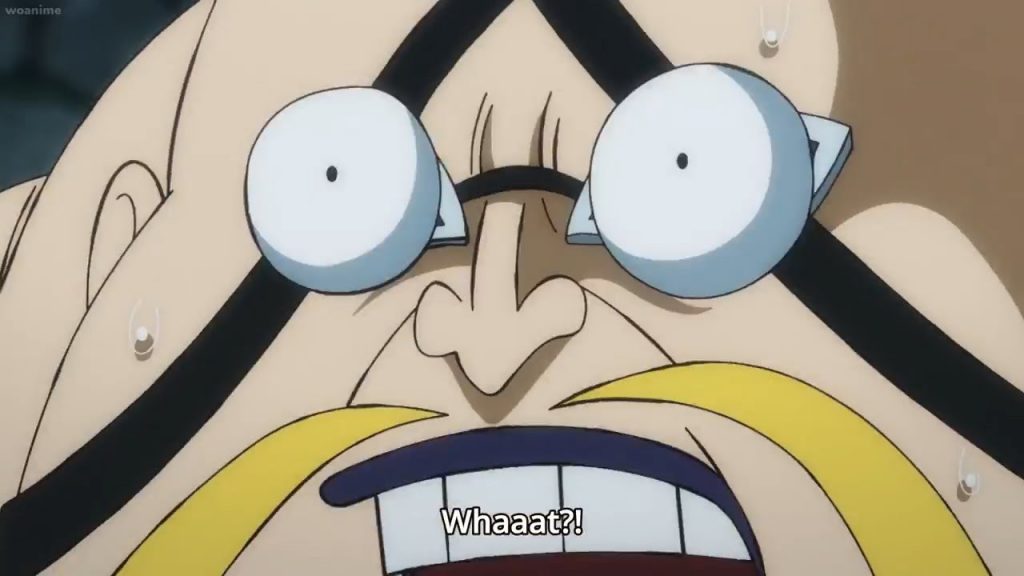 The Wano Arc of One Piece saw a change in staff and a huge increase in quality. After suffering for a few years, the anime has greatly improved its production design and pacing, trying to restore it to its former glory.
The lockdown will go for some time so if you are bored, make sure to check our best 2020 anime article and sites to watch anime online.
One Piece Chapter 979 and Kimetsu no Yaiba 204 will be releasing soon so make sure to read them as well.
[Update] New Update On Twitter
So a new update has been posted on twitter where Sanda, one of the key one piece animators have posted that they have started working on the One Piece Episode 937.
So as we expected, the work from home has started for all the staff and everyone is working from home to get the anime started and we can't wait to watch what happens in the upcoming Episode 930.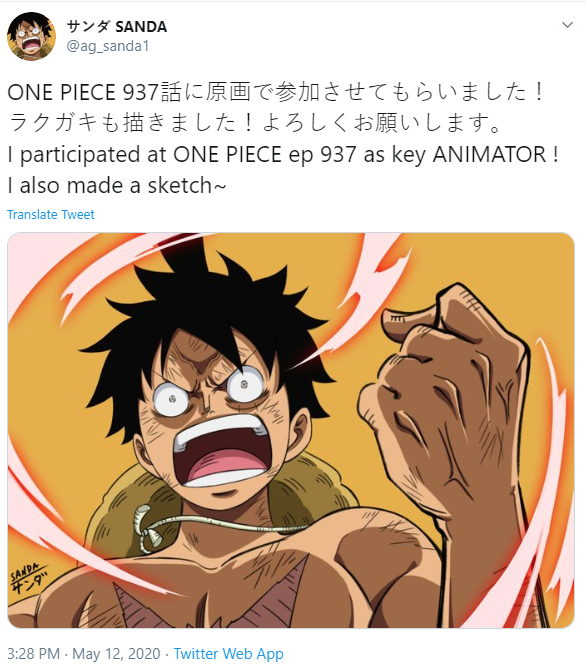 As you will read below, the release date has not been announced yet, but we think that it will be ready to air by the last week of June 2020.
So I think that One Piece Episode 930 release date is last week June 2020. This is almost sure, but we will keep you updated if more changes are made.
If not June, then the first week of July is confirmed for sure. We are continously checking Twitter for all the latest updates.
Let us have a quick recap of Episode 929 first before we start with the new release date for the upcoming One Piece Episode 930.
One Piece Episode 929 Recap:
In Ringo, Kanjuro reunites with Robin, Brook, Nami and Shinobu. They discuss the current situation of the flower capital. Robin has successfully fled from her pursuers and so did Nami and Shinubo from the Oniwabanshu.
Kanjuro tells them about the former Yakuza Boss, Hyogoro of the Flowers. The new boss Kyoshiro displayed his cruelty by murdering Oiran Komamurasaki.
The girls decide to visit a bathhouse. Brook informs that he has found a Red Ponegliff in Onigashima, but couldn't take the reading.
In Ebisu Town, Law, Usopp, Sanji and Franky meet up. Sanji laments the death of Komamurasaki. Sanji decides to try out his raid suit in the bathhouse. Law notices Captain Kidd's escape from Udon and tells how Kidd infiltrated and got captured.
However, since his ally Captain Hawkins was there, Law wasn't surprised. They realize Luffy might cause more of a ruckus in Udon prison.
Near Wano, in the oceans, the children of Big Mom discuss the situation. Perospero says that Mom's death means he will be the next captain, as he is the oldest. However, Daifugu retorts the Katakuri will be captain since he's the most capable and the strongest ones.
Smoothie chimes in that Mom is extremely strong and won't die easily. She is also a former crewmate of Kaido. They have to search for her.
We now see Big Mom in amnesia, Chopper, O-Kiki, Tama and Momonosuke traveling towards Udon on a sharkodile to rescue Luffy. Mama is hungry. Hitetsu asks Tama to return but she declines. Surprisingly, Big Mom wants to share her food with others, since they were kind to her.
Momo practices his swordmanship and chants 'Sunacchi', but O-Kiku forbids him from using the chant. The chant is an old dialect of Kuri and Zoro taught it to him. O-Kiku proceeds to explain the geography of Wano.
In Udon prison, an old man is extremely fatigued by the tough work. He hasn't had food in days and is weakened. However, if he fails to work, he won't get food either. All he can do is wait for death. Near him, Luffy easily does immense amounts of work, even while wearing Seastone Shackles. Luffy is training to get stronger.
He takes pity on the man and gives a few meal tickets to him happily. The old man is filled with gratitude and gets some dumplings to eat. A Gifter-rank prison guard, Alpaca-man, is annoyed by Luffy and spits on him constantly.
Daifugo, a Headliner guard, discovers the meal tickets in the old man's hands. He punishes the old man for lying. The old man still eats the dumplings since he is grateful to Luffy. Seeing this torture, Luffy gets incredibly enraged at the guards.
However, there are prison rules and breaking those results in amputation and death and now fans are waiting to watch Episode 930 of One Piece anime.
One Piece Episode 930 Predictions
From the ending scene, they showed that in the next episode, i.e, One Piece Ep 930. Luffy will defeat Daifugo and beat up other prison guards. Raizo has appeared in prison. A fat guy, with Queen flags, is heading towards Udon.
Luffy fighting with prison guards is a grave offense and he will definitely be sentenced to death. However, will he manage to escape the prison before that? Or will he face the challenge of execution? We know Captain Kidd escaped even though he was kept in Luffy's cell. So it is not impossible.
Who is this fat guy? Is his name Queen? If yes, why is he a performer? Why is he a plague? He seems to be an important person and given the title, he definitely will be impressive. Is he the vice-captain of Kaido? Or maybe he is the leader of the headliners.
It is possible that he is of the same rank as Jack the Drought. We say this because of their naming similarities, that is, Jack and Drought and Queen and Plague.
The is a striking similarity between Boss Hyogoro and this old man Luffy saved. Both have glasses, curly everybrows and hair and both have a flower tattoo on their shoulders. Are they the same person? Or maybe they're related. One Piece Episode 930 will shed more details on this.
Black Clover Episode 133 and Boruto Episode 155 has been delayed because of the pandemic as well and there's no news of their release yet just like episode 930.
One Piece Episode 930 New Release Date:
One Piece Episode 930, titled: "A Lead Performer! Queen the Plague Emerges!" was supposed to release on April 26th, 2020. However, with the anime going to hiatus, it has been postponed.
For now, Fuji Tv, the original One Piece broadcaster, will start a rerun of the Wano arc, going back to Episode 892. Based on that, we know that this hiatus can last up to 38 weeks. But that is extremely unlikely to happen.
We believe the Quarantine will end in a month or two and that is when the re-run will be cancelled and the normal broadcasting will resume, starting with One Piece Episode 930. We can expect it to air, somewhere along the last week of June or maybe July.
Plunderers Episode 17 and Tower of God Episode 6 will be releasing soon, so check them out as well.
Where to Watch One Piece Episode 930 Online?
One Piece anime is television broadcasted on Fuji TV, Korean Broadcasting System and Spacetoon. However, it is also available for streaming, on Crunchyroll. The dubbed version is available for streaming on the Funimation website.
We know that in June, Netflix will start streaming the First 2 sagas of One Piece, that is, East Blue and Alabasta Saga. This was said in the tweet made by NXonNetflix.
We shared articles on sites to watch One Piece and sites to read One Piece manga, so make sure to check them out.
Here's the preview of the upcoming Episode 930 of One Piece.