The New onigashima project has been revealed just like we predicted and finally Orochi has been killed as well and fans can't wait to read One Piece 986 spoilers as it will shed more light on the upcoming chapter.
The last One Piece chapter was one of the best chapters in a while and since its spoilers released last week, fans were pretty hyped to read the chapter and the official Chapter 985 finally got released last Sunday and fans are just awe-struck.
Oda is just giving us one good chapter after another and since Oda's hype about how Wano war will surpass Marineford war in terms of violence and not this time not only one but more than two Yonkos will be available thus increasing the intensity of the war.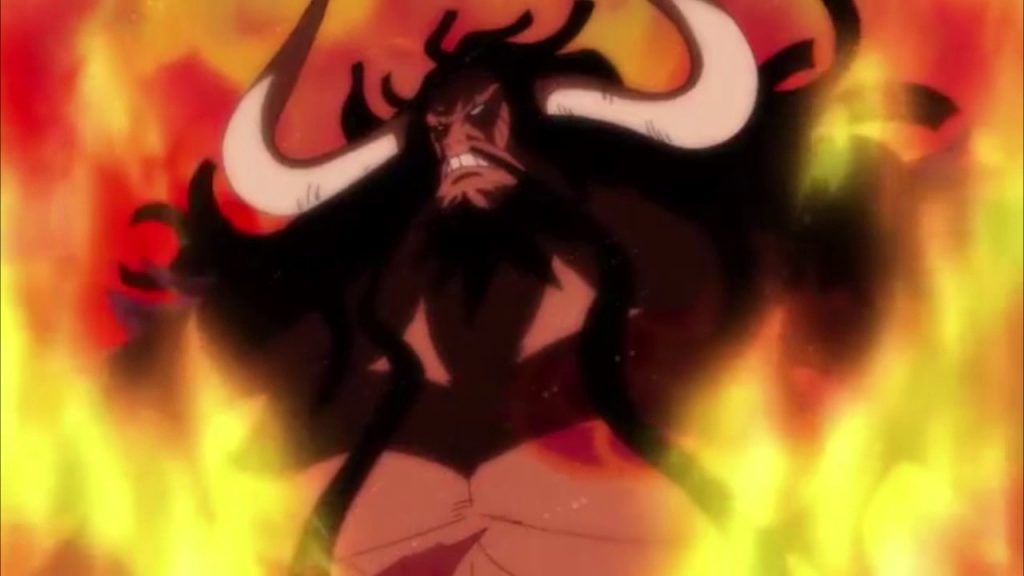 Since Kaido's announcement of the the new Onigashima project fans have been eagerly waiting to know what is this new announcement from Kaido himself and how will it transform the whole pirate world and now we finally have answers.
Kaido plans to convert Wano into a lawless pirate only zone where he creates and manufactures weapons for his fight against the world and since Wano is a natural fortress because of its waterfalls at all sides, its the best place to be Kaido's pirate base.
Wano was already miserable because of Orochi and Kaido but if this new Onigashima is to succeed, the samurai life within Wano will soon be extinct and the era of Samurai's will be over soon.
We all know Oda is not going to let something like this happen and that is why we have our heroes present at the Wano and soon the Luffy vs Kaido fight will be starting.
The One Piece Manga 986 spoilers will be released soon online and we will be sharing all the English raw scans and spoilers regarding the upcoming chapter here so stay tuned.
Black Clover 259 and My Hero Academia 279 will be releasing soon so you should check them out as well.
Before we move on to the spoilers and raw scan details, let's take a look at what happened in the last One Piece chapter.
One Piece Manga 985 Recap
Kanjuro is waiting at the rear entrance with a bunch of headless samurai's inorder to stop Raizo and the others who came using the submarine and the fight breaks out at the rare entrance.
Meanwhile Yamato and Luffy are having their discussion and Yamato express that it's her calling to board Luffy's ship as he is Ace's brother and travel the seas.
The main reason behind Yamato being not able to leave the island is those exploding shackles and if Yamato tries to get out of Wano, the shackles will explode and Yamato can't risk losing her arms.
Since Luffy has attained the advanced form of Haki, he offers to remove the shackles but even at the end of the chapter we see Yamato in shackles.
Kaido finally starts the announcement where he announces that he will me moving Onigashima to the Flower capital and now calling it the new Onigashima.
Wano the "New Onigashima" will be a lawless zone for the pirates and since he has made an alliance with Big Mom of the four emperors, and now they will be going for the ancient weapons to wage the war against the war.
Orochi is shocked by this and objects to this and in response Kaido cuts Orochi's head in a clean slash and everyone is astonished to see what has happened.
Orochi was Kaido's ally for the longest period of time and now that he is dead, there are only two options present before them. Either they join Kaido as fellow pirates or fight right then and there and die.
In the last panel we see Yamato and Luffy come out from the heading and Yamato is shouting at Kaido and Tobi Roppo are being called.
This is where the last One Piece chapter ended and now fans are eagerly waiting for the spoilers and raw scans to be released.
Read One Piece 986 Spoilers And Raw Scans
For The spoilers to be released online, the Raw scans needs to be translated to English first and then only the spoilers are available shared all over the Internet.
While we wait for the spoilers of the One Piece Chapter 986, lets take a look at fan speculations and predictions from Internet.
The main topic of conversation in everyone's mind is if Orochi is dead for real or not. Since we know that Orochi has eaten a eight headed dinousaur devil fruit and that is why fans believe that even if his one head is cut, he will come back to life.
But how true is that? Excluding brook we have no record of a devil fruit ever getting a person back to life but anything is possible in animeverse.
Kaido and Big Mom have allied and vowed to find the One Piece and for that they need ancient weapons. Kaido's war against the world will be starting soon but not if our heroes intervene and start a new war as we all expect in Wano.
Tobi Roppo has been summoned and they will be taking on Luffy and Yamato the next chapter and now fans are worried if Luffy will get captured again.
Yamato will be a big key in Luffy's fight against Kaido and we are sure that Yamato knows about a way to defeat Kaido or a weakness atleast.
For now the underlings of Orochi will join Kaido's army has pirates but now that they know what Kaido intends to do with their country, they are sure to be revolt soon and maybe join the alliance raid to take down Kaido.
A lot is about to unravel in the upcoming Chapter of One Piece 986 and fans can't wait to read what happens next.
We will keep you updated on all the spoilers and English raw scans release date, so keep visiting and check our article on best 2020 anime as well.
One Piece Manga 986 Official Release Date
As we all know, One Piece has been releasing one chapter every two weeks and Chapter 986 is no different. But instead of Oda taking a break this week, it's Shonen jump that has given a one week break.
The One Piece manga Chapter 986 will be officially released on 2nd August 2020 and will be available to read on the Viz official website.
Meanwhile, the spoilers will be available a few days before the official release and you can read the spoilers on 30th July 2020.
What is the official One Piece 986 release date?
Chapter 986 will be officially released on 2nd August 2020 for everyone to read.
Where can we read the upcoming One Piece Chapter 986 manga?
Chapter will be officially available to read on Viz official website and Mangaplus website.
Will Orochi die or come back to life?
Even though many fans believe that Orochi will come back to life, I think he deserved that death and will not come back to life again.