Yamato's face has finally been revealed and Kaido announced something called the Onigashima project and fans can't wait to know what it is by and to do that you need to read One Piece 985 spoilers as they will be releasing soon.
We all thought Yamato is a man by the fact that Kaido calls Yamato his son but when the face finally got revealed, it was shown that Kaido doesnt have a son, he has a son.
Many fans were first confused as to why was Kaido calling Yamato his son, but it all got cleared up in the last chapter.
Yamato was alive during Oden's execution and looking at Oden's bravado and courage, Yamato decided to be like Oden and even changed his look from a female to a male.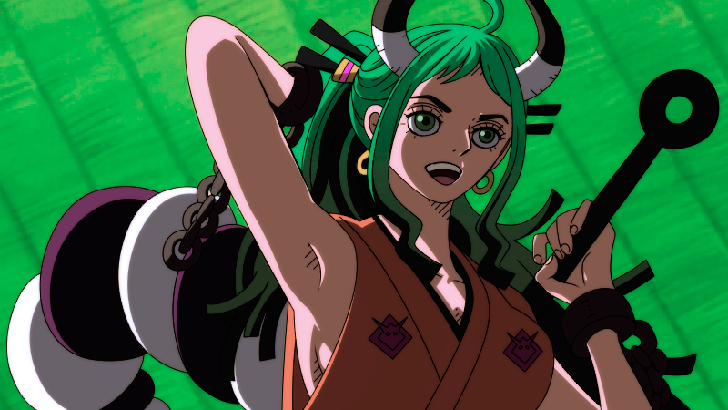 Even though Kaido hated that Yamato wanted to be Oden, he respected Yamato's wish to be identified as a male.
One Piece manga is getting on a whole new level with every new chapter and fans are eagerly waiting to read One Piece manga Chapter 985 as many new things will be announced.
What is the onigashima project and why is Kaido looking for Yamato at a very important time like this?
There are so many questions rising in fans minds and only the release of the upcoming chapter will put water over these rising flames.
The chapter will be releasing soon and we will be sharing the spoilers, raw scans and the official release date for the upcoming chapter in this article below, so keep reading.
Spoilers Finally Released
The spoilers for the upcoming One Piece manga 985 is here and a lot of new things have been revealed and there are high chances that Orochi will die in the upcoming chapter.
One Piece Manga 985 Official Release Date
As we all know the One Piece manga is once again on a break this week and the chapter will not be released like usual.
We will have to wait a week before we get to read the Chapter 985 officially and till then you can read the spoilers and English raw scans to get a general idea on what might happen in the upcoming episode.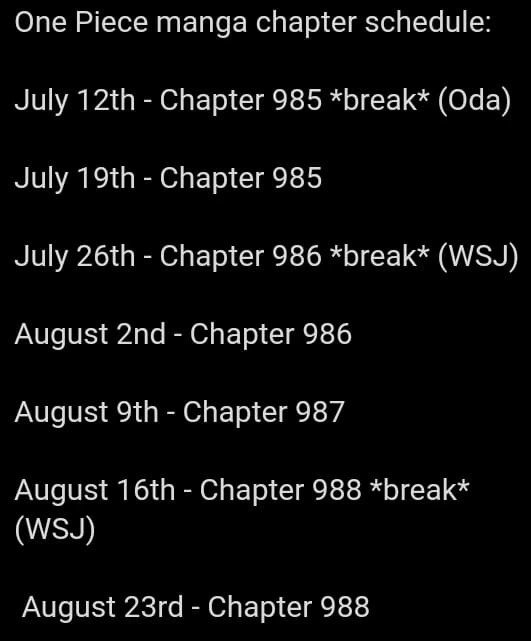 The One Piece Chapter 985 will be officially released on 19th July 2020 and will be officially available to read on the Viz and mangaplus website.
You can even download the Viz app on your smartphone to read the upcoming chapter on your mobile phones.
Also before we move on to the spoilers, let's take a look at what happened in the last chapter.
Recap Of Chapter 984
The chapter starts with Yamato dashing out with Luffy and Page one and Ulti on the ground.
Page one is the first one to recover and asks the gifters there to call for a medic for Ulti. Everyone is surprised that Page one was able to get up so much faster after getting hit by an attack like that and are praising the endurance of the dinosaurs devil fruit users.
Ulti soon comes back to senses as well and as she is up, Page One charges towards Yamato in hopes of catching her.
We see Luffy and Yamato fighting where Yamato says that she wants to talk with Luffy but our Luffy is obviously suspicious.
Luffy finally agrees to talk and that is when Yamato finally reveals how she witnessed Oden's execution and now wants to be just like Oden and that is why she even dresses like him.
Yamato even has a journal of Oden that no one knows about and is sure to reveal many new things in the future.
Momo is at the castle where he is hung on the execution board and will soon be executed if no one comes to save him. Jimbei and Robin are there in the audience and are waiting for the samurai to interfere with the execution.
Even Kaido appears with the three calamities and announces something called the onigashima project and all the details will be revealed soon.
With this much revealed, fans are now waiting for the spoilers of One Piece 985 to be released so that they can get some additional information.
Read One Piece 985 Spoilers & Predictions
To all those here looking for the spoilers, it has not been released yet and that is why there is nothing to share right now.
The One Piece manga 985 spoilers will be released on 15th July 2020 and we will be sharing them here once they get released online.
Till then, you should check some of our predictions for the upcoming chapter and fan speculations.
So here we go.
Fans are praising Kaido for acknowledging Yamato's decision to be a male, even though he sees Oden as an enemy, he surely acknowledges his bravery and strength and that is why calls Yamato a son.
There is zero information available about the Onigashima project right now but fans seem to believe that it has something to do with Yamato.
Maybe it is the start of the war against the world that Kaido was previously talking about or Kaido is going to marry Yamato to one of the beast pirates or some other influential person so that he can get even greater help for the war he is preparing for.
The only reason for Kaido occupying Wano is taking control of all the weapons produced in the country and since Wano has no shortage of skilled labor and the sea prism stone, he wants to make the strongest weapons possible for the upcoming war.
Kaido has all that he needs, an army of Devil fruit users, support of Wano and all its resources. So all that's left is to wage the war, and that is what I think we will be hearing in the upcoming chapter as the announcement.
Will Yamato be joining the straw hats is one of the speculations going on and I will have to say that its a possibility for sure after we see Kaido vs Luffy battle end.
Marco will be moving back towards the sea where he will notice Perospero from the Big Mom pirates and no one knows what will happen there. Will he knock him out and kill him or Perospero will be able to escape without getting noticed?
One Piece Manga 985 Raw Scans Translation Details
As we all know, for the spoilers to get released the raw scans need to be leaked first and then the scanlation teams work on translating the chapter.
The spoilers are released for us when the English version of the raw scans are available. The Raw scans will be available by 13th and as mentioned earlier, the spoilers will be available by 15th July 2020.
Black Clover 257 and Haikyuu 401 will be releasing soon, so don't forget to check them out when it gets released.
What is the official One Piece 985 release date?
The chapter 985 of One Piece will be officially released next week on 19th July 2020.
Will Yamato join Strawhat pirates?
Yes, there are high chances that she will join Luffy and team in the future.
We will keep you updated when the One Piece spoilers get released online, so stay tuned and follow us on Facebook and Twitter.