Nacht the vice-captain of Black Bulls finally made his way to the captain's conference and some serious shit is definite going to go down in Black Clover 263.
Yami and Vangeance has been taken away by the dark triad and unless the Clover kingdom does something soon, their life will be at danger and the risk of Devils to the ground will be very high.
Magic Emperor Julius Novachrono is very weak after his fight with Licht and it doesn't seem like he has enough to go against the dark triad members, so it will be all on the captains to do something.
Asta's morale was down low after Yami got abducted, feeling helpless and just when he needed someone, Nacht the vice captain appeared.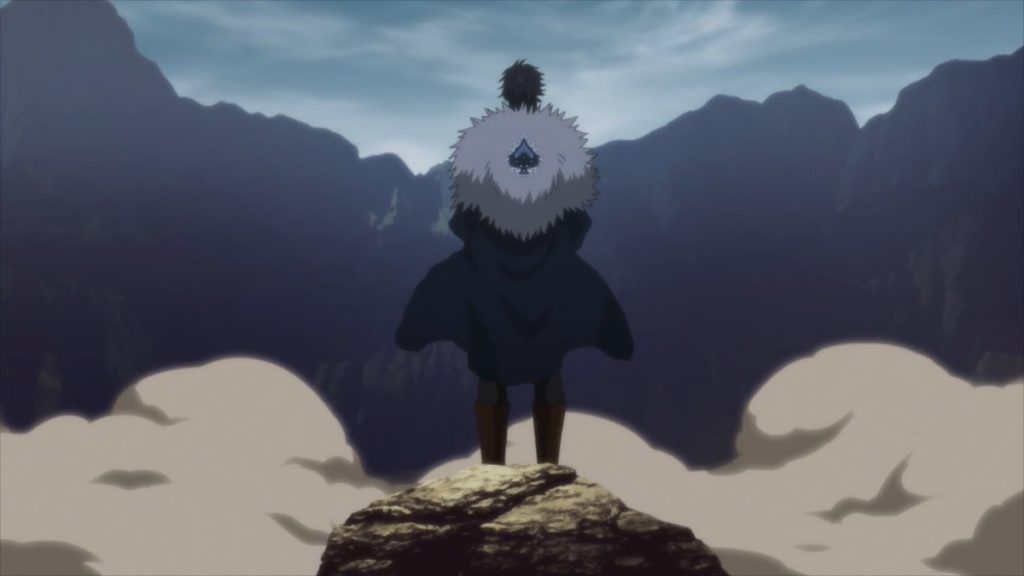 Nacht is a devil host just like the dark triad members, and he is the most suited to teach Asta how to control his devil powers.
In Chapter 262 we see the conversation between Nacht and Asta go further. Nacht introduces his devil and it's named "Gimodelo". On being asked how Yami recruited him, we got the most expected answer. Yami decided to let him join arbitrarily.
Yami is known to do things of these sorts, just like how Yami recruited Zora. Nacht has been working undercover in the Spade kingdom this whole time and has much information about what's going on.
If there is someone who can guide the Clover Kingdom in a situation like this, then its Nacht for sure.
We also see the captain's meeting being held and everyone is outraged by what dark triad has done and are trying to come up with a way to attack the dark triad hideout and save Yami and Vangeance.
Just when the meeting was over, Nacht finally barges in with Asta and that is where the last chapter ended and now fans are eagerly waiting to read Black Clover Chapter 263 spoilers early so that they can know what will happen in the upcoming chapter.
Fans loved the last chapter and even #blackclover was trending on US this week. Here's some tweets with people expressing their love for Chapter 262.
So let's not wait anymore and dive into the spoilers and raw scans of the upcoming Black Clover 263.
But don't forget to check our articles on One Piece 989 spoilers as it will be releasing soon online as well.
Black Clover 263 Spoilers And Predictions
The spoilers for the upcoming Black Clover Chapter 263 will be released on 3rd September 2020. So if you are here before that then you are probably early.
Keep an eye on this page for the spoilers. We will update this article with the spoilers once they are out.
While we wait for the raw scans to be translated, let's take a look at fan predictions from all over the world and what we think might happen in the upcoming chapter.
What is Nacht doing at the captains meeting? Maybe Nacht has some important information since he was undercover in the spade kingdom and might have found out the weakness of the dark triad members.
Since Nacht is a devil host, he must know how the powers of the devil works and he must know how humans can go against devils once they make their way up the ground.
Will Nacht be able to teach Asta how to control his devil? And what will happen with Asta's right arm that he offered to the devil? Will he get his arm back?
How strong Asta be once he is able to use his devils full power? A great war is brewing between the humans and the devils and it will sure be an exciting one.
This can also maybe the last arc of Black Clover manga. So once the devil arc is over, maybe Black Clover will end for good.
The good thing is that we will also be getting to know about Asta's father and mother soon and can't wait for their identities to be revealed.
A lot is going to happen in the upcoming Black Clover Chapter 263 and as we mentioned above, the spoilers and raw scans will be shared here once released.
Black Clover Chapter 263 Official Release Date
For the last few weeks, we have been getting a new chapter every week. So just like usual there will be no breaks from Shonen jump and the upcoming Chapter 263 of Black Clover manga will be releasing on 4th September 2020.
The upcoming chapter will be available to read on Shonen jump official website just like usual. Even if you prefer reading spoilers before the official release, make sure to check the official chapter as well because it helps the mangaka.
The raw scans will be dropping on 3rd September and will be available to read on the Black Clover subreddit.
Black Clover anime is also moving at a great pace and will soon be entering the spade kingdom arc.