Fans waiting to read Haikyuu 396 will not have to wait long since the spoilers will be releasing soon and we can't wait to read who finally wins.
As we expected, Haikyuu 395 was a backstory chapter as well and this time we got the backstory of Ushijima Wakatoshi.
For now we have gotten backstories on Atsumu miya and Kageyama and to fans who were eagerly waiting for a backstory on Ushijima, their wishes have finally been fulfilled.
Before we move on to the spoilers of Haikyuu Chapter 396 let's do a recap of the last chapter first and take a look at what happened.
So the last chapter started with Tendo reading an online article on Ushijima Wakatoshi failing to score against a foreign team while he was a part of the Japanese National team.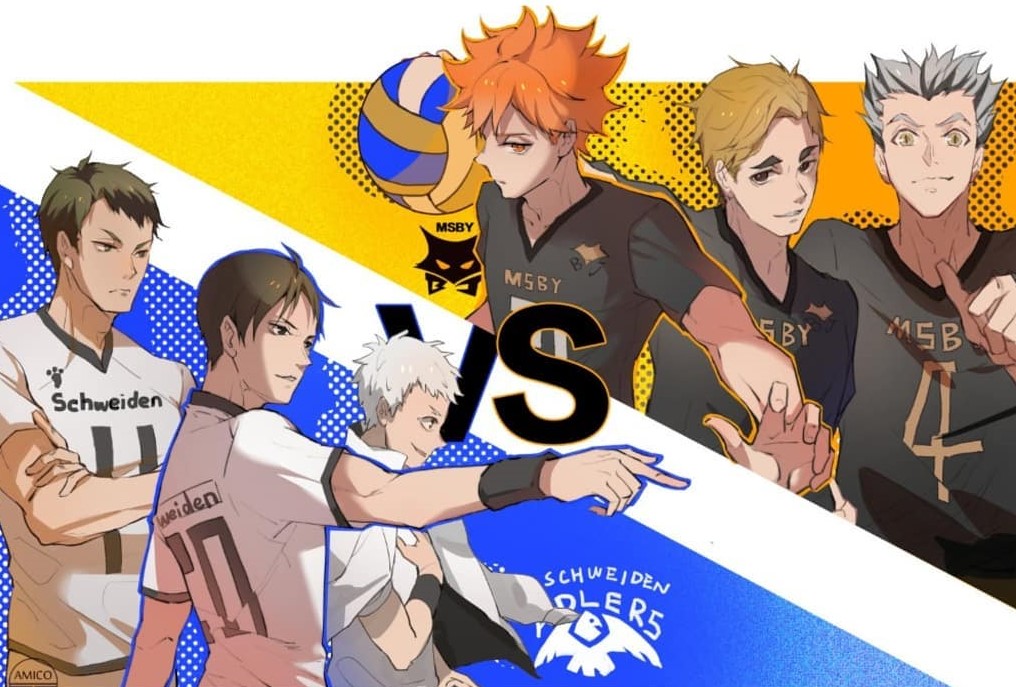 The Japanese national team suffered a defeat because of Wakatoshi unable to score at a critical time. Both start talking about the past games and now Wakatoshi is trying to improve his arm swing and how he is trying to do something different from how he played in high school.
They also talk about how three months ago Ushijima went to California, United States and how he met Imaizumi there and he came to know that Oikawa is in Argentina playing.
Iwaizumi is in California to met a sports doctor, who coincidentally is also Ushiwaka's father. His name is Takashi Utsui and Wakatoshi doesnt have the same name as his father because of his name coming from his family side.
Imaizumi and Ushijima talk a little and then the chapter resumes to the ongoing match. Ushijima seems to have perfected a new arm swing and a new type of shot that only he can do.
Instead of rotating his arm when he is in air, he now starts moving his arm as soon as he starts moving or jumping. Thus he can change the type of shots he can make and be comepletely unpredictable.
Hoshiumi sets for Ushiwaka and Ushiwaka doesn't fail to score this time and now the score is 24-23 in the favor of Jackals.
Adlers seems to be making a comeback but the only question in everyone's mind is if they will be able to win.
We knew that it will take multiple chapters for the game to be decided and that is exactly what we have been seeing for the last few chapter.
Many fans expect Haikyuu 396 manga chapter to be the game deciding chapter and that is why there's so much hype around the chapter.
As we mentioned earlier, the spoilers and raw scans will be releasing soon for everyone to read and we can't wait to read what happens next.
If you are a Shonen Jump fans, then you will be glad to hear that One Piece 981 and Black Clover 253 will be releasing this week as usual as well.
The Haikyuu anime is supposed to return soon with a new season as well. Anime like One Piece Episode 930 has been delayed while manga chapters are releasing as usual.
We will keep you updated with all the anime and manga news in the industry, so stay tuned and don't forget to follow us on Facebook and Twitter.
So let's get started.
Haikyuu 396 Spoilers Releasing Soon
The spoilers usually get released on Thursday, so if you are here before that, there is a high chance that you will not find any spoilers here.
Once the spoilers are released online, we will be sharing it here for all of you to read.
So let's take a look at what people thing might happen in the upcoming Haikyuu Chapter 396.
Who do you think will win this match? Who will be the last team standing? Who will it be? Kageyama or Hinata?
Many fans seem to believe that Adlers will make a comeback this round and emerge the victors and this will make Hinata train even harder to reach greater heights.
Now that every power player from Adlers have started going on the offensive, the chances of them making a comeback is very high.
The upcoming Chapter will most likely be the deciding chapter on who will win. But there are chances that the upcoming chapter might also be a backtory chapter and this time on Hoshiumi.
What do you think will happen in the upcoming Chapter? Let us know in the comments below and we will be sharing the spoilers and raw scans as soon as they get released.
Haikyuu Manga Chapter 396 Official Release Date
Since Haikyuu is a weekly manga, the chapters get released every week and this week will be no different.
Haikyuu Chapter 396 will be officially released on 7th June 2020 for everyone to read on Shonen Jump official website and Shonen Jump app on smartphones.
We will be sharing all the latest updates about the upcoming Haikyuu Chapter here, so make sure to bookmark this page.
In more anime and manga news, Solo Leveling Anime and Darwin's Game Season 2 are supposed to be announced soon and will be airing soon as well.