The match goes on with the score tied between Adlers and Jackals and no one knowing who will win this set. Everyone is eagerly waiting to read Haikyuu 400 raw scans and spoilers for early answers.
The match has reached the fourth set and the score is tied for now. If somehow Jackals are able to pull a victory here, they will be the ones to win the whole game and Hinata will have his first victory in a pro game.
This match is very important for Hinata as it's his pro debut match and he is giving 100% to every set, defense as will as hitting and we have seen some tremendous gameplays from him in the last few chapters.
Tobio on the other hand has been calm and we also got to see a backstory of him where he and his grandfather are playing and is discussing volleyball and his grandfather tells him that if he keeps playing Volleyball and gets stronger, he will meet players who are even better than him and will make good friends in the future.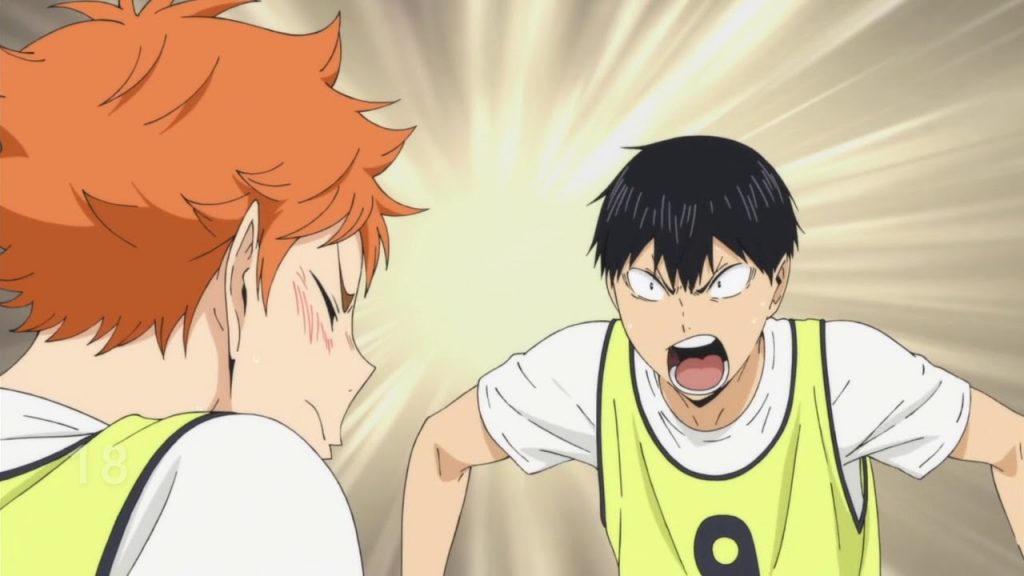 The last Haikyuu Chapter 399 was very short and there was not much that we got to see. The last chapter revolved around the Adlers and mainly Tobio Kageyama.
Hinata has been the superstar of this game and no one can deny that, in the last chapter he even stopped one of the Ushijima's cannon shoot.
Atsumu miya came up to serve but unfortunately we did not get to see any service ace from him as his serve got intercepted by Adlers and then set by Kageyama to Hoshiumi and he scores a point for the Adlers.
The score is now tied at 18-18 and the momentum seems to be in Adlers side and now Adlers will be serving and we might see Jackals in trouble.
Kageyama, Romero, Hoshiumi, and Ushijima the cannnon will be at their best now in the fourth set because if they lose this round, it will be all over them.
Haikyuu manga has been better with every new releasing chapter and the Haikyuu anime will be returning to your TV screens soon as well.
As we all know, One Piece Manga 984 and My Hero Academia 277 will also be releasing this week together with our Chapter 400 on the Viz site.
Haikyuu Manga Chapter 400 Official Release Date
Last week the Haikyuu chapter was released for some reasons, but this week the schedule has been fixed and now the chapter will be released every Sunday as usual.
The Haikyuu 400 chapter will be officially released on 5th July 2020 and you can read Haikyuu manga officially on the Viz website.
Those of you who enjoy reading manga on their smartphones, you can download the Shonen jump official app from the play store or iOS app store.
Haikyuu 400 Raw Scans And Spoilers Release
Spoilers are only available when the raw scans get leaked and translated and we expect the Haikyuu Chapter 400 raw scans to be released on Thursday this week.
Many scanlation groups work every week to make sure the spoilers get released early for everyone to read and we will be sharing the spoilers when they get released here, so stay tuned!
While we wait for the spoilers to get released, let's take a look at the predictions and fan speculations for the upcoming chapter.
Fans have high hopes for Kageyama, even though Hinata is the fan-favorite, fans want Kageyama to win this set so that they can play the best of five.
Card
Hinata's service ace and Kageyama's set to the other side of the court were amazing and these two will go against each other in the upcoming Haikyuu Chapter for sure.
The duo of Hinata and Kageyama has changed and now Hoshiumi has taken Hinata's place and doing a good job spiking. Even though Hoshiumi is just as if not more skilled than Hinata, but will be get to see the freak quick in the upcoming chapters?
There are many questions going on in everyone's minds and all will be answered in the upcoming chapter when released.
The spoilers and English raw scans will be soon shared online, follow us on all our social media channels so that you get all the latest anime and manga news online.