The fact that Haikyuu is a phenomenal manga is absolutely undisputable. It will go down in history as one of the greatest, most enjoyable sports manga in existence. It had a fantastic run and it ended on a perfect note.
Fans are feeling sort of empty right now. After 402 chapters, 45 volumes, and 8 years of serialization, Haikyuu is over. To bid farewell, the writer and illustrator of Haikyuu, Haruichi Furudate has left a message for all of us.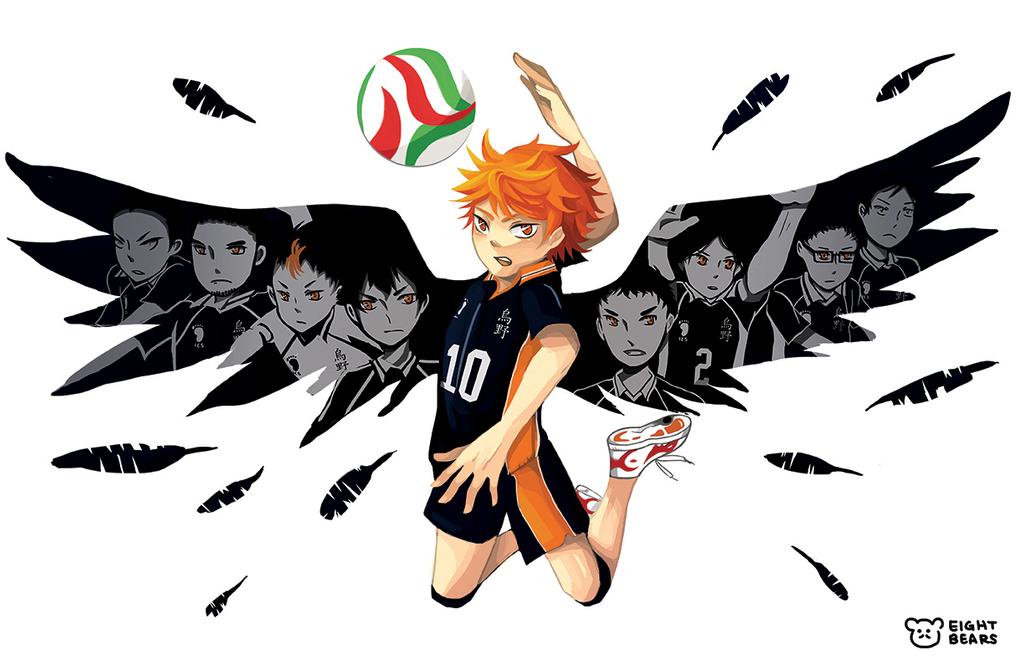 Let us have a short recap of the final chapter here. After that comes the main part.
Haikyuu 402 Recap:
Final Chapter: Challengers
We get a flashback of Karasuno vs Nekoma, with many other regional teams watching the game.
In 2021, many players are gathering at the Goshiki home. In Paris, Ushijima meets some friends. Ushijima is now a starter in Japan's National Team of Men's Volleyball. People are gathering at Washijo home, Kozume home. Old alums are getting together.
In July 2021, the 2020 Tokyo Olympics are going on. It's the Women's Volleyball match on Day 4. Japan fights Serbia. Ace Kanoka Amanai is being targeted and she welcomes the challenge. Eventually she gets the hang of the serve and scores a point.
In August, Olympics Day 12, the Men's Volleyball is taking place. Tanaka home is full. He discovers that Asahi and Nishinoya are on a trip overseas. Asahi sends a picture from Egypt. Apparently, they even plan to travel to the North Pole.
The Japan team has been on a hot streak. They are now facing Argentina. With a new coach, Japan has been performing very well. But they lost their last 2 games against Argentina. It's a revenge match. People all over, are excited for this game.
Shoto and Kageyama are even now. Iwaizumi, a while back, told Ushijima that he still plans to fight. He is now a trainer. All three are excited. Tohru Oikawa debuts in this arc – finally. He is playing for the Argentinian National Team. Oikawa followed his mentor Blanco to Argentina and became a citizen there.
As the match draws closer, everyone gets more excited. Bokuto exclaims that they will win this time and Kageyama says that they will control the pace of the game. The Japan team arrives. All eyes are on the decoy, Shoyo Hinata, aka, Ninja Shoyo.
With Ushiwaka and Hinata, the Japanese team has great variety in offense. They also have two, very capable setters. Hoshiumi and Sakusa are also on the team. With encouraging words from the coach, team Japan is ready. Hinata reminds Kageyama to set a lot of balls for him.
The game begins. There is great back and forth between the teams. Haikyuu, also known as Volleyball, is a great game. It separates 2 teams by a net – they bounce the ball back and forth without ever carrying it or letting it touch the floor. Within 3 touches, the teams have to receive the ball and send it back as an attack.
The game goes on. Hinata spikes and Kageyama keeps setting to them. The Karasuno duo shine brightly on the court, and commemorate with a fist bump.
In 2022, the FIVB Men's Volleyball Championship is taking place in Rome. It's the Italian team Ali Roma vs the Brazilian team Asas Sao Paulo. Playing for the former is Kageyama. Playing for the latter is Hinata. Once again, they meet on opposite sides of the court – its an eternal rivalry.
Future Of Haikyuu, Will there be a sequel?
Is it the end for Haikyuu? Does the great manga draw its last breath today? Well, it seems so for now. Furudate had written his goodbye and the other mangakas congratulated him. But hey, what if this is The End and The Beginning? How would that be.
Let us look at a very interesting tweet. Apparently author Furudate plans to do a Haikyuu!! Olympics Edition sequel manga.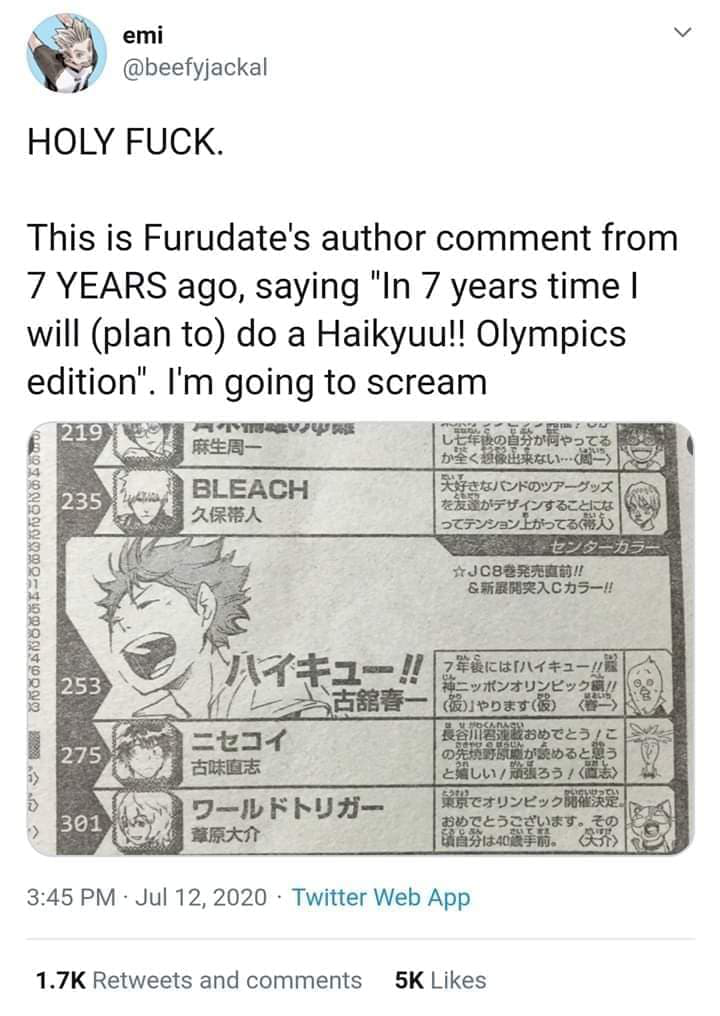 Now please note that nothing is set in stone and Shonen Jump has not made any announcements whatsoever. So why are we maintaining hope for this? There are a few reasons why. There is always a possibility, even though nothing has been announced so far.
Ever since its launch, Shonen Jump has always maintained atleast 1 sports series. Right now, we find ourselves without one. To top it, no new sports series have been announced either. So maybe they're keeping the coast clear for Haikyuu sequel.
When a long-running series ends, we get prior notices and a lot of chatter is heard at least a month before. Haikyuu's ending was only rumored around 2 weeks ago.
An 8-year-old series ended with a very tiny bang. It was a quiet funeral. Maybe this means Shonen Jum doesn't want the fire to end just yet. Maybe there is more and we are indeed getting a sequel.