Fans are very excited for the ultimate chapter of Haikyuu. With bittersweet memories, we look back at our amazing journey and await Haikyuu 402. Let us have a blast at the ending.
Haikyuu Manga 402 will be the final chapter. It will get the lead cover page and have 28 pages. We're also expecting a footnote from the author Haruichi Furudate.
For nearly a decade, he has supplied us with consistent chapters and created one of the most iconic sports anime of all time. In fact, Haikyuu is the sports series with the least number of haters.
Here we would like to mention an interesting fact. Since the beginning of Weekly Shonen Jump, this is the first time that they are not serializing a sports manga.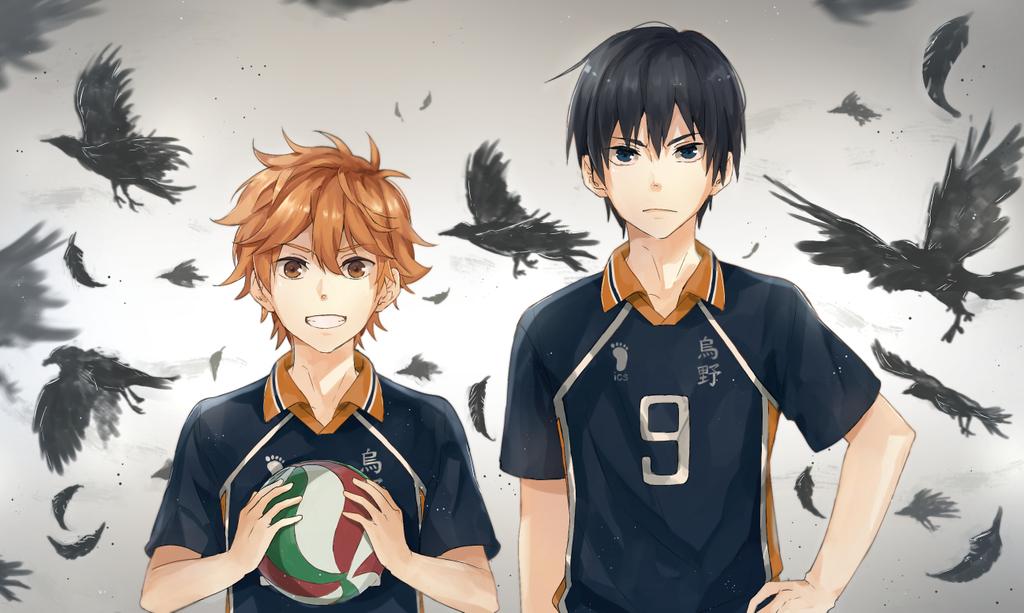 After Haikyuu, there will be no ongoing sports manga and the fans desperately want something new. The image here shows the sports manga over the course of time:
Let us have a quick recap of the penultimate chapter and also check our articles on One Piece 985 and Solo Leveling 111 as they will be releasing soon.
Haikyuu 401 Recap:
With great enthusiasm, Kindaichi and Kunimi are watching the Jackals vs Adlers game. Hinata is attempting a spike and Kageyama is the defender. Every time he gets stronger, someone even stronger appears in front of him.
Hinata spikes craftily. The ball is stuffed by Kageyama. However Hinata is ready; whilst falling, he digs the ball with his feet. As soon as he lands, Hinata moves to the other corner. Miya sets the ball to Bokuto on the other side. Bokuto smashes it into Adler court winning another point.
Kageyama realizes it is the set and match point for the Jackals. The Jackals have won over the Adlers with a 3-1 set count. Breakdown shows 25-21, 20-25, 25-23, 26-24. Hinata has won his debut match!
Hinata and Kageyama remembers their old days. Kageyama said that he is going on ahead. Hinata has caught up. They're both at the same level now. Hinata says that he has 1096 wins and 1100 loses.
The other players are shocked and tried to see his rivalry with Kageyama. They've been counting their games ever since highschool.
In the audience, the alumni are happy to see a great game. However, the season has just begun and there is more to come in V League Division 1. It's the division where the monster generation has landed. Tsuki's match is coming and his friends are eager to watch.
Romero congratulates 'Ninja Shoyo' and introduces his son, who is a big fan. Hinata knows their tongue and they get along well. Meanwhile, the former Little Giant, Akaashi is hyped by the game. He is heading home to finish his own manga and start a new one.
Bokuto attends an interview where they discuss how he is not special anymore. In front of the other athletes, he is ordinary. Elsewhere, Shimizu meets her old friends and they want to go out together. Hinata is summoned by a lady. A man from the volleyball association is there to meet him.
The man is Kuroo Tetsuro! They discuss about lowering the height of the net for shorter players. Kuro invites Hinata to collaborate with him in a video. Kuro is excited that sports can bring in a lot of money and improve the general economy.
Kageyama meets Kindaichi and Kunimi and says that he wants to play with them again. The field and the age matters not – they will be playing even when they are old men. In fact, Kageyama is going abroad from the following year. They gracefully accept.
Hoshiumi is at an interview. When asked about Athlete Hinata, he is filled with praise. He doesn't see Hinata as a rival, he sees Hinata as a partner to dominate the volleyball world. All over the stadium, old friends are meeting and greeting.
In the year 2021, Hinata and Kageyama enter the stage. It is the Ariake Arena hosting the Tokyo 2020 Olympics Volleyball game.
The freak duo, Hinata Shoyo and Kageyama Tobio are on the same team, representing Japan at the Olympics.
Haikyuu 402 Release Date:
Haikyuu Manga 402 raw scans will be quite long. They will appear in next week's Weekly Shonen Jump. The date is 15 July, 2020. The scans will be picked up by scanlators who will release the fan translated English version on 17 July, 2020.
On 19 July, 2020, the Official English translations come out. Haikyuu 402, the final chapter will be uploaded with HD scans. You can access them on 3 places:
Viz Website
MangaPLUS website
Shonen Jump app
Please look forward to the upcoming Haikyuu volumes and try to buy them to support the creators. Now, let us look forward to the second cour of Haikyuu anime season 4, which is coming on Fall Season, 2020.
Haikyuu Chapter 402 Predictions:
Not much is left to say about the series. Haikyuu 402 is the ending. We will get to see Hinata and Kageyama get to perform on an international level. We're expecting Japan to perform extraordinarily well. In fact, we won't be surprised to see Japan win the gold medal.
Haikyuu 402 might reveal the complete Japanese volleyball team for the Olympics. We are expecting players like Hoshiumi, Bokuto, Sakusa, Miya and of course, Ushiwaka on that team.
Maybe, we will get to see our beloved character Oikawa too. Oikawa was absent from the V League game and it will be amazing to see his return.
We might see the new player Romero in Haikyuu 402, playing for his home team. In fact we might get glimpses of a number of international games where our beloved duo performs.
We are excited about the colored page in the middle. It will probably be a double spread.
Haikyuu Manga 402 Spoilers Release Date:
This is the area where we will upload the spoilers for Haikyuu Chapter 402. So far, no spoilers are available but we are trying our best to get them for you.
Please be patient and keep an eye on our site. You will get some leaks and sneak peeks within 16th July 2020.
The Black Clover 259 and My Hero Academia 279 will be releasing on the same date as well. So check them out and stay tuned for all the latest spoiler news.