One Piece 968 spoilers and One Piece manga 968 raw scans are going to be released soon and fans are excitedly waiting for the chapter to be released and today we will share how you can read One Piece 968 manga online.
Last week One Piece was on a break because of New years and Christmas and the One Piece 967 was supposed to be released on 5th January but the chapter got leaked and we got an early release of the chapter and now fans are waiting for One Piece 968 spoilers to be leaked.
One Piece manga chapter 968 is supposed to be released on 12th January 2020 but if the chapter somehow gets leaked again then we can expect One Piece chapter 968 by this Sunday.
You can easily read One Piece chapter 968 online and check out our list on best sites to read One Piece manga. In this article, we will be discussing the spoilers that are floating on the internet and we will also discuss the One Piece 968 release date and raw scans.
Before we get into the main topic, let's first recap what happened in the last chapter and then we will discuss the upcoming chapter spoilers and raw scans. Since Jaiminisbox stopped doing One Piece scanlations, you should check out Jaiminisbox alternatives to read the latest One Piece chapters.
Update – One Piece Manga 968 Spoilers Release
Chapter 968 Name- Oden's Return
One Piece 968 will be released tomorrow and you can read One Piece manga on Viz and Shonen Jump app. Oden will be returning to Wano and We got to see the silhouette of Kaido. One Piece 969 will maybe feature Oden vs Kaido.
One Piece Manga 967 Recap
One Piece 967 starts at Water 7 where Roger is waiting for his ship to be finished and there we see a young Franky and iceburg. Oden asks Franky to come on the journey but Franky refuses.
Then the Roger pirates move on to the New world crossing the Fishman island where Roger meets his old Pal Neptune and they start talking when Roger enquires about the Poneglyphs.
Roger gets both of those decrypted with the help of Oden and there he comes to learn about Joyboy and then Sharly's prophecy of upcoming disaster and how the mermaid princess might be the weapon of catastrophe.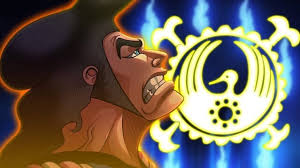 Roger than comes to know that Kozuki family is in possession of the last poneglyph so they all go to Wano kuni where Toki feels ill. The fourth and last poneglyph is at Zou and to continue the journey, Oden leaves Toki behind promising that he will come back soon after the journey ends.
Roger pirates together with Oden reach Zou and finally find the last poneglyph and decipher the whereabouts of the last island. Roger decides to set sail immediately and thus they move and finally reach the last island.
The last panel was very emotional and moving as we saw Roger pirates on the last island where they finally found the treasure "One Piece" and are now laughing because the treasure was not what they thought it would be and thus name that island "LaughTale".
Read One Piece 968 Spoilers And Predictions
One Piece chapter 968 on break this week so the spoilers will be delayed as well and till then we are sharing what we think will happen in the next chapter.
One Piece 968 might be the last flashback chapter as we already saw Roger reaching laughtale and now all is left for us to see how the story proceeded after that before coming back to the recent story of all the Strawhat fleet disappearing.
The next One Piece chapter will bring one of two things, either the flashbacks will continue for one last time or the initial Wano story will resume.
Here is what we think will happen in the upcoming One Piece manga 968 and are the spoilers.
Oden will return to Wano to meet Toki
Roger will disband the Roger pirates and will turn himself to marines
We might get to see how Kaido reached Wano and an initial peek of Kaido vs Oden
Kaido vs Oden full fight will not be shown
Roger execution will be shown in the next chapter with a brief introduction to all the Roger pirates maybe
We will learn a bit more about Wano's past and also get to know how Korozumi Orochi took control of Wano and let Kaido in the country.
So these are some of the things we believe will happen in the next One Piece chapter 968. We will share the originally confirmed spoilers as soon as they will get released on Reddit.
Read One Piece 968 Release Date
One Piece manga was on break last week but since the chapters got leaked, the original release of chapter 967 is this week so the release date for One Piece manga 968 is January 20, 2020, and the raw scans and spoilers will be out by 17th January 2020.
One Piece manga is on a break with other publications and will be released on 20 January. Black Clover 236 and Dragon Ball Super 56 will be released together with One Piece 968 on the same date.
One Piece Manga Chapter 968 Raw Scans
It takes some time for the chapters to get translated from Japanese to English so the raw scans take some time but since Jaiminisbox has stopped scanlations, it will take more time.
The One Piece 968 raw scans will be out by 17th January 2020 and till then read our article on best high school romance anime and Reddit One Piece fan theories.
We will keep you all updated with the latest One Piece manga news and update the raw scans and spoilers as soon as they get released. So stay tuned for the upcoming One Piece manga chapter 968 which will be released soon.
One Piece 968 FAQ
What is the One Piece 968 release date?
The One Piece manga 968 will be released on 20 January 2020.
When will we get One Piece manga 968 raw scans
One Piece 968 English raw scans will be available by 17 January 2020 and you can check them on Reddit or we will update here as well.
Will Oden fight Kaido in the next One Piece chapter?
Yes, I think we will see glimpses of the fight but not the full fight.
Where can we read One Piece 968 manga chapter?
You can read the next One Piece manga chapter on manga sites like Viz and Mangaplus.