Ousen's army march to Gyou has started and we can't wait to read what happens in the upcoming Kingdom 634 spoilers and raw scans.
Kingdom Chapter 634 will show us more about what will happen at Gyou and who will reach first? Riboku or Ousen?
The Kingdom's chapter 633 just got released and it was exactly what we expected. Ousen is hell-bent on going after Riboku and even though everyone is tired and hungry, Ousen wants to catch up Riboku soon so that he can finish him off.
From the last chapter, it seems like Riboku is moving towards Gyou with his army too and Ousen knows about it so he wants to reach Gyou as fast as possible.
Kanki army has Gyou surrounded and they announce that they will not kill any of the civilians. People from Gyou are starving and asking Kanki to let them out but Kanki is not stupid to do that.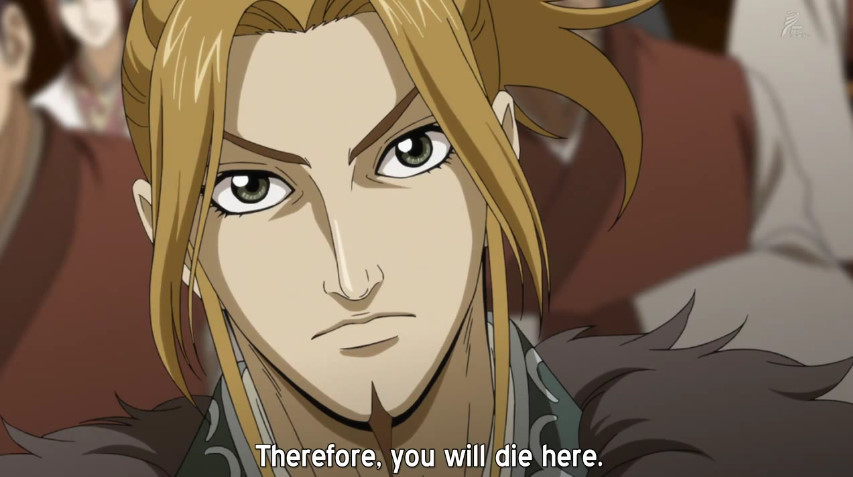 Gyou has no shortage of fighters right now but all of them are starving. Kanki has the charge of the castle and is staying put. Then they get information that the Riboku army is heading south and coming to Gyou.
Kanki stays put and is not worried about anything. The people of Gyou are worried about the food and soon a fight will be starting.
The chapter shows that Ousen is determined to go after Riboku and asks strong warriors to follow him. He proposes to take only two out of every ten soldiers there.
Ousen wants to take only those who can chase after Riboku and fight. Shin wants to go with his unit but he refuses to take them. It looks like Shin will be leaving alone, leaving the Hi Shin unit behind.
We got to see that Kyoukai woke up in the last Kingdom chapter and we can't wait to read what happens in the Kingdom Chapter 634.
Kyoukai bids Shin goodbye and says take care as Shin begins to move. The situation at Gyou is getting intense and even though everyone there at Gyou is getting agitated by the fact that war is starting, Kanki like a cool guy, says everyone to "Calm yo ass down".
The main concern for everyone is food and they need to do something about that otherwise, they will not last for long in the fight.
Kingdom Manga 634 will be released soon and today we are here with Kingdom 634 spoilers and raw scans.
Make sure to check our articles on Haikyuu 385 and Solo Leveling 108, as they will be released soon.
We did a Solo Leveling Manga review on our website, so make sure to check that out and check out our One Piece 973 article as well.
Kingdom manga 634 Spoilers Out
Kingdom 633 Spoilers Releasing Soon
Now that Chapter 633 is out, fans can't wait to read what happens next. Many fan theories and unconfirmed spoilers are going all over the Kingdom Reddit and we will be sharing some of them today with you guys.
Why is Kanji unfazed by the fact that Gyou will be attacked soon and he will be surrounded from two sides.
Kanki might already know about Ousen coming and that is why he is not worried. Here's something from the Kingdom subreddit.
Spoilers for new chapter -question for chapter 634 from r/Kingdom
Who will reach Gyou first? Riboku or Ousen? It seems like Riboku will be the first to reach and either Kanki will fight or just retreat for some time as Riboku needs to do something about the scarcity of food in Gyou fast.
We will be sharing the Kingdom Manga 634 spoilers here as soon as they get released, so stay tuned for all the latest updates and check our article on Solo Leveling 109 while you wait.
Kingdom Manga Chapter 634 Raw Scans Release Date
The Kingdom manga is on break this week and that is why the Kingdom Chapter 634 raw scans are not out yet.
The Kingdom manga gets released in Korean first, which is then translated to English and other languages. The scanlation takes some time and since there are very few scanlation teams left because of the manga piracy issue, it might get released late.
The raw scans for the upcoming Kingdom Manga Chapter 634 will be released near 10th March 2020, at the same time as attack on titan 127.
Kingdom Manga 634 Official Release Date
Kingdom manga is on a one week break and that is why it will not be released this week. The details regarding the break have not been made public yet but there will be no Kingdom Chapter releasing this week.
The Kingdom Chapter 634 will be officially released on 12th March 2020 and we will be sharing the spoilers and raw scans as soon as they get released.
We will be writing more Kingdom manga related articles soon, so make sure to follow this site and like us on Facebook for all the latest updates and also check out our One Piece articles.
Was Kingdom manga 634 on break?
Yes, the Kingdom Manga Chapter 634 was on break last week.
When will Kingdom 634 get released?
Kingdom Chapter 634 will be officially released on 12th March 2020.