The Attack on Titan 127 spoilers will be releasing soon and we can't wait to read what happens in the upcoming Shingeki No Kyojin Chapter 127.
Everyone in Paradis felt the effects of rumbling and now all the colossal titans have been freed from the walls. They're heading out to the world to destroy humanity! But now many people have changed sides and they want to save the world. So today we bring to you attack on Titan chapter 127 spoilers , release date and raw scans.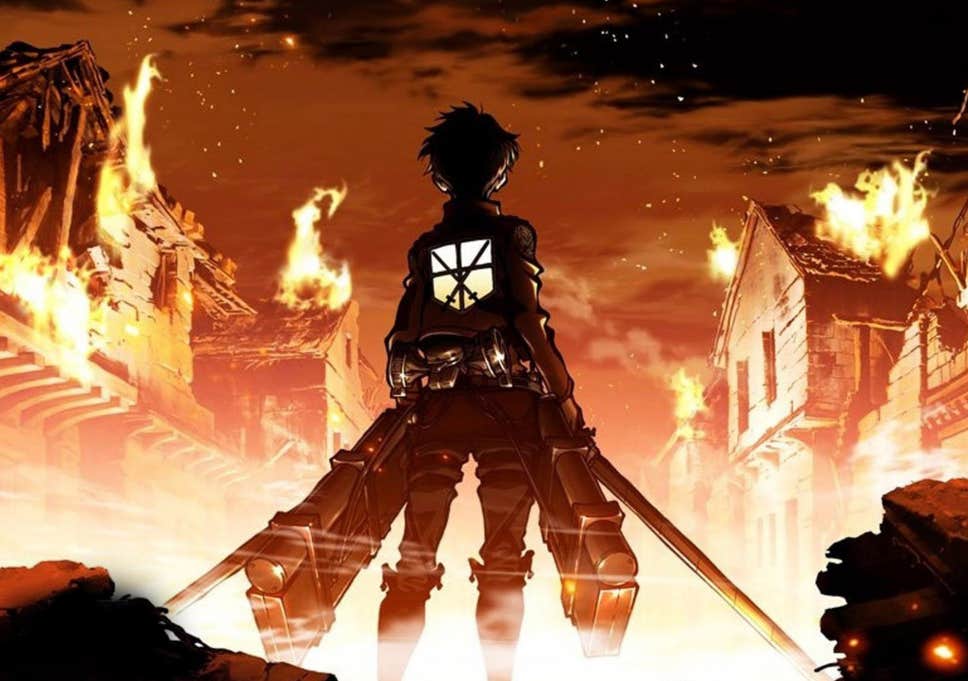 The attack on Titan season 4 (final) will air in 2020 and fans are excitedly waiting for their favorite scenes to be animated. The exact date has not been released yet but we will get that soon.
One Piece 973 and Haikyuu 385 will be releasing on the same date as the upcoming Shingeki no Kyojin official chapter so make sure to check that as well.
Attack on Titan chapter 126 recap
The chapter begins with the flashback of Levi and Hange after they barely escape death. After the blast, Levi's face is heavily damaged. He's also lost a few fingers and cannot walk on his own. But he isn't dead. This must have something to do with him being an Ackerman.
Levi wakes up when the rumbling starts and then they decide to go after Eren and Zeke to stop the world from destruction. Then they meet Pieck and Magath where they join forces.
Next, we see Connie and Falco on their journey. Connie is having second thoughts. While Armin and Gabi are following them in hopes of stopping him. When Connie and Falco reach ragako village, he tries to get his mom to eat Falco on the pretext of cleaning the teeth.
Just as they're about to do that Gabi appears and tells Falco to getaway. Falco realizes he's in danger. To stop all this Armin decides to sacrifice himself in order to save his mom. Connie realizes his mistake and vows to become a better soldier. On their way back to the city they find Annie! And she joins them too.
We head back to the city where Floch and the Yeagerists are executing their enemies, namely Yelena and Onyakopon. The crowd is cheering and eagerly waiting for their deaths. Jean misfires a few shots and suddenly the Cart titan appears out of nowhere.
Turns out it was a plan by Mikasa and others to rescue them. They're taken to Hange. From there they find Reiner. So now all of them have joined to save the world from the titans.
Attack on titan chapter 127 spoilers
Shingeki no kyojin chapter 127 will release soon and answer many hot questions the readers have.
Historia has been missing for the last few chapters and she's too important of a character to have no updates on. What happened to her kid? Where is she?
We haven't seen Eren or Zeke too for a few months now. Zeke somehow escaped Levi and is on his way to Eren to somehow take over his power. And Eren is going towards the ocean along with his colossal titan army to stomp the world and kill all humanity.
Marley's counter-attack didn't do much damage and they suffered heavy losses. They might come back harder with major weapons to fight off Eren.
Major questions for Attack On Titan 127:
How will they stop Eren?
Now that Hange, Levi, Mikasa, Armin, Gabi, Falco, Pieck, Magath, and Reiner have joined up. The next question is how will they stop Eren from destroying humanity? Sure they have 5 titan shifters and 1.5 Ackermans but will that be enough?
Maybe they'll just talk him out of it or…
What will Zeke and Eren do?
Even though Eren somewhat succeeded in his plans how does he plan to go through in killing everyone? Does he actually mean to kill every single person? I personally think that's not the case and he just wants to exact revenge against Marley. Also, Zeke isn't entirely out of the game and he still has supporters so it will be fun to see what goes down when they both meet.
Shingeki no Kyojin Chapter 127 Raw Scans
The Chapter will be officially released soon and the Attack on titan chapter 127 raw scans will be released a few days before the official chapter release.
You can expect the raw scans to get released before 6th February 2020 and we will be sharing all the details as soon as they get released.
Check out our articles on Black Clover 242 and Solo leveling 108, as they will be releasing soon.
Attack on Titan chapter 127 release date.
The new Shingeki no kyojin chapter 127 is set to be released on March 9 in Japan. So we'll get the English translation around that time too.
Attack On Titan 127 Update From It's editor.
Translation- The "Attack on Titan" manuscript published in the April issue of Another Magazine has been updated.
It was a notice.
Congratulations, Isayama!

The chapter will be out by 9th February 2020.https://t.co/Ig1fr0cHqy https://t.co/HFbNwYmq0u

— Strawhatmanga (@strawhatmanga) March 2, 2020
Attack On titan editor shared on his twitter that the chapter has been completed and it will be officially released for everyone to read soon.
We will be sharing more about the upcoming Attack on Titan chapter as we get more news. Check out our articles on Solo Leveling Anime and Haikyuu Manga.