In this article we will be discussing the upcoming Haikyuu 387 raw scans and spoilers, so stay tuned!
The match between Adlers and the Jackals is going on strong and for the first time, the Jackals have gotten the lead because of Hinata's exceptional play.
Hinata's skill has always been overwhelming but since he has returned from Brazil, his skills have sharpened and now he can set, defend, and attack all by himself.
We all know Hinata's prowess as a spiker but in the last few chapters we have seen Hinata as a setter and a great defender and it has shocked everyone in the arena.
The Haikyuu Chapter 386 started with Adlers taking a time out and Sugawara and the gang talking about Nishinoya. Nishinoya has been traveling around the world and has been sharing his endeavors with everyone through web chats.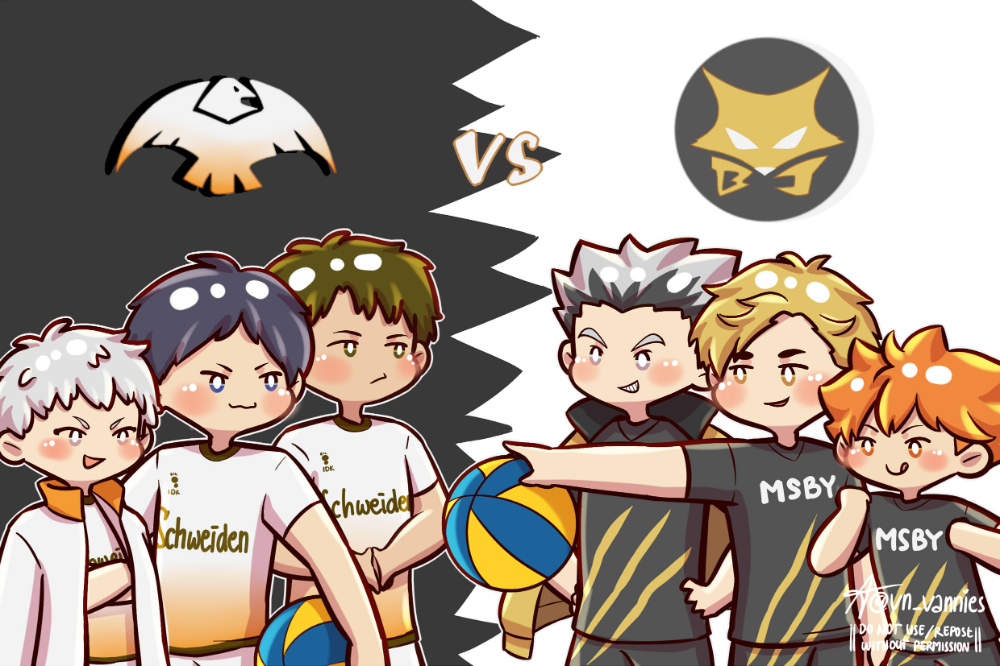 It seems like Nishinoya has left the volleyball scene for good and its the same for Sugawara and Asahi.
Everyone in the arena is shocked by Hinata's game and can't believe how much he has grown.
It's Adlers turn to serve and the serve gets intercepted by Hinata and he sets it to Thomas who scores a point for the Jackals.
The match starts again with Thomas's serve and this time Adlers are the one to intercept and Romero is the one to spike this time and the spike is so fast that Bokuto has no time to receive it cleanly and thus uses his chest to intercept the spike.
The whole arena goes crazy, Atsumu Miya shocks the arena with a setter dump and little by little, Jackals are getting ahead in points.
Jackals are on the set point now and it's Jackals time to serve and Thomas hits a straight that Kageyama intercepts and sets for Ushijima.
Hinata comes forward to receive but it's so fast that the ball flies and Ushijima taunt Hinata by saying "sorry if it was too hard".
The score is 24-20 in the favor of Jackals now and they only need one point in order to win the set.
It's Kageyama's time to serve and we all know how strong his serves are, the setter Miya gets a hand under the ball and the ball flies towards Hinata.
It seems like Hinata will spike but shockingly, he sets the ball for Bokuto and Bokuto scores the set point.
The Jackals have won the first set and it's all thanks to Hinata. The second set will continue from the upcoming Haikyuu Chapter 387 and we can't wait to read what happens next.
The spoilers and raw scans for Chapter 387 of Haikyuu will be releasing soon. Check out our article on sites to read Haikyuu and if you are a Haikyuu anime fan, check our list of anime streaming websites as well.
We have also shared articles on One Punch Man Season 3 and One Piece 975, so check them out as well.
Haikyuu 387 Spoilers Releasing Soon
The second set of the match will be starting soon and Kageyama needs to do something if he wants to win against Hinata.
Hinata has totally outsmarted Kageyama and I don't think Kageyama will take it lying down. Ushijima is furious as well and the second set is going to be intense.
It looks like Hinata has shown all he can do now, so there will be no new surprises for him moving ahead. Kageyama needs to come up with new strategies if he wants to win.
We can't wait to watch more of Hinata vs Kageyam and we think we will be seeing more of that in the upcoming Haikyuu manga Chapter 387.
The Spoilers for Haikyuu 387 will be releasing soon and we will be sharing them here as they get released.
Haikyuu Chapter 387 Raw Scans Release Date
Haikyuu raw scans are getting released a bit late these days because of mangastream stopping the scanlations for Haikyuu.
New scanlation sites have emerged but still, the English translations are not that good and most of the time with errors.
The Haikyuu Manga 387 English raw scans will be out by 20th March 2020 and we will be sharing the links here as they get released.
While you wait for the release of haikyuu spoilers and raw scans, check our articles on Black Clover 244 and Kimetsu no Yaiba 199.
What is the Official Haikyuu 387 release date?
Haikyuu Manga Chapter 387 will be officially released on 22nd March 2020.
Where can we read the upcoming Haikyuu manga chapter?
The chapter will be available to read on Viz website and Shonen Jump app.
Don't forget to share your views on the upcoming Haikyuu Chapter 387 and keep visiting for more Haikyuu news and check out My Hero Academia 265 article as well.