Fans are really excited to see more of Sukuna's abilities in Jujutsu Kaisen 119. The villain is possessing the hero's body and fighting all out. This is a very unique and enjoyable situation for all fans.
Jujutsu Kaisen is written and illustrated by Akutami Gege. It is currently serialized in Shueisha's Weekly Shonen Jump. Slowly but surely, it is shaping up to be the fourth pillar that supports the manga, besides One Piece, My Hero Academia and Black Clover. With Jujutsu Kaisen 119, we are in the midst of the amazing Shibuya Incident arc.
Initially, Sukuna was just a symbol of fear, just like how Gojo is a symbol of Power. Sukuna was feared by all and we hyped him up to no end. Finally, our wait has paid off. Sukuna has shaped up to be an excellent antagonist and his abilities are truly on a separate tier from all.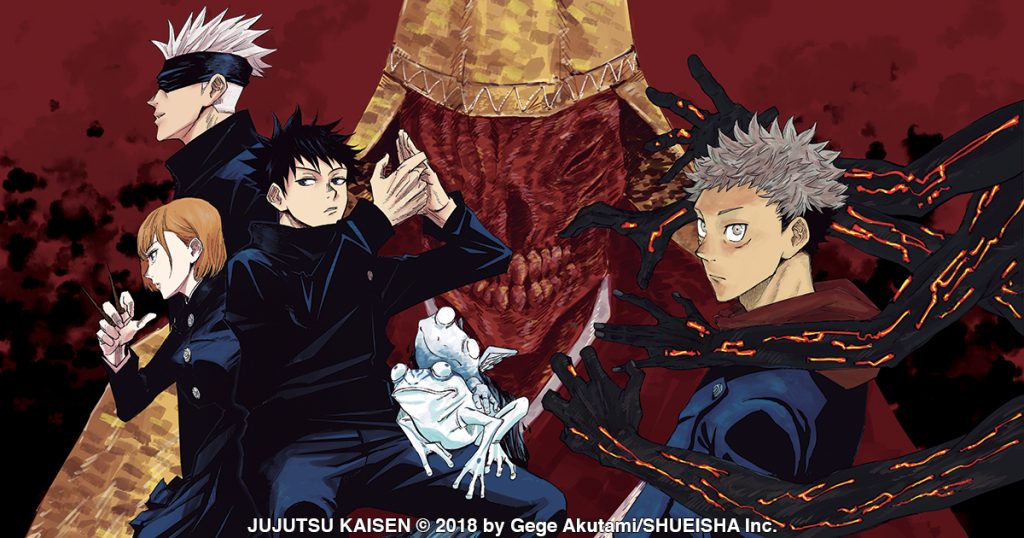 With the anime adaptation coming in the near future, we will get to see how Studio MAPPA chooses to handle the amazing fight choreography. With proper sakuga, the fights can be Dragon Ball level or better.
We know Jujutsu Kaisen is inspired by Hunter x Hunter; maybe its similarities will be able to attract the HxH fans.
Jujutsu Kaisen 118 Recap:
The Shibuya Incident Part 36
Sukuna engages in extreme battle against the Shikigami. They each use their specialties to attack and counter properly. Sukuna realizes that his opponent is using the Sword of Extermination – it has positive energy, the opposite of cursed energy. It can defeat any cursed spirit. But Sukuna is safe, as he is using a human body.
The Shikagami can heal its wounds too. It can also see Sukuna's cursed techniques and deflect them. For a brief moment, the Shikigami gets the upper hand and beats up Sukuna. Sukuna is unfazed. He counterattacks in no time, and deals incredible damage.
However, the Shikigami stands up again and heals itself. Sukuna now realizes the nature. The opponents ability is like Yamata no Orochi. The wheel it has, turns and counters the opponent. Basically, the Shikigami can adapt perfectly – like a late throw in Rock Paper Scissor.
The opponent is very tough, possessing both Positive and Cursed Energy. It can also dismantle Sukuna's techniques. It's powers are in a complete cycle and harmony, just like Furu's Incantation of Ten Sacred Treasures. But Sukuna has an idea about how to defeat it. Without hesitation, Sukuna starts his Domain Expansion: Malevolent Shrine.
Jujutsu Kaisen 119 Spoilers:
As of now, there are no spoilers of Jujutsu Kaisen 119 available. You have to wait until August 26, for the raw scans to be leaked. We will upload them in this section so please keep an eye on this website.
What do you do when you are up against a seemingly unbeatable opponent? What if the opponent has the counter to all your attacks? You use a proper plan to either utilize your opponent's weaknesses or you surpass your limits and overwhelm your opponent. Jujutsu Kaisen 119 will show Sukuna choosing the second option.
Jujutsu Kaisen Chapter 119 will be named Shibuya Incident Part 37. It will take the battle inside Sukuna's domain. We might get to see whether the Shikigami has its own domain expansion as well. If so, then Sukuna might have more trouble than he assumed.
It will be very interesting to see how Sukuna's Domain Expansion works. It is named Malevolent Shrine and from the looks of it, there will be a lot of undead creatures trying to attack the opponent. Maybe using so many undead will open up a path for Sukuna to land an attack itself.
We are not yet clear on Sukuna's plan. Soon, we will see how he uses his knowledge from his fight against Megumi to defeat this super adaptable opponent. Knowing Sukuna's character, it won't be something tricky or super sophisticated. It will be a clever but straightforward approach.
Jujutsu Kaisen 119 might also give us a clue about why Megumi chose this plan of action. It is extremely reckless and right now, Megumi is barely hanging on to his life. Did he predict all of this or was he clued in somehow? Either way, the plan seems a bit too reckless and we will get to see his perspective soon enough.
Jujutsu Kaisen Chapter 119 Release Date:
The Raws Scans for Jujutsu Kaisen 119 will be released on August 26, 2020. The fan translations of the chapter, if they are released, will arrive around 28 August, 2020.
The official scans of Jujutsu Kaisen 119, with English translations, will be available on 30 August, 2020. You can find it on Viz, Mangaplus and Shonen Jump app.
You should also check our articles on other Viz popular manga like Black Clover 262 and One Piece 989 as they will be out soon as well.