Black Clover 251 spoilers and Black Clover Manga Chapter 251 raw scans will be released soon, and we can't wait to read more on fight against the dark triad.
In the last chapter, we got to see an astonishing showdown between Charmy and Halbet, who is a member of the Dark Triad. Charmy got furious and we got to see her sheep turn into a wolf just like in the Elves arc.
Halbet gets knocked down by Charmy, so we will be seeing another member the Dark Triad going against Noelle, Mimosa, and Lolopechka.
Who do you think will be fighting them? What kind of magic do they use? Who will be victorious?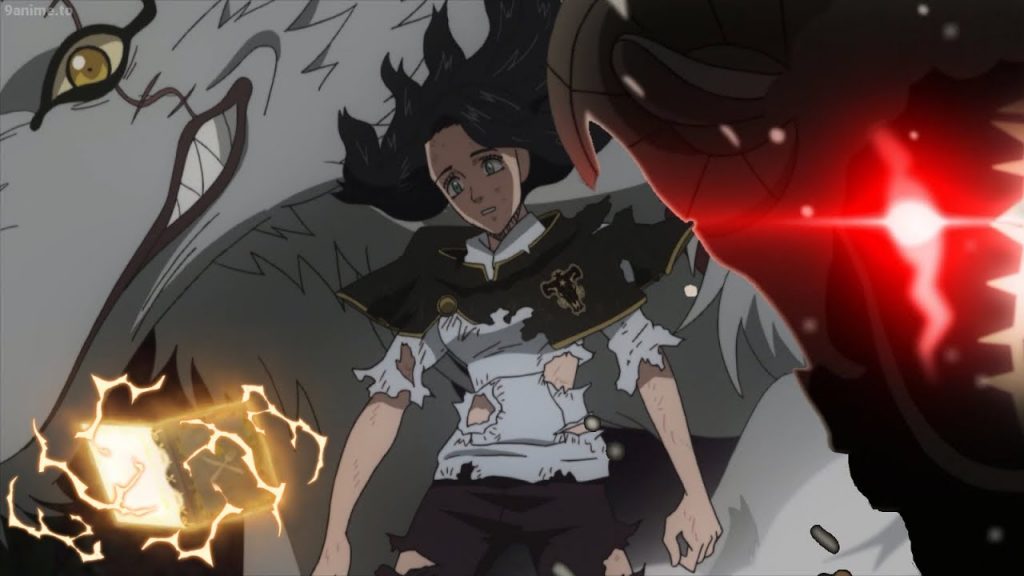 There is no break this week as well, the chapter will be released on time and the official release date has been shared below.
One Piece 980 was on break last week but it will be finally releasing this week. There has been no news on the upcoming Black Clover Episode 133 anime.
Situation around the world has improved so we hope that there will be no manga release delays, and the anime episodes will be releasing on time as well.
Boruto Chapter 46 and My Hero Academia 272 will be releasing soon as well, so check them out after reading our spoilers down below.
Before we let you in on all the spoilers of the upcoming Black Clover Chapter 251, let's take a quick recap.
Black Clover Chapter 250 Recap
In Black Clover 250, We see Charmy going against Halbet, who is a member of Dark Triad and uses hair magic. She calls Charmy an unsightly butterball. As we predicted, Charmy goes on a rampage, seeing people hurt who gave her food.
While both of their magic seemed to pass through, Halbet magic had a defensive advantage, which Charmy didn't. When backed to the corner, Charmy releases her food magic.
We get to see a furious Charmy, and her sheep turn into a wolf. Halbet is shocked by Charmy's sudden release of power. Charmy releases her array, where enemies become ingredients, and her magic becomes a cook.
Charmy's wolf devours Halbet's hair like its ramen. At the end we see a brutally knocked out Halbet and now can't wait to read who will fight whom next.
Black Clover 251 Spoilers & Predictions
While we still have to wait for the raw scans to be released, here's all that would go down in the upcoming Black Clover Chapter 251.
We know that Halbet is down, which makes the next battle between Vanica and Noelle, Mimosa, and Lolopechka.
We haven't seen the kind of magic Vanica uses. We know that Noelle and Lolopechka use water magic, while Mimosa is a plant magic-user.
Vanica is known to be an enthusiastic individual, as well as she loves fighting. With the Devil's power, she is sure gonna give a hard time to her opponents.
We also might get to see Secre helping out the girls in their fight against Vanica. The fight would sure be great as previous battles. The fight might take more than one chapter.
Well the way it seems, Noelle and team might have a rocky start. We will be seeing them being dominated by Vanica. And that's when Secre could make an appearance.
We could see Lolopechka and Noelle go full rampage on Vanica. Vanica loves fighting, so she might want to fight her opponents when they at their best. Goku, is that you?
All things summed up, we have an astonishing fight sequence awaiting us in the next chapter. Let's not forget that Yami is also going against Dante, which we will also be seeing in the next chapters.
Who do you think will be victorious? What is Vanica's affinity? Will Secre join the fight? Will Yami be able to take down Dante?
The official Black Clover 251 spoilers will be released officially soon and we will be sharing them here as soon as they are available online.
Is Asta related to Dark Triad?
There have been multiple discussions going on Reddit based on a theory in which Asta is related to Dark Triad, and was sent to kill Yuno.
Other than Asta's devil mark and devil powers, we don't see any other connection between them. Asta's physique and hair color is also different, though that might change when we finally get to see all members of Dark Triad.
We don't see any signs which would confirm that Asta is sent to kill Yuno, since they both grew up together as foster brothers, and are rivals. Unless, the order was meant for the devil possessing Asta, and he is supposed to kill Yuno.
Well when you think like that, it might make sense. The Devil knows what to do, and to complete his mission he is just waiting to gain full control of Asta.
What are your thoughts on this? Is Asta related to Dark Triad? How this changes things for Asta? Will, he gets possessed by the Devil?
Black Clover Manga 251 Raw Scans coming soon
Chapter 251 raw scans will be releasing soon by 22-23 May. It takes some time to get translated. We will be sharing with you all the details from the raw scans here, so stay tuned!
Since Mangastream stopped doing scanlations, many new teams have popped out and once again we have started getting quickly translated chapters online.
Black Clover Chapter 251 Release Date and Where to Read
Since there haven't been any delays reported, we will be seeing Black Clover Chapter 251 releasing this Sunday, May 24. You can read it for free on the Shonen Jump official app and website.
So this was our article on Black Clover 251 spoilers, raw scans, and release date.
What do you think will happen in the next chapter? Let us know in the comments below.
In the additional manga and anime news, The God Of High School Anime and Jujutsu Kaisen anime adaptation has been announced and will be airing soon.