The fight between the Black bulls and the dark triad has started and we can't wait to read Black Clover 242 raw scans and spoilers.
Dante has attacked the Black Bulls headquarters and Yami is not present. Vanessa together with Asta, Gauche, and Henry will have to protect the headquarters otherwise everything will go to waste.
Asta is currently fighting Dante and Vanessa is helping him with her magic. Dante is impressed by Vanessa's magic and asks her to marry him to which she denies.
Dante announces that he is one of the three dark triads and this pisses Asta more knowing that he is one of those who harmed Yuno. Asta is using his negating sword to cancel all of Dante's magic.
Dante instantly recognizes that Asta is possessed by a Demon. Asta is trying his best to injure Dante but somehow Dante is able to dodge all of Asta's attacks.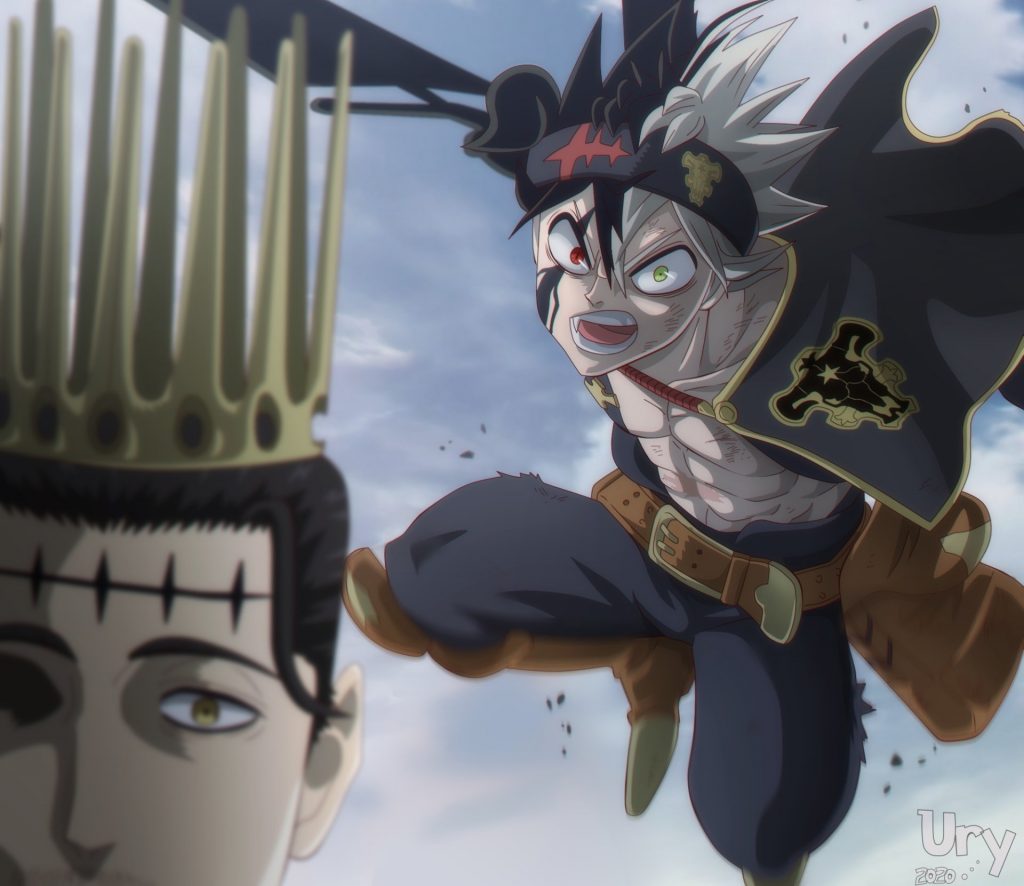 Gauche comes up with a plan to use his mirror magic on Asta and make doubles of him so that Asta can attack in a way that Dante cannot dodge.
Now there are several of Asta's and now he can attack from every direction. Dante is ready for the attack but will he be able to dodge?
This is the question going on in everyone's mind. We will get to see more of what happens in the fight in the upcoming Black Clover Manga 242.
We just released articles on Solo Leveling 108 and there are talks of Solo Leveling anime release going on as well, so make sure to check it out.
Black Clover 241 will show us more from Charmy and Noelle's fight as well. Yami might join in the fight against Dante as well, or do you think Asta can take him alone?
Black Clover Manga 242 Spoilers Released
So the spoilers for the upcoming chapter has been officially released guys and it seems like Asta will be getting a boost up in the upcoming chapter and there are spoilers about him getting a third devil horn on his head as well.
The official chapter is yet to release and that is when you will get to know what finally happens between Dante and Asta. Read the Reddit release spoilers for the Black clover chapter below.
Card
Black Clover 242 Spoilers And Predictions
The fight is getting intense and Asta will be using his full power to attack Dante from all the angles in the upcoming Black Clover manga 262.
Gauche, Vanessa, and Henry are supporting Asta from behind and Asta must do something if he wants to keep the damages to a minimum otherwise the base might get obliterated and Black bulls might suffer some serious damage.
Yami might be heading towards the Black Bulls headquarters as we are talking about it and might assist Asta and the rest in the fight against Dante.
Dante is using the gravitation magic and even though Asta manages to injure him in the upcoming Black Clover Chapter 242, Dante still has to use his demon power and that will be overwhelming for sure.
We need to wait and see what happens and we will be sharing the Black Clover 242 spoilers as soon as they get released, so stay tuned.
Black Clover Manga 242 Raw Scans Release Date
The scanlation teams have gotten a little thin in the last few months since Mangastream and Jaiminisbox stopped doing scanlations for One Piece and Black Clover.
This is why the Black Clover raw scans are getting released a bit late and we will share all the Chapter 242 raw scans here as soon as they are out and Black Clover 243 will be releasing after that as well.
What is the Black Clover 242 official release date?
Black Clover Chapter 242 will be officially released on 8th March 2020.
Where can we read the Black Clover upcoming chapter?
The upcoming chapter will be available to read on Viz and Mangaplus.
Let us know what you think will happen in the upcoming Black Clover Manga 242. Will Asta be able to defeat Dante and will Yami be able to make it? Make sure to check our article on the upcoming Kingdom 634 manga chapter and attack on titan 127.