Fans were excitedly waiting for the new AOT chapter and finally, we will be able to read Attack on titan 125 spoilers and Shingeki No Kyojin 125 raw scans online.
Attack on Titan or Shingeki no kyojin has been one the best ongoing manga for over ten years now. Hajime Isayama reportedly wants to end the manga in the year 2020. Hopefully, we will get more interesting chapters ahead of Attack on Titan 125.
The story that started with Eren wanting to kill all the titans off the face of the earth has taken quite a few twists and turns. In the latest arc in the struggle for the founding titan has taken a dangerous turn.
Attack on Titan chapter 124 recap and summary
After initiating the rumbling, all the people with Zeke's spinal fluid turned into titans including commander Pixis. At the same time, all subjects of Ymir felt something.
Reiner and Gabi have are looking for Falco while discussing the current events and they've decided that it's important to kill Eren but it might not be possible as he lost his hardening too.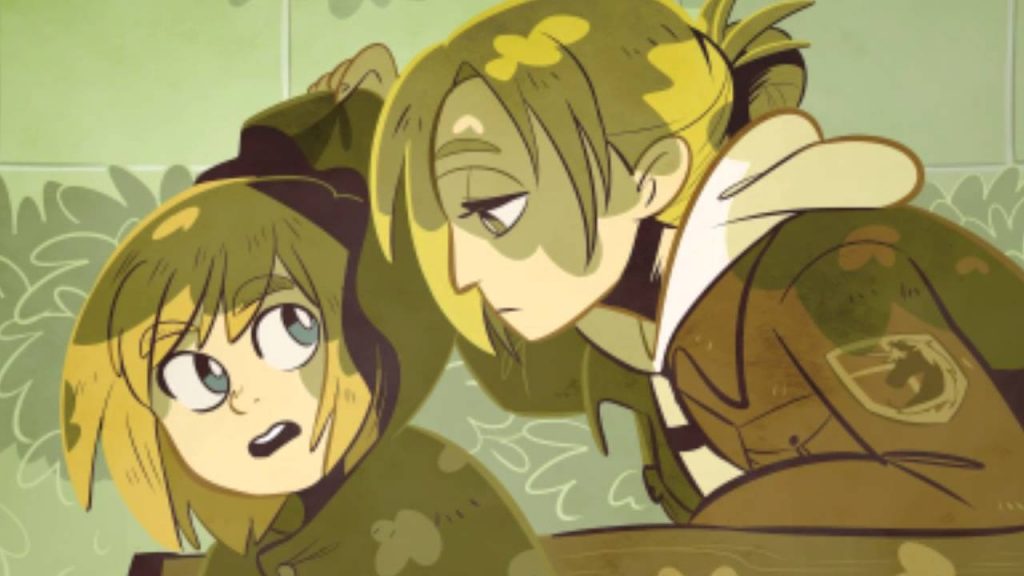 Jean tells Mikasa, Armin, and Connie that Eren sacrificed the entire world for their sake.
Shortly after they all join Instructor Shadis to fight the titans.
The Blouse family is trying to run away from a titan where they almost get caught by one. Sadly, little Kaya is not so fortunate and is cornered by a titan.
When all hope is lost, Gabi comes out of nowhere to save Kaya. This scene almost looks similar to when Kaya was saved by Sasha.
Jean finds and arrests all the volunteers. Here Gabi meets up with Armin and Mikasa and they talk about Falco. Now the interesting thing is revealed here, as the rumbling began all hardening came undone. That means Annie who had been crystallized for so many years has come out finally.
Armin realizes this too.
Attack on Titan chapter 125 spoilers
The next Attack on titan chapter 125 will heavily focus on Armin and Annie. More importantly on their interactions. When she was crystallized Armin used to talk to her about various things. It seems like he has taken quite a liking to her.
It will be interesting to see how she responds to the events that are currently transpiring.
Was she aware the whole time she was crystallized? Could she hear Armin? If like the other subjects of Ymir, she is connected to them then she probably knows that the rumbling has begun.
We might also see where Levi has been and what he has been doing along with Hange. And finally, we might get to see what that humongous dinosaur-like skeleton turns into.
Finally, we will see the clash between Marleyan forces, who have been hiding here, and the Eldians.
Attack on titan chapter 125 release date
Alrighty we got a month to suffer pic.twitter.com/1WdmTcGPWf

— Halcyon ? [AOT 124 spoilers] お前は自由だ。 (@GhostofKruger) December 8, 2019
The attack on titan 125 will be released on 9th January 2020 according to Attack on Titan wiki, so you can probably find scans of the chapter before that.
Shingeki No Kyojin 125 Raw Scans Release Date
Fans are excitedly waiting for the Shingeki no Kyojin 125 or Attack on titan 125 raw scans release. The AOT raw scans are first released in the Japanese language, which is then translated into various languages including English.
We expect that the Attack on Titan chapter 125 spoilers will be out by 7th January 2020 and we will post all the raw scans here as soon as they get released.
So this was our chapter on Attack on Titan manga 125 spoilers and raw scans and we will be updating this article on a daily basis. So make sure to follow our site for all AOT related future updates and also check One Piece 968 will be released soon as well.
Don't forget to check our article on Reddit One Piece fan theories and best high school romance anime. Since Jaiminisbox has stopped doing scanlations, we have introduced Jaiminisbox alternatives to read Manga legally as well.