Solo Leveling Chapter 111 on break, Solo Leveling Season 1 ends and Hiatus Announced and now fans can't wait for Solo leveling Season 2 release date.
Fans all over the world wait eagerly for a week to read Solo Leveling Chapters. However, this week, the fans have been pummeled with tragic news. With the release of Solo Leveling Chapter 110 on March 19, 2020, the series will be taking a break.
Solo Leveling is a South Korean webtoon made by Sungrak and Hyungoon, based on Chugong's web novel of the same name. The former is serialized in KakaoPage and the latter in Papyrus.
With the release of Solo Leveling Chapter 110, it has been revealed that Solo Leveling will be releasing in a seasonal format, similar to other popular, long-running webtoons like Tower of God and The Gamer.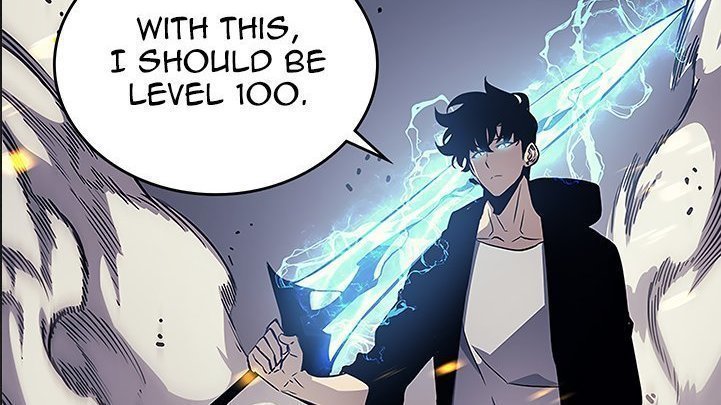 Solo Leveling Chapter 110 marks the end of the first season for the series and now fans can't wait for the Solo Leveling 111 release.
We post One Piece and Solo leveling news here on this site, so make sure to check us out regularly for all the latest content.
Solo Leveling Season 1
The first season of Solo Leveling marks the rise of Sung Jin-Woo from a measly E-rank Hunter to an elite S-rank National hunter. Jin-Woo's world came across a mysterious phenomenon that opened portals to a different place, containing a variety of threats.
Many people in the world got their Awakening, that is, they received superhuman powers capable of defeating these portals. Sung Jin-Woo was initially a weak E-ranker but after completing a very dangerous mission, he Reawakened, receiving a great power. With training, he increased his power, gradually becoming an S-rank hunter.
As the title suggests, this series is all about one person. We see the phenomenal growth of our protagonist; as a hunter and as a human being. The side cast has been mostly neglected, with a selected few characters getting minor development. The series is completely plot-driven, transitioning from one battlefield to another relentlessly.
The aesthetic appeal is immense. Sungrak's artwork is visually amazing, perfectly capturing the intensity of the battles and the gravity behind Jin-Woo's powers.
End of Season 1 and Season 2 teaser
In Solo Leveling Chapter 110, we see Sung Jin-Woo driving away after the United States fail to recruit him. He has newly established a Guild and received his mother's blessing to be a dedicated hunter.
A B-rank gate opens and he moves in to clear the Gate all on his own. The Gate is revealed to be a Red one and inside it, Jin-Woo uses his shadows to massacre the hoards of enemies surrounding him. Jin-Woo moves forward, ready to defeat anything and anyone fate puts in his way.
Season 2 will begin with Jin-Woo clearing the Red Gate. We heard in Chapter 110 that he has newly established a Guild. We can expect Season 2 will feature his adventures with his new guildmates.
Now that he is a renowned hunter, maybe his next target is to make his guild one of the top ones in the Nation. We will also see more of the unknown individuals seen in Jeju Island, the prowess of China, the return of Sung Il-Hwan, the mystery of the system and so much more.
The Return of Solo Leveling
Jang Sung'Rak has always been a dedicated person, delivering every chapter on time, with flawless work. Having completed the first season, he has taken a well-deserved vacation.
At the end of Chapter 110, he speaks of his gladness about spending 2 years on this project and thanks to the readers for their love and support.
The return date of Solo Leveling has not been revealed yet. Studio Redice has promised to return with Solo Leveling Season 2 after a short break. We will keep you posted about any news of its return as soon as it is announced. Please keep an eye on our site for any future updates.
However, based on Sungrak's previous breaks, we are assuming that the webtoon will release in 1 month. Solo Leveling Season 2 is probably returned in the mid of April, or somewhat later, in June.
Previously, Sungrak asked for a 1-month break due to illness, but he returned within 3 weeks, proving that he doesn't waste much time. We can expect the same from him once more. It won't be long before Solo Leveling Season 2 is announced and the Solo Leveling Chapter 111 gets released.
When Will Solo Leveling Chapter 111 Get Released?
There are high chances of Solo Leveling Chapter 111 gets released in April 2020. The exact dates are not out yet, we will share them with you once it gets released.
There are talks of Solo Leveling Anime adaptations going on as well and fans can't wait for some good news regarding its anime adaptation.
The One Punch Man Season 3 and Jujutsu Kaisen anime dates will be releasing soon as well, so make sure to check them out as well.