One Piece Episode 932 will be source of great amazement among fans. This week, both the chapter and the episode have been of the finest class and there have been a lot of discussion regarding everything.
The infamous bathhouse scene is here and fans are going wild about it. The lockdown delayed this episode and after a long wait, the fanservice is here. All of One Piece twitter is excited about it and has been repeatedly discussing.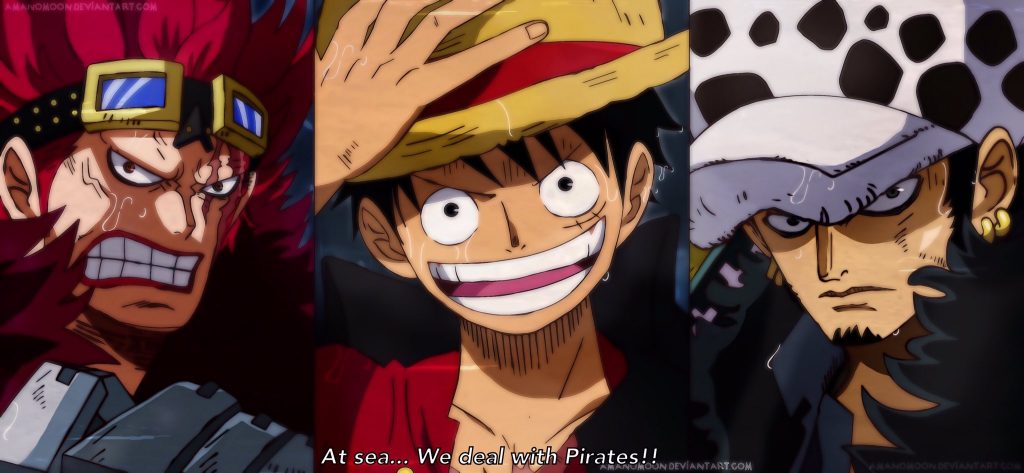 With One Piece Episode 932, we will be getting closer to the main parts of Wano arc Act 2. The revelations of this part is awaited by all and fans can't wait to see what is ahead.
Let us get to recap before we start talking about the upcoming episode and also check our articles on Haikyuu 401 and Black Clover 257.
One Piece Episode 931 Recap:
Luffy slowly climbs the steep hill with Hyogoro on his back. Queen notices this. He is angsty and riles up the prison guard. Under his orders, the prison guards attempt to bring Luffy down. They succeed in stopping him. The Warden uses another Elephant Marchoo.
Meanwhile Raizo searches for Luffy in his cell but can't find him. Luffy is in the Labor zone. The Elephant Marchoo brought him down and the beast pirates have surrounded him. Luffy fights them desperately. Babanuki and Daifugo combine forces to restrain him and Hyogoro. Queen intercepts. He has other plans for the two.
In Ebisu town, Franky, Usopp and Law are welcomed as Zoro's friends. Zoro is out to recover his stolen stolen swords. Law wonders where Sanji is and Usopp realizes that Sanji is at the bathhouse. He is testing his raid suit's invisibility powers.
In a mixed bathhouse in Flower Capital, Nami, Robin and Shinobu are relaxing. While Nami and Shinobu are comfortably soaking, Robin is cautious and on the lookout. She doesn't feel easy in that type of situation.
Nami is annoyed that it is a mixed bath. Shinobu says that the men can't take their eyes off her – such is her mature charm. The men are annoyed too as Shinobu are blocking their vision of Nami and Robin. Shinobu gets pissed off at their insults and uses Ninpo Ball Crusher!
They move out to the washing area. Here, they talk about Hyogoro and uniting th Samurai. Shinobu praises Hyogoro and his capabilities – he was trusted by all. He was a Yakuza boss whom even Lord Oden respected.
Shinobu narrates that Fukurokujo, the leader of Oniwabanshu chose to follow Orochi. That is why she quit being a part of them. And that is why she was recognized by one of the Oniwabanshu members.
In Kuri, Queen invites Luffy to join Beast Pirates, which will lead to him being forgiven. Lffy refuses. Queen also recognizes Hyogoro and reminisces how he chose not to serve and now, he is rotting away in a prison. The Prisoners are surprised to know that old man Hyo is actually Boss Hyogoro!
As Queen proposes a plan, Raizo looks on helplessly. He is standing in front of the cell of the dangerous prisoner all the guards are aware of. The prisoner recognizes him and asks is Momonosuke is okay. Raizo recognizes him too, calling him Kawamatsu!
For 13 years, Kawamatsu has been imprisoned. Raizo tries to free him but he is discovered by the guards. They go after him but Raizo escapes again. Queen doesn't bother with that and sets the stage for Luffy.
They bring over a stage – the stage for Luffy's Execution. It is the Sumo Inferno! They will put a collar on Luffy and Hyogoro. The collar will behead them if they ever step out of the ring. Luffy and Hyo are a tag team. On the other side, the beast pirates can attack anytime, with anything and with any numbers.
However, to make it fair, the seastone cuffs are removed. Re-energized, Luffy is glad and lively. He calls Queen a 'balloon' and challenges him to a fight.
One Piece Episode 932 Spoilers:
The next episode is titled "Dead or Alive! Queen's Sumo Inferno".
The preview shows the Sumo Inferno continuing and Luffy beating the opponents. Kawamatsu looks intensely at the battle. Basil Hawkins reaches the bathhouse and Shinobu notices. Hawkins and X Drake attack but Sanji interrupts and fights them.
Since the tournament is ongoing, we know that Queen either declined Luffy's challenge or he defeated Luffy quickly. Luffy is is no position to make demands so the former is more likely. The latter is plausible since Luffy is severely weakened by the seastone cuffs and he is tired from battle – not to mention Queen should be ridiculously strong.
It seems Sanji was hidden in the bathhouse all along using his invisibility. Maybe we will see him fight Hawkins and X Drake. However, he can't handle them alone. Maybe Usopp, Franky and Law will come in time to save him.
One Piece Episode 932 might also show Zoro as he searches for his stolen swords. What kind of trouble will he run into? Will he get lost again? Who took his swords? Let's find out together.
Where to Watch One Piece?
One Piece is broadcasted on Fuji Tv in Japan – primetime. It is also broadcasted by the Korean Broadcasting Service in South Korea.
Crunchyroll has it available for streaming – it contains all episodes in English Subbed format. Funimation, the licensor, has it available for streaming in English Dubbed version.
Here's the preview for Episode 932 of One Piece anime.
One Piece Episode 932 Release Date:
One Piece Episode 932 will be released on July 11 in Japan and July 12, Internationally. All streaming services will add the episode on July 12, 2020.
We strongly recommend you not to watch the episodes illegally. Please watch them on Crunchyroll or Funimation or Fuji Tv only. It helps generate more revenue for the anime.
One Piece 985 spoilers will be releasing soon online, so maybe you should check them out if you are a manga reader.