Today we will be discussing My Hero Academia 277 spoilers and raw scans. Fans are extremely excited as Shigaraki managed to take out Endeavor! How terrifying can the situation get?
Looks like Deku is not out after all. After nearly getting removed from the main battle, Deku is brought back in a stunning fashion. We are all looking forward to his combination with Bakugo.
All we're missing is Shoto's presence – Deku-Bakugo-Shoto versus Shigaraki is something we can only dream about.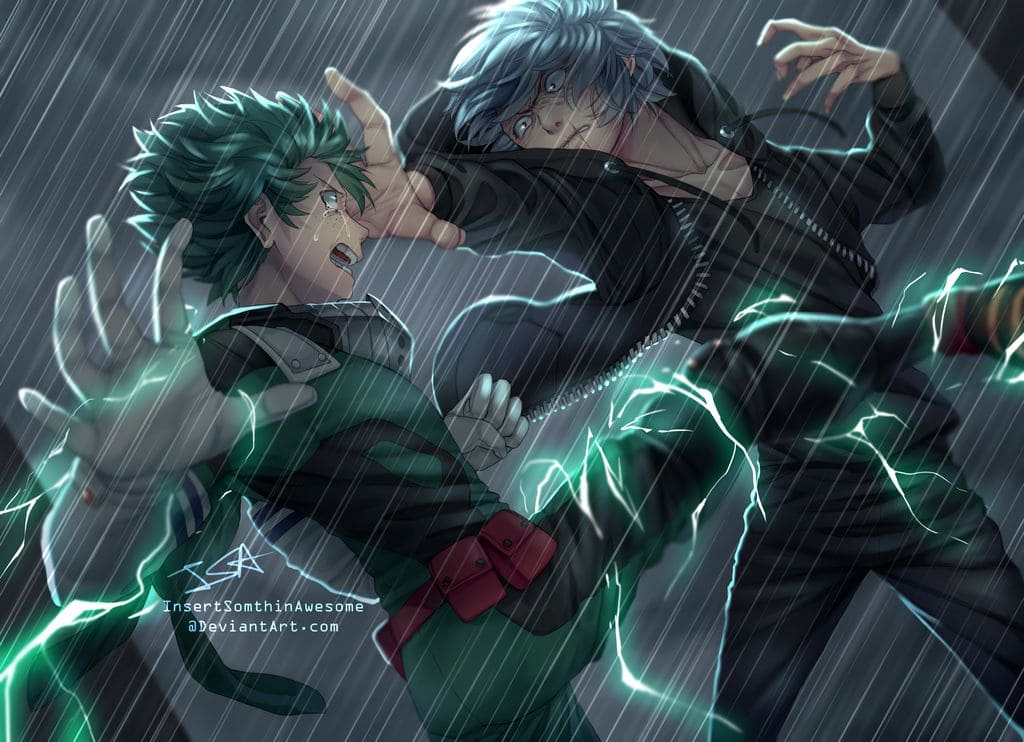 The parallel between Aizawa's motivation and Luffy's escape from depression is surprisingly uplifting.
The arrival of the near-perfect Nomu has everyone excited. We will get to see them in action in My Hero Academia Chapter 277.
The One Piece 984 spoilers and Black Clover 256 will be releasing soon as well online. So also check them out while you wait for bnha 277.
My Hero Academia 276 Recap:
A chopper hovers over Jaku city with reporters informing about the devastating situation of the place. The smoke is preventing them from evaluating the situation completely but they can make out the heroes working hard to evacuate others. As the reporters keep telecasting the situation, All Might and Eri look on.
Gran Torino takes Deku and Bakugo away, Aizawa and Endeavor are challenging Shigaraki. Shigaraki issues an order to kill everyone. Using his sidekick Kido's Taject Quirk, Endeavor reaches Shigaraki. Due to Aizawa, he can't use his quirk. Aizawa's eyes are being watered by Manual, so he doesn't have to blink.
Endeavor attacks the quirkless Shigaraki. Endeavor realizes that even without the quirks, Shigaraki's brute strength is similar to that of All Might. Garaki regrets that Shigaraki's strength is not equal to that of All Might, since too much remodeling would have damaged his brain. But he is already like a perfect Nomu.
Gran Torino creates a distance between the kids and the fight. Deku is worried about Aizawa and Bakugo reveals that he knows about One for All. Shigaraki still needs to be dealt with as there are far too few heroes. So Gran Torino has to head back.
Gran Torino is determined not to hand over One for All to Shigaraki. He resolves that the remaining heroes must take down Shigaraki, after all, he is alone. But this is short lived as multiple Nomus join the fray.
Turns out, Shigaraki has floored Endeavor, while sustaining some injuries. Earlier, he had managed to save some of the Nomus.
The order that Shigaraki gave earlier, that was to these Nomus and they are near-high end ones. They are not finished products but they are strong servants for the villain King. Two of the Nomus head for Aizawa. Deku sees this.
As Shigaraki targets Aizawa, the hero decides to stay alive for everyone's sake. Aizawa wants his fellow heroes to live, and he himself wants to live to see his students graduate. Shigaraki charges at him and Aizawa plans to receive the attack head-on. Right then, Deku and Bakugo charge in – it's their turn to protect their master.
My Hero Academia 277 Spoilers:
As of now, there are no official spoilers released. It is far too early for the release of leaks or raw scans. However, they will be out before long and uploaded here. We urge you to keep an eye on our site as we regularly update it with the latest releases. You will find the links to spoilers right here.
Will Aizawa die? Will Deku and Bakugo manage to hold off Shigaraki? Will Endeavor succumb to Shigaraki? Will the Nomus kill more heroes? Will Gigantomachia wreak havoc? All of these can be answered in My Hero Academia Manga 277.
Now let us get to the discussion part.
Lots of fans are taking the desperate situation to be a death flag for Aizawa. They are desperately hoping Aizawa survives. We believe Horikoshi will keep Aizawa alive.
He is far too valuable a character and killing him now will be counterproductive. He can be used later to solve the Kurogiri situation. So chances of Aizawa dying in My Hero Academia Chapter 277 are very low.
Will Endeavor die? Endeavor is critically injured with no healing options available right now. He is also the final hurdle before Shigaraki ruins Japan. So it is unlikely that we will see his death in My Hero Academia 277. He has to survive and keep on fighting to protect the future.
On the other hand, Horikoshi might just kill off a Hero. We saw Villain Bubaigawara dying but both heroes – Hawks and Mirko – survived. So we might get a hero death soon and Gran Torino comes to mind.
The old hero is determined to win and can sacrifice himself to weaken Shigaraki. Nothing's set in stone, but it's a possibility.
Lastly, we expect to see a full-fledged battle between Deku, Bakugo, Aizawa, and Shigaraki in the upcoming My Hero Academia chapter. The first 2 will rescue the third and engage in direct combat with the last, while the third keeps up weakening the fourth with his quirk. In the meantime, other heroes will battle the Nomus.
Boku no Hero Academia Manga 277 Release Date:
In this week's issue of Weekly Shonen Jump, the Raw Scans of My Hero Academia 277 will be published. Since they are in Japanese, scanlation teams will give us the English, French, Korean, etc versions. The raws will be out on 1 June 2020 and the fan translation will release on 3 June 2020.
The official English translated version of bnha Chapter 277 will be out on 5th June 2020. These are done by Caleb Cook and John Hunt (translator and lettering respectively). These scans are HD and people need to pay for them after 3 weeks onwards.
Where to read the manga? You can access the Viz website or Mangaplus website. You can also visit the Shonen Jump app, available on both Android and IoS. Latest 3 and earliest 3 chapters are free but the rest are available to subscribers. We highly recommend subscribing.
Last week, we got early translations, rendering fan releases unnecessary. However, that seems occasional. We are going back to the old format where raws release on Wednesday and translations release on Sunday. So the fan versions can release on Fridays and allow us to read early.
Boruto Chapter 48 and Kingdom 646 will be online soon, so also check them out and the spoilers will be updated here once released.