Yamato finally showed up in the last chapter and now fans are eagerly waiting to read One Piece 984 spoilers and want to know what finally happens between Yamato and Luffy.
Yamato has been a mysterious creature for the last few chapters and everyone knew he is Kaido's son but Oda hid his identity for us and kept teasing us, but it all changed finally in the last chapter and we finally got a glimpse of Yamato.
His hands are huge and wear the same silhouette as Oden and claim to be a well of wisher of strawhats. The way Yamato was introduced in the last One Piece chapter has left readers baffled and fans are left wanting for more on Yamato's identities and intentions.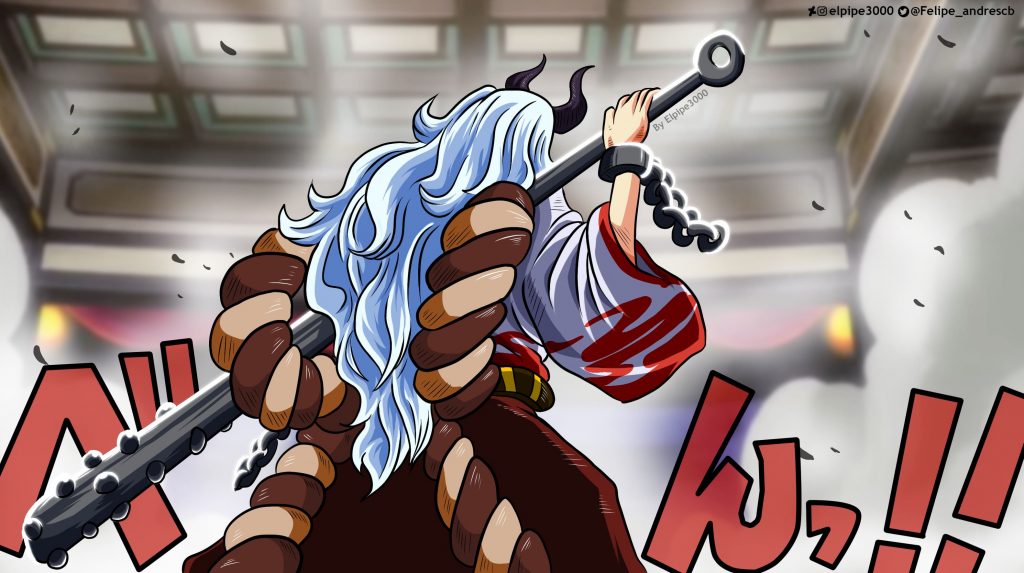 Some even go as far to claim Yamato to be Oden's reincarnation but that is not true. Some fans speculate that Yamato is cultured person and having read or heard the tails of the great Oden, he became a fan.
But none of this explains why he said he was waiting for Luffy all this time. Yamato's power level is a question for everyone as well. First everyone expected that since Yamato is a runaway kid, he might not be strong and will be wimpy.
Yamato's strike against Ulti and Page on confirmed that he is very strong and even commander level. With his Thunder bagua, he defeated both Ulti and Page on and then ran away carrying Luffy.
Fans were left with many questions in their minds and that is why they are eagerly waiting for the One Piece Manga 984 spoilers to be released.
Spoilers Finally Released Online
Yes, you all heard right. The Spoilers have been released and Yamato's face finally gets shown. But for now we only have the text spoilers as the raw scans are still being translated.
One Piece Chapter On Break This Week
After continous chapters, One Piece has once again went on a one week break and that is why no chapter will be released this week.
One Piece Manga usually takes a one week break after every three consecutive weekly chapters and that is exactly what has happened this week.
The upcoming One Piece Chapter 984 will be officially released on 5th July 2020 for everyone to read on the Viz and Mangaplus website.
Black Clover 255 and My Hero Academia 276 will be releasing this week, so check them out while you wait for the One Piece Chapter to be released.
What happened in the last chapter?
Last chapter was a very exciting one and that is why before we move on to the spoilers part of the upcoming One Piece Manga Chapter, let's take a look at the important things that took place in the last chapter.
On the cover we see Lola and Chiffon meeting their dad. Big Mom pirates are still down the waterfall but we see Perospero making his way up with his devil fruit abilities.
Big mom is still chasing Chopper and Prometheus is chasing Zeus and giving their locations. Zeus is scared that if Big Mom succeeds in taking him back, he will be killed.
Momo has been put on the cross and his execution will be held very soon as well. Zoro and Kid have stormed the castle and are fighting the gifters and then we see Ulti vs Luffy.
Ulti headbutts Luffy and everyone starts thinking that Luffy must be dead but we all know that a mere headbutt even if it is from a flying six, will do nothing to Luffy.
While Luffy and Ulti are clashing, appears a mystery figure that has a Oni mask and later its revealed that he is Yamato.
Yamato runs away carrying Luffy and leaving Page one and Ulti unconscious and that is where the last chapter ended and now we are all waiting for the spoilers of the upcoming chapter.
Read One Piece 984 Spoilers
Too all the fans eagerly waiting to read the spoilers for the upcoming One Piece Manga Chapter 984, you will have to wait for a while because no leak news has been announced yet so it might be some time before the spoilers are published.
The spoilers will be announced near 27th June 2020 and it will be shared here once released.
While we wait, let's check some fan predictions and speculations.
There is no way Kanjuro will let Momo get executed, but will the alliance army be able to arrive on time to save Momonosuke?
Many fans believe that Orochi will have the execution set to the end of the party, this way the war starts before Orochi executes Momo and there is a chance of him getting saved.
We finally got to see Yamato but his face and full body were not revealed. In the Chapter 984 Yamato will take off his mask and reveal himself to Luffy and maybe pledge his alleigance.
Maybe Yamato is aware of Oden's legacy and also about Oden's prophecy and that is why he knew that the person i.e Luffy arriving in 20 years will be the end of Kaido and savior of world.
Yamato for sure is going to be a big help of the alliance and will help strawhats in this war against Kaido.
Luffy vs Kaido just got more exciting and we can't wait for it to start but this one week break is killing all of us.
As we mentioned earlier, all the spoilers will be shared here once released, so stay tuned and follow us on all our social media platforms.
One Piece Manga 984 Raw Scans English Translations
For the spoilers to be leaked, the raw scans needs to be translated first and that is why sometime the spoilers are very late.
Fully translating twenty five chapters from Japanese to English is very hard and experienced scanlators every week try their best to provide the translated chapter as soon as possible.
The One Piece 984 raw scans are usually shared on Reddit for everyone to read. But we advise all of you to wait for the official release on Viz as most of the time, the information gets misinterpreted during the translations and we don't get to read what Oda intended.
Also for all our One Piece fans, the One Piece Episode 930 will be released next week, maybe on 28th, and am sure you all are excited.
When will One Piece 984 release?
The Chapter will be officially released on 5th July for everyone to read.
Where can we read One Piece Manga Chapter 984?
All the past as well as upcoming chapters will be available on Viz official website to read.
Will Yamato join Strawhat pirates?
There are high chances of Yamato being a fan of Strawhat Luffy and might join the crew in future.
Let us know you thoughts on the upcoming chapter and what do you think about Yamato? Will he be a foe or friend in the future? Look forward for the upcoming One Piece Chapter 984 spoilers and also The Strawhat vs Beast Pirates Theory.