Boruto Chapter 42 spoilers and raw scans are going to be released soon and that is why today we are here with Boruto 42 spoilers and Boruto chapter 42 raw scans.
The fight has gotten intense and no one has any idea of what is going to happen and how they are going to defeat Boro. Chapter 42 will be out soon and we are sure that the upcoming chapter is going to be a banger.
For a While now Boruto: Naruto the Next Generation Anime got a lot of backlash from the fans, though on the brighter side manga has been progressing quite well. As the latest manga chapter 41 dropped out, there have been quite a number of developments.
Boruto Manga Chapter 41 Recap
Boruto Chapter 41 begins as Boruto and the Co. (Kawaki, Mitsuki, Sarada) barely escapes from Boro to regroup. After Boro's strange Dark mist Ninjutsu pins them down.
The New team seven tries to figure out a way to counter it. This is where Mitsuki shows a bit of cleverness as he reveals that he used one of his snakes to trap a bit of the black mist and asks Sarada to analyze it.
Sarada Identifies that the real nature of Dark mist is actually viruses. Later, They elect Sarada as the team captain mentioning that if she didn't have made the right call to retreat, they all might have been dead.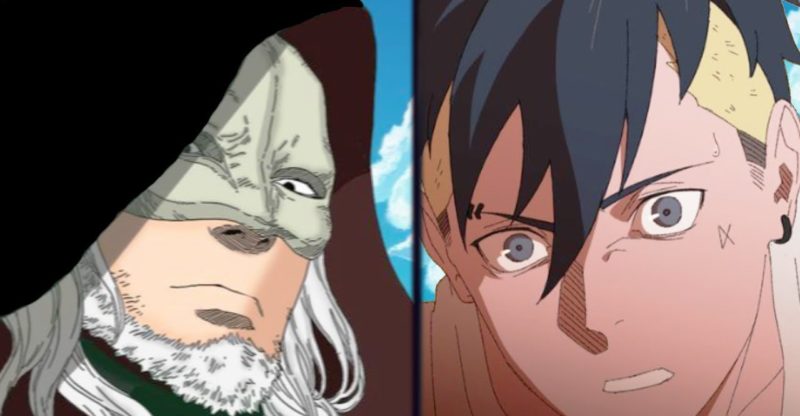 Next, we see Sarada confronting Boro solely. Sarada fights against Boro but soon gets caught by him, As he thought that Sarada could not move. Sarada surprises him with a smirk and uses Fire Style: FireBall.
This creates the opening for kawaki and Boruto who appears behind him and pummel boro with Rasengan Unison. Boro falls on the ground after half of his body is destroyed. Boruto shortly comments that antibodies worked perfectly.
Instantaneously, Boro stands up again and regenerates completely in seconds. Heeding Boruto mentioning the antibodies. He figures out that it was Mitsuki, who not just injected the venom but also took some of his blood too.
Mitsuki later reveals that firstly he wasn't sure, but if it happened to be Viruses, the caster would certainly have antibodies against him. Beholding their teamwork. He changes his strategy and runs in the direction of the Seventh Hokage (Naruto) and remarks that "He can think a ton of ways to dissolve their Team-work". Noticing Boro sprinting towards Naruto, Kawaki being the closest chases him.
Boruto Chapter 42 Official Cover
Boruto chapter 42 official cover. from r/Boruto
Boruto Manga Chapter 42 Spoilers And Predictions
Here we will discuss, what might possibly happen in the next chapter. This is fairly an opinion and prediction as nothing is guaranteed to happen.
Mitsuki using the sage mode to protect his teammates: As boro sprints towards naruto and kawaki on the chase. The situation might get severe and we may see Mitsuki using the sage mode to save and protect his teammates. His sage mode could quite counter Boro's regeneration.
Kawaki sacrificing himself for Naruto's sake: chapter 41 gives us another wonderful moment between Naruto and Kawaki. As he without giving a thought about the plan, he rushes to save Naruto from Boro. In the end, it could be possible that kawaki may sacrifice himself in order to save Naruto and others. He also feels the responsibility of Naruto being sealed. Kawaki has been quite attached to Naruto and his family, to the lengths he can sacrifice himself without thinking about himself.
Sasuke or other character entrances to save the New Team Seven: This one is the least possible but still there are chances that Sasuke or another character might join the battlefield against Boro. Though Sasuke is still recovering and is the only one who can open the port.
Boruto using his Jougan to teleport the vessel: One of the things that the fans hope to see in the series is the abilities of his pure eye " Jougan" and this is the right time to explore it. It would be great to see Jougan working along with Karma.
Boro just played dirty: It could be possible that Boro just to dissolve their teamwork played dirty, meaning he acted to attack Naruto to break their formation and teamwork.
Boruto Manga Chapter 42 Raw Scans
Boruto Manga Chapter 42 will be released soon and fans are excitedly waiting for the raw scans. The chapter was on break last week and that is why the raw scans have been delayed as well.
Manga chapters like One Piece 968, Solo Leveling chapter 102 and Black Clover 236, all will be released this week and the raw scans for these will be released this week as well.
The scanlation sites are busy translating chapters of all these mangas and that is why everything is coming late. We expect Boruto chapter 42 to be released before 18th January 2020.
Boruto Chapter 42 Release Date
Boruto Chapter 42 will be released on Jan. 20 with the official translation available online through the websites and mobile apps of Manga Plus and Viz Media. You can also read the chapter on the shonen jump app.
Boruto Chapter 42 spoilers are not yet released, they will possibly be released prior to 2-3 days of the release date. Stay with us for spoilers and more updates on the upcoming Boruto Chapter 42 raw scan dates and don't forget to check out Solo Leveling 103.