Kami no Tou Episode 8 aka Tower of God Episode 8 will be releasing soon for everyone to watch and we are excited for what's next.
Today, we will be sharing with you every bit of detail regarding the release dates and the spoilers.
There has been a lot of tension between Anaak and Endrosi. Endrosi revealed that Anaak is not the actual Jahad princess but the daughter of the original princess with the same name.
We come to know about the concept of Jahad's Princess, and as well as Anaak gets some character development. Anaak and Endrosi continue with their fight.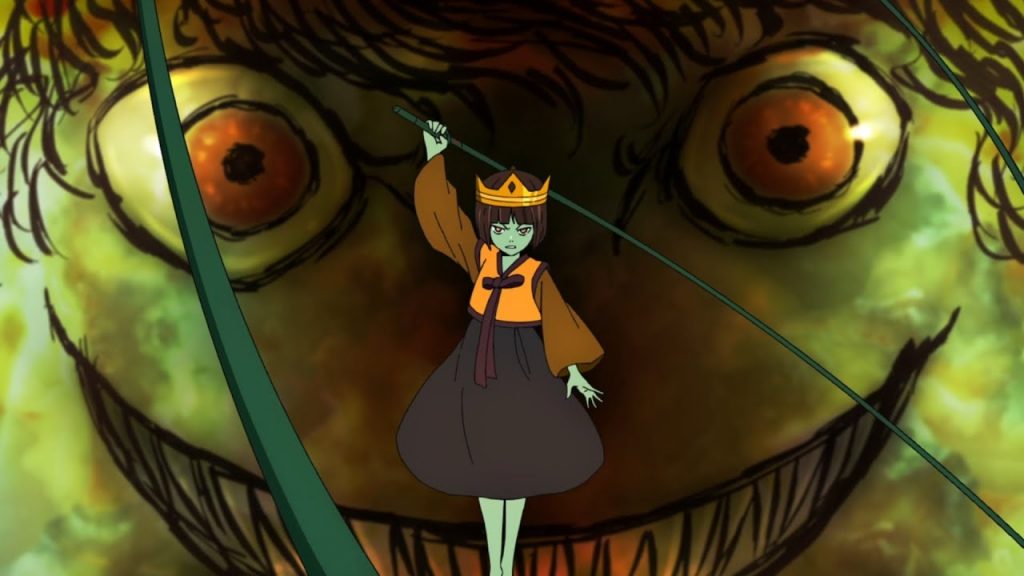 We also got a glimpse of Hoh's past, as well as a mysterious letter left at his doorstep.
What was in the letter? Who left it? Was it Rachel? Is Hoh going to be a threat to Bam?
Before we let you in on the spoilers and release dates, let's take a look at all that happened in Episode 7.
Also check our articles on One Piece Episode 930 and Black Clover Episode 133 while you wait for the upcoming Kami no Tou episode.
Episode 7 Recap
The episode starts with the fight between Endrosi and Anaak. We also get to know that Jahad's princess is not supposed to marry or bear children to control the spread of power.
Amidst the fight, both of them fall from the stage and get their legs injured. Lying on the floor, Endrosi asks Anaak whether her mother regretted doing what she did.
It seems that everything is okay between the aunt and niece. Next we see Hoh struggling to control Shinshu, while Bam excelled doing that. After knowing that Lauroe helped Bam in return for Bam washing his drool-immersed pillow, Hoh got pissed.
We could see him talking to an asleep Lauroe about him being suspicious and jealous of Bam, except that Lauroe wasn't asleep. We get to see a glimpse of Hoh's past, and the reason why he wants to climb the tower.
We see Bam and Khun helping out Shibisu and Hatsu make two more friends before the deadline. By using food as a bribe, they enlist Anaak and Endrosi.
Later we see Bam and the team having a friendly dinner, while Rachel tries to keep out of sight. She is later followed by Endrosi to women's washroom.
Endrosi tells Rachel that whatever the reason is for her climbing the tower, it better be worth her avoiding Bam. Later we see the next part of the test, which is a game of Tag.
Everyone is separated into two teams. Khun and Bam end up on opposite teams. The first to begin is Khun's team with Quant as the opponent.
We see Quant getting in fight with Anaak and Shibisu. Quant has taken out one of the light-bearers, and now only Khun is the light bearer left.
What will happen in Tower of God Episode 8?
Episode 7 ended with Quant getting angered by the fact that Khun's team decided to lure him in head straight forward for him. This was something which Khun anticipated, since Quant is known to be reckless when he's angry.
We know that Khun is a mastermind, so we will get to see him trick Quant. But let's not forget the fact that Quant is a ranker, so it won't be easy.
We also know that Khun is suspicious of Hoh, since he did see him staring at Rachel suspiciously. Then there is the letter. It shouldn't come as a surprise that Hoh will try to harm Rachel or Bam.
There are still other suspicious characters. We know that Lauroe heard what Hoh said. There's a possibility of him letting Khun in on this. We know that Bam has a friendly and trusting nature, so Bam would have never believed that.
Endrosi and Khun, both seemed to be suspicious of Rachel. Let's face it she has been mysterious since the beginning. If you ask any manga reader, they would tell you that a whole lot of twist is about to come.  
Hoh might also try to sabotage Bam and stop him from clearing the test. We know that Bam will do everything in his power to save Rachel. So, when it eventually happens we will get to see a good showdown.
Who do you think was behind the letter? Will Khun win the match? Is anyone going to die? What are your thoughts on Rachel? Is Hoh going to attack Rachel or Bam?
Kami no Tou Episode 8 Release Dates and Where to watch?
Tower Of God Episode 8 will be releasing soon on 20th May. You can find all the latest episodes of Kami no Tou on Crunchyroll.
Many anime and manga titles are getting delayed because of the pandemic. Hopefully, Tower of God isn't getting delayed and will be released according to schedule
Tower of God is the first Webtoon to be animated, which puts a lot of burden on its shoulders.
The Webtoon has a great fan base, and the anime so far has been doing a good job in meeting the expectations. The animations are great. We can't wait to see some of the most astonishing fight sequences come to life in the anime.
About Tower of God
Tower of God aka Kami no Tou, is an anime adaption of the Webtoon by the same name. The Webtoon is created by SIU. The series follows the adventures of a young boy who goes by the name, Twenty-Fifth Bam.
Bam spent his whole life beneath a gigantic tower alone. The only other person he ever saw was a girl named Rachel. Rachel leaves Bam to climb the tower. To be reunited with Rachel, Bam enters the tower.
The tower is full of different kinds of species and people groups. It is full of magical energy called Shinshu. The groups include Regulars, who are your everyday citizen. Then there are Rankers, who have climbed the tower, and govern the average class. And then there are 10 great Families and King Jahad, who together rules all of the tower.
The story follows throughout his adventure inside the tower along with the friends he makes. He meets Khun Aguero Agnes, who is a member of the 10 great families, and Rak Wraithraiser, who form a team with him to make their way to the top of the tower.
So this was our article on the upcoming Kami no Tou aka Tower of God Episode 8 spoilers and release dates.
Let us know what you think will happen in the comments below and also check our articles on Solo Leveling Anime and Jujutsu Kaisen anime release dates.