Today we will be discussing the upcoming Hardcore Levelling Warrior Chapter 226 spoilers, raw scans and its release date.
Since its debut, Hardcore Levelling Warrior has managed to amass around 7.8 million followers. Created by Sehoon Kim, the Korean Webtoon series has gained a rating of 9.79.
The last chapter left us on a shocking revelation. We saw Chota use Lucky Coin, which is a skill used by Hardcore Levelling Warrior.
He used Lucky Coin against Goblon, and that's where the story ended, with a shocked Dark and the team. Where does that leave us?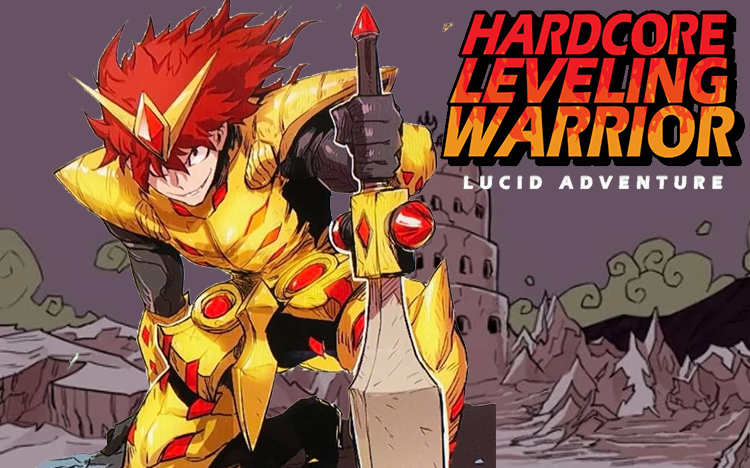 How can Chota use Lucky Coin? Who is Chota? How this changes things for Team Dark Land?
The webtoon is not on break unlike some of the popular manga out there, and we should be thankful for that.
One Piece 981 and Black Clover 252 are going to be released on the same day as our beloved Hardcore Levelling Warrior, so check them out too.
Before we let you in on the spoilers and release dates, let's take a quick look at all that happened in the last chapter.
Chapter 225 Recap
The story begins with the Grass Roots guild arriving at Dark Land using Choco Bibi's teleportation skill. Heart Heater welcomes them, and asks how their training went. We see a new character, Cocomori replying that it went well.
Bibi inquires about their plans to subjugate Nightmare, to which Heart Heater asks them to get inside. Due to Nightmare's invasion on Dark Land's border, Dark couldn't be there.
The scene cuts back to where Dark is. We see a goblin chasing some hohoians, as hohoians joined the human's side, unlike other monsters. They are rescued by Dark.
Dark asks Chota to fight against an army of nightmarized goblins alone, as a part of the test for him to join the fight. Chota takes on the goblins with basic combat skills taught to him by Sora.
When backed to a corner, we see the leader combine with all other goblins to form a single monster, Goblon. To take on Goblon, Chota activates Lucky Coin, and the rest of the team are shocked.
Hardcore Levelling Warrior Chapter 226 Spoilers & Predictions
The next chapter will continue with Chota's fight against Goblon. We will see him use Lucky Coin to take on Goblon. Also, we will get to know, how he can use Hardcore Levelling Warrior's skill.
Nightmare has been growing in sizes. Now that their motive is revealed, guilds have formed an alliance to deal with this menace. With No Name leading Nightmare, we don't see any hope of Dark and allies winning.
Dark finally knows that Hardcore Levelling Warrior is alive, but is under control of an unknown strong monster. So the next chapters would be about Dark revealing to Grass Roots guild about him, and his plan to take on Nightmare.
We haven't seen Yopi Land or Giga make any move yet. So we will be seeing them arrive in Dark Land in the next chapters to plan their strategy with Dark.
The next chapter's main focus will be on Chota. We will get to see how skilled and powerful he is. We will also be seeing the truth about his ability, and what it is?
What do you think about Chota? Can he be Dark's wild card? How is Chota related to HCW?
The official spoilers are yet to come for the Harcore Levelling Warrior Chapter 226 and we will keep you updated once they release.
It has already become one of the best manga out there, or say webtoon, so keep supporting like usual and expect great chapters in the future.
What can be Chota's ability?
When Chota activated Lucky Coin, it wasn't the same as HCW. HCW's coin is yellow, with a red power-up surrounding it, while Chota's coin and power-up both were blue.
What if Chota's ability is nothing like HCW? If you think about it like that, there is a possibility that Chota can copy another character's ability. Now that's a skill which can make him a wild card. Don't you think the same?
Imagine him using Sora's skills, or Lu Bu's skills. He can also copy the enemy's skills. That definitely can be an element of surprise. Whether his level changes with skills copied is yet to be revealed.
So he might be using a nerfed version of other people's abilities. We will still have to wait until his origin and powers are revealed. We can say that, we will be seeing him play an important role in the upcoming battle.
Where is Hardcore Levelling Warrior?
All we know is that he is prisoned by some monster, and he is unconscious. We though doubt that the monster is affiliated with Nightmare.
Nightmare doesn't seem to know the true purpose of the coin that every guild fought for. So we doubt that, No Name has any hand in this.
If the war wasn't near, we could have seen Dark planning to rescue HCW. But with the current situation, Dark has other problems to look for, With Nightmare trying to invade the human world, the matters have become more intense.
But it won't be surprising, if HCW comes to fight No Name, when she is dominating Dark and Sora. Dark obviously can't wait to be reunited with HCW, the same goes for Sora. It feels sad to see Dark without HCW.
When they eventually reunite, we will be seeing an emotional moment for Dark. Fans are waiting for him to return.
We might have to wait until war breaks out to see any more of him. Let's hope that he finally returns to Dark.
Hardcore Levelling Warrior 226 Release Date and Where to Read
Hardcore Levelling Warrior Chapter 226 will be released according to its schedule that is next Friday, May 29. You can read it for free on Webtoon official app and website.
About Hardcore Levelling Warrior
Hardcore Levelling Warrior depicts a world where everyone can play a game in their dreams, called Lucid Adventures. The game consists of various monsters and NPCs.
Each character receives an ability based on their attribute. These attributes are often based on various mythological and historical characters.
The series follows the adventures of Hardcore Levelling Warrior, who used to be Rank 1 before he was killed by a mysterious character and loses his level. His level drops from 99 to 1.
He is hired by Dark, to help him level up. Dark, who is the grandson of the game's creator along with a swordswoman Sora, team up with HCW to level up.
Throughout their journey, they make friends with many guilds, and level up together. But everything changes, when an unknown force called Zero, who is also the mysterious character that killed HCW, makes its appearance.
So this was our article on the upcoming Hardcore Levelling Warrior Chapter 226 spoilers and release dates. We will be sharing with you all the updates here, so stay tuned!
There is no news on the Hardcore Levelling Warrior anime releasing anytime soon, but there are high chanced of Solo Leveling Anime and The God Of High School Anime getting released soon.
What do you think will happen next? Let us know in the comments below.