Today we will be discussing the upcoming Fairy Tail 100 Year Quest Chapter 55 spoilers, its raw scans, and its official release date.
Fairy tail: The 100-year quest recently dropped yet another new and a fairly great chapter. Today here, we will discuss the spoiler details of 100-year quest and the possible release date of the next chapter.
Chapter 54 finally revealed Aldoron's biggest cards- The God seeds. The 19-pages chapter handed new developments and secrets about the invincible massive Aldoron. We also saw some glimpses of the rest of the guild and the situation they are against.
How is fairy tail gonna deal with God seeds? Will Natsu be able to defeat Aldron- if yes then how? Read to know more.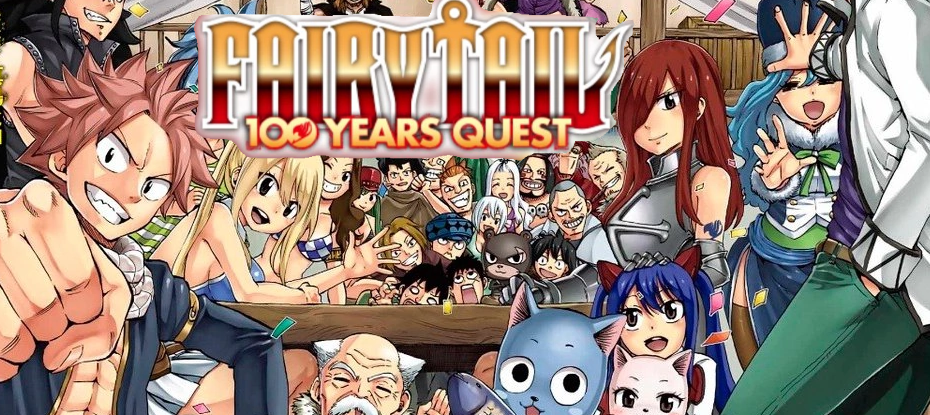 Fairy Tail 100 Year Quest is the sequel to Mashima sensei's Fairy tail series, starring  Natsu Dragneel and his team from the titular wizard guild as they aim to complete an unaccomplished and ridiculous mission: The 100-year quest.
There are rumors of its anime getting released soon as well but I don't think the studios will be working on it amidst this COVID situation. So check our best 2020 anime list and sites to watch anime online article to keep you entertained while you work from home.
One Piece Chapter 979 spoilers and Haikyuu 392 spoilers will be releasing soon, so make sure to check them out as well.
Fairy Tail: 100-Year Quest Chapter 54 Recap
 Before we discuss the spoiler details and release date. Let's recap of what exactly happened in the last chapter. Chapter 55 titled "God seeds" was, as usual, a short 19 pages which focused on new developments and secrets about one of the pentadrakes- Aldron.
The chapter begins with Zeref (Aldoron transformed one) losing control of his powers and Natsu escaping the place. Transformed zeref realizes that if this goes on Aldron would take massive damage, thus to protect aldron, he chooses to disappear.
Beholding, Transformed Zeref disappear shocks Natsu- therefore, with his original plan he investigates the land to make another zeref but abruptly gets sucked in instead.
Likewise, we see other fairy tail members as they are amazed at the introduction of a new enemy who introduced himself as "The God seed- Metro". Metro- mentions the name "Wolfen" to which Mira claims- "the things from earlier maybe"- referring to the mind-reading creeps.
In just seconds, Metro create huge wood monsters and comments – that he will not play cheap tricks like Wolfen but rather defeat them with pure strength.
Shortly, In the middle of town, wounded Laxus carrying Ezra on back, spots Jellal who upon seeing them ask about their condition. For a short span, Jellal and Laxus have a dialogue over their situation.
Though are interrupted by yet another enemy who introduces himself as "The God seed-Gears". Witnessing the enemy, Jellal comments "Take care of Ezra" and refers to leave the enemy to him alone.
Following, we see Wendy and the others spotting a new enemy who introduces in a similar fashion: The God seed- doom. Later, we see Natsu in a strange place alone, who himself is unfamiliar with the place.
"There are five guardian deities that dwelled in the five orbs"- a mysterious voice echoes and explain the role behind the name of God seeds- Wolfen (Reads mind), Metro (commands the might), Gears (calculating tactician), Doom (brings death).
He also later introduces himself as fifth, brain and leader of God seeds- Aldoron. Natsu being natural him strategies to attack but couldn't even touch him.
Fairy tail: 100 year quest chapter 55 Spoilers & Predictions
Tired of thinking about what could possibly happen in the next chapter? Here' some of the possible theories which could occur in the upcoming chapter:
• Jellal and Gears battle: chapter 54 already indicated towards their fight, though the chapter would not entirely focus on it and contain few scenes as they began to fight. Gears- calculating tactician (as per Aldron's brain) would easily be a smart enemy, while Jellal similarly is one of smartest and strongest character in Fairy Tail.
Thus, the fight could turn into a battle of wits. Yet not revealed- which magic would Gears use but Jellal with his heaven's body magic could be great counter with higher mobility and destructive spell-like 'Grand chariot'. Jellal is portrayed as a badass character and it will be after a long time, we would see Jellal in action.
• Irene using Touka's body as vessel/ Irene lending Wendy her magic power:  Irene effortlessly is one of the strongest characters at present. She cited in chapter 48- that she needs a vessel for her consciousness. While wendy is out of magic power, Irene to protect wendy could use Touka's body for time being as a vessel and fight the God seed- Doom.
Irene not only is a dragon slayer but also a master enchanter. It would be a tremendous battle between the first dragon slayer and the God seed of a Pentadrake.
Another possible theory- Irene lending her own magic power to fight God seed- doom. Irene's consciousness or soul lives inside wendy, thus Irene needs her to be alive so that She herself does not die.
• Natsu obtaining a new power-up: Natsu's biggest strength is his friends. He can pass great limits to protect his friends. Against the water dragon God, he ate ignia's flame (fire dragon God), so that he could protect the people and his precious friends. This time, he's facing another robust opponent i.e. Aldoron.
Therefore, He needs a new power-up to overcome aldoron's might. It could be a possibility that Natsu may utilize ignia's flame again or get a new buff to fight aldoron.
The enemy stands as the dominant being at present, where Natsu couldn't even touch him. Hence, obtaining a new power-up becomes more necessary.
At present, there are no spoilers revealed about the following chapter. They will probably be released prior to the manga chapter release date i.e. 3rd May to 5th May.
Even though many mangas were delayed due to the pandemic, it doesn't seem Fairy tail will be delayed. You can read Fairy tail sequel on the official website of Kodansha comics.
Fairy Tail 100 Year Quest 55 Manga release date
Fairy Tail: The 100-year quest is bi-weekly manga. Fairy Tail 100 Year Quest Chapter 55 of the manga series will be released on 6th May 2020. The release date of chapter 56 is also revealed i.e. 20th May 2020.
Let us know what you think will be happening in the upcoming chapter and don't forget to check our articles on Kimetsu no Yaiba Manga 204 and Black Clover 249.