Fans are eagerly waiting to read Boruto Chapter 44 raw scans and spoilers as they will be releasing soon.
Boruto Manga 44 will show us aftermatch of what happens after Lord seventh defeat and how Koji is going to be dealing with Jigen.
Boruto Chapter 43 titled 'Manifestation' dropped just recently and as speculated took over the Internet with Boruto's New form. The new boruto chapter featured the conclusion to boro and Team 7's battle. It also hinted towards another big clash in the next chapter.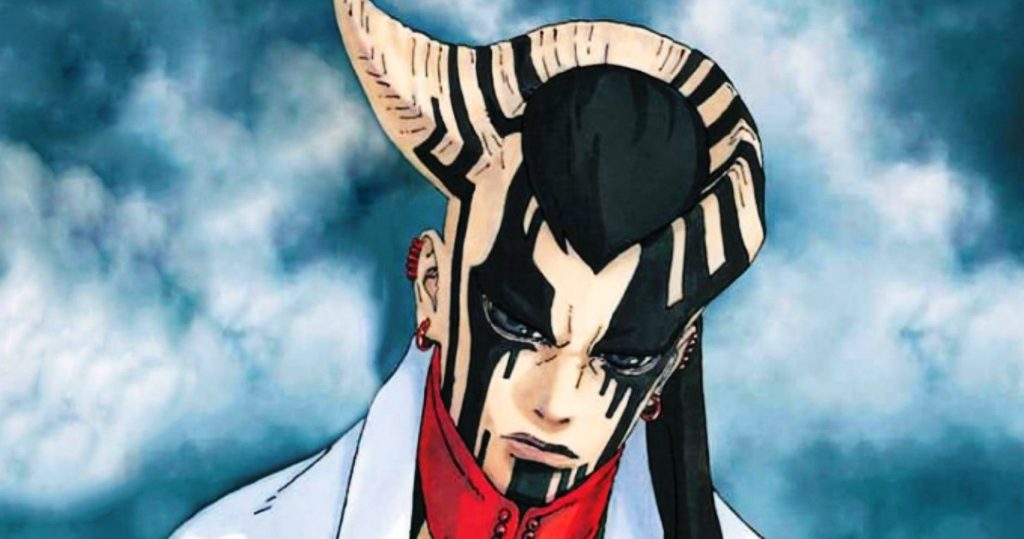 As usual, Below you can read chapter 43 Recap, spoilers for chapter 44 will be available before the set release date. Boruto Chapter 43 hinted towards Kashin koji deciding to take on jigen.
Check our articles on One Piece 973 and My Hero Academia 263, as they will be releasing soon. We will be discussing what happened in the Boruto chapter 43 before we check out Boruto 44 spoilers and raw scans.
Boruto Manga Chapter 43 Recap
The chapter entirely brought a conclusion to Boro and Team 7's battle. It was titled 'Manifestation' which begun with Sarada successfully destroying Boro's core with Chidori, which stuns both Boro and Team 7.
Mitsuki also mentions about Chidori's speed and precision required to execute Chidori to Kawaki. Thus, the core being obliterated it sets Boro out of control.
Soon, kawaki showing his wits proposes to leave Boro there by himself as he could not control himself anymore and mentions to save lord seventh(Naruto) before anyone intertwines.
He also mentions how by using the same principle of creating a space and time gate, they could connect the space inside of the vessel and their own space. A gate opens, where we see naruto plunging from the gate. Boruto tries to wake up Naruto but they later found out that he's unconscious.
Before they could understand the situation Boro smashes Mitsuki on the ground from behind. He thrashes Team 7 in a wild manner and sends kawaki flying and ravages both Sarada and Boro.
Unexpectedly, when Boruto was about to be sandwiched, he vanishes leaving Boro astonished. Soon, we see him in the air with one horn outgrown from his forehead and his pure eye(Jouagn) activated as he calls Boro an inferior creature which marks Boruto's mysterious New form.
After witnessing Boruto's new form, boro shuddering whisper's "Ohtsutsuki". Boruto seemed as if possessed smashes boro and finishes him off with a big Rasengan after borrowing chakra from Naruto.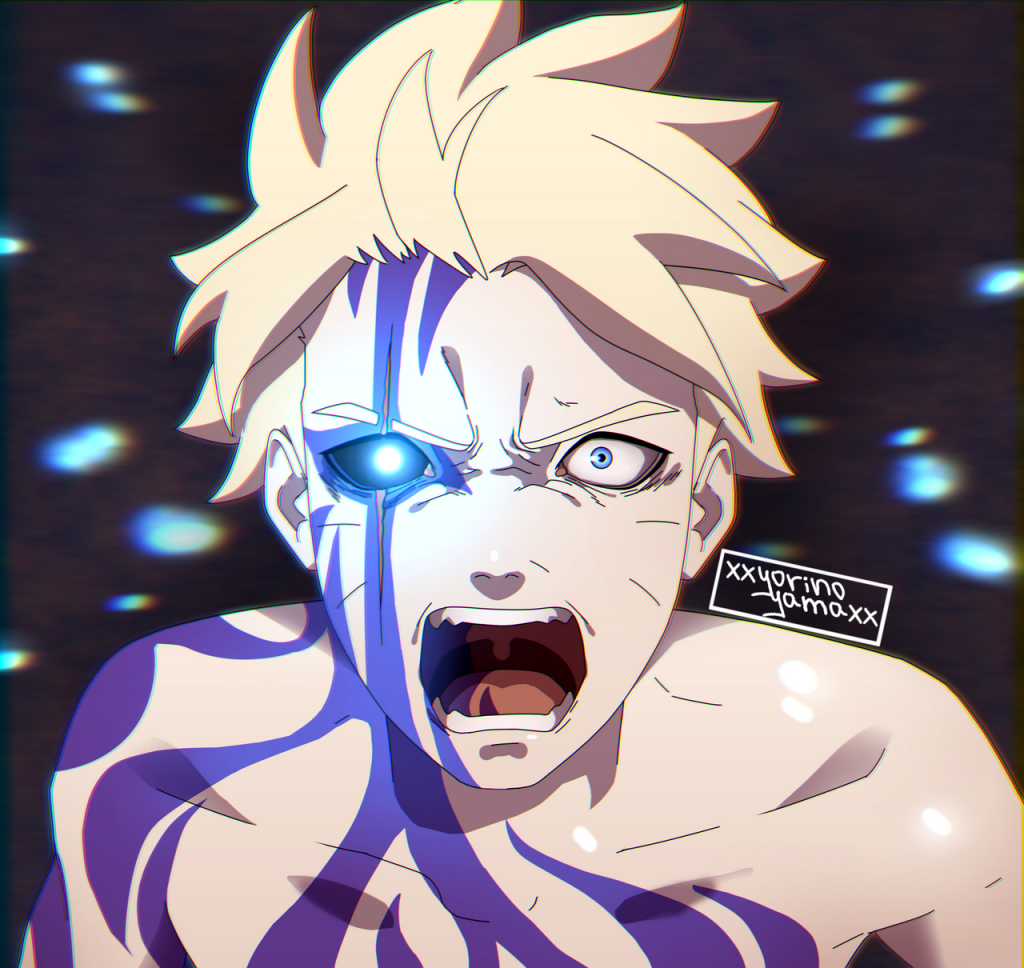 In reality, Boruto was possessed by Momoshiki who before leaving mentions "Not-yet My blue-haired boy, it's still away from that you will lose it all". Later Mitsuki saves Boruto but it seems he doesn't remember anything that happened.
Later, we see Kashin koji talking with Amado who asks whereabouts of code and Boro. He soon moved in direction of Jigen's room where he's recharging his chakra and mentions that he's going to take him on.
Boruto Manga Chapter 44 Theme Released
The theme for the upcoming Boruto 44 chapter has been releasing and it seems like the spoilers hint about Boruto's increasing strength and his fight against Kara.
Only one image has been released till now and there's no news on the Boruto spoilers. We will be updating this article with the latest news as it gets released and if you love Boruto anime then check out our list of anime streaming websites online.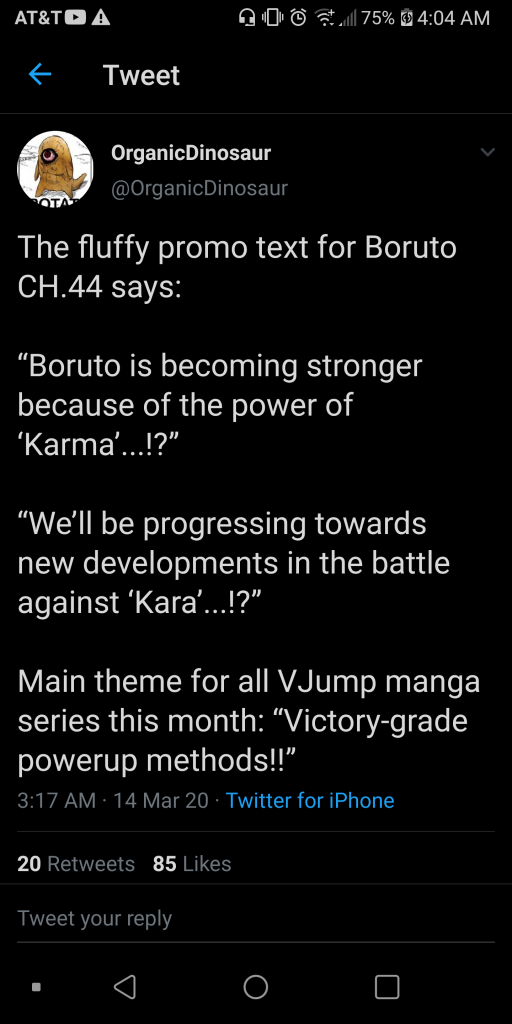 Boruto Chapter 44 spoilers and predictions
Hey guys, here we will discuss what may possibly happen in the upcoming Boruto manga 44 spoilers and that is why here are some predictions for the upcoming Boruto chapter.
Team 7 returning with Naruto
Boruto and the co. after successfully defeating Boro might return home with Naruto, thanks to Boruto's New form. Naruto was unconscious at that time and it does not look like he's going to wake up soon.
The big battle between Kashin koji and Jigen.
It is quite possible though have low chances that we may see Kashin koji finally taking on Jigen head-on and discover out who's side koji is on. It may also reveal about Kashin koji's past or his plans while being one of the mysterious characters in Boruto.
The entrance of another kara member/Konoha member
Another possible prediction, we saw Amado mentioning that code was with the ten tails but it's possible he might arrive to eavesdrop on the Boruto company. On another hand, the Entrance of Konoha members is also possible. Kawaki and Boruto both have expended their chakra so it might not be possible that they will be able to open another Gate.
Boruto Chapter 44 Raw Scans
Since mangastream has stopped doing Boruto scanlations on their site, the raw scans are getting released a bit late. The Boruto manga chapter 43 raw scans will be releasing soon and we can't wait to read what happens next.
Boruto Chapter 44 spoilers and Raw scans will possibly be available before 1-2 days of the official release date. We can expect the Boruto 43 raw scans by 15th March 2020.
Be with us on the website to get the latest info on the Boruto manga and any other popular manga series like One Piece and Black Clover.
Boruto 44 Official Release Date
Boruto Chapter 44 is scheduled to be released on 20th March 2020. You can read the official translation of the chapter on the viz official website or shonen jump app which is available on the play store and app store.
We will be posting Boruto spoilers and raw scans as soon as they get released. So make sure to check out our Strawhat manga website daily for updated and latest manga news and also check out our article on One Punch Man 128.