My Hero Academia Manga 278 will be very exciting chapters for all fans, we are on the verge of so many important things and any direction will satisfy us. The fans are really excited about Horikoshi's short and long term plans about this arc.
Shigaraki taking charge of himself, being is own man, is a great development on his part. He is finally shaping up as a real villain figure. He isn't the former punk who caused meaningless chaos.
He has developed into a strong force capable of changing the world. Now he has a true goal.Seeing Endeavor finding his own version of the Symbol of Peace is truly rewarding.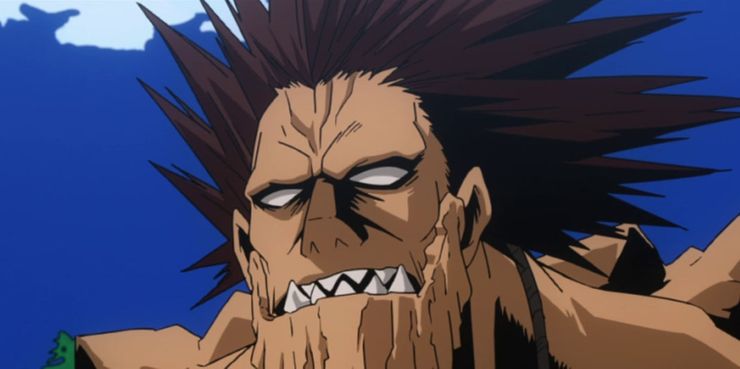 Under the shadow of All Might, he searched for solitary absoluteness, but he failed. Instead of gaining, he lost a lot. My Hero Academia might show us more about a man discovering how to reach his goal.
We will discuss this more in this article. Let us recap for now before we move on to bnha 278 spoilers and raw scans details.
Also, don't forget to check our articles on One Piece 985 and Black Clover 257 as they will be out soon on the Viz website.
My Hero Academia 277 Recap:
Deku clashes head on with Shigaraki. Even though Aizawa and Torino are worried, Deku is not – as long as Shigaraki is rendered quirkless, Deku can fight. The worst case scenario would be if Aizawa is down.
With his quirks back, Shigaraki will decay everything. The other heroes are busy handling the near high-end nomus. Deku must protect Aizawa.
Aizawa watches on with pleasure and surprise – the student whom he once said that he couldn't be a hero; that student is protecting him like a hero. As Deku restrains Shigaraki, Bakugo attacks with AP Machine Gun. Shigaraki is unfazed.
As Shigaraki overpowers the two kids, Endeavor swoops in. His punch sends Shigaraki flying. Endeavor inquires about Shoto! He then declares that Shigaraki is as durable as All Might. He further lays the plan – Eraser will keep Shigaraki quirkless. Endeavor will attack with Deku and Bakugo backing him up.
Shigaraki realizes that he is too close. He just has to kidnap Deku and escape. He mutters that he will take One for All and 'little brother'. This surprises both Deku and Shigaraki himself. Endeavor attacks with Hell Spider. As he dodges, Shigaraki realizes that All for One's will is imposed on him.
The 'little brother' was the words of All for One. He assures himself that it is his body and his own power – All for One won't be imposing on him, whispering stuff to him. Shigaraki was disappointed when All for One was defeated by All Might. He decided then and there, he won't be like his master.
Shigaraki is incredibly grateful to his master for raising him. But he has his own ambition – he wants to be even greater than his master. So he won't listen to All for One. He will remain in control. Meanwhile, Gran Torino attacks Shigaraki.
He is angered as Shigaraki is ruining the memory of Nana Shimura. He is angered that Shigaraki's existence hurts Toshinori. Everyone has suffered. Bakugo sees that Shigaraki is only going for Deku. Insulted about not being on the enemy's radar, Bakugo wants to prove himself.
Deku was just bait. He showers Shigaraki with a major blast. As Endeavor fights, he realizes that even though his own power is not enough, he can take help from allies. The path to the Symbol of Peace – it is different for All Might and Endeavor. He attacks with Vanishing Fist.
At that time, Mt. Lady is clashing with Gigantomachia. She will hold him there.
Boku no Hero Academia Manga 278 Release Date:
On Wednesday, 8 July, 2020, the new issue of Weekly Shonen Jump will contain My Hero Academia 278 in Japanese language. Since most of the international fandom cannot read that, the fansubs are required.
Various scanlators will work on the raws and on 10 July, 2020, the fan translated English version will reach us. We will try to link it here, as soon as they are up for grabs.
My Hero Academia Manga 278 HD quality Official English translated version will be released on 12 July, 2020. It will be uploaded on Viz, Mangaplus and Shonen Jump App – you can read it for free.
We urge you to not read the fan scans. The legal way will help the industry. You can subscribe to Viz or Mangaplus for low subscription fees and read a lot of manga legally. Supporting the creators is a great to help flourish the industry.
My Hero Academia 278 Spoilers and Discussion
As of now, the spoilers have not been released. We urge you to be patient for a couple more days. As soon as the spoilers are leaked, we will post them for you to read. They usually launch around Wednesdays – please be patient until then. However, we can discuss until then.
Who will win in the Gigantomachia vs Mt. Lady fight? We believe My Hero Academia Chapter 278 will show Gigantomachia overwhelming the Hero. But she will get help. The other heroes present, like Cementoss, will support her. They will probably manage to detain the giant.
If Gigantomachia joins the other battlefield, it was be a tragic scene for heroes. They're already having trouble keeping up with the near high end Nomus and the superpower Shigaraki. Adding the mighty Gigantomachia will tip the scales.
Let us look at Number 1 Hero Endeavor. The man always fought hard. His immense strength earned him second spot.
Only because All Might retired, he was able to become Number 1. He lost his family and friends in the process. The general masses are scared of him. His solitary strength pursuit didn't end well.
Throughout the last couple of chapters, he has failed to detain Shigaraki on his own. If he fails to take out the villain, he can't be the symbol of peace. But now he realized – taking help from others isn't necessarily bad. Aided by Aizawa and the two students, he has managed to produce positive results. Shigaraki is having trouble.
My Hero Academia 278 spoilers might show us the complete state of Endeavor's version of the Symbol of Peace. This version embraces all. It gathers collective strength and protects people.
Deku and Bakugo have been performing well so far. But we believe Boku no Hero Academia 278 will show their defeat. Deku might actually get kidnapped here. It is only a speculation, but Shigaraki will probably get One for All and complete himself.
We will keep you updated with all the bnha 278 raw scans and spoilers details so stay tuned and check our articles on Solo Leveling 111 and Kingdom 647.