It is a death battle for our Heroes. My Hero Academia 276 will unleash a terrific showdown between Eraser Head and Shigaraki. With each passing chapter, fans get more hooked into the series.
What happened to Endeavor? With signals cut, did he face Shigaraki alone or did the villain slip his tail? Will Eraser head be able to hold off Shigaraki? Which other heroes will join this fight? Who will handle the other members of the Paranormal Liberation Front?
This new phase is putting up a lot of questions and the situation keeps getting tense. Unfortunately, our protagonist has been taken out of the battlefield. Fans might have an adverse reaction to this. However My Hero Academia Chapter 276 might show Deku convincing Gran Torino to let him fight.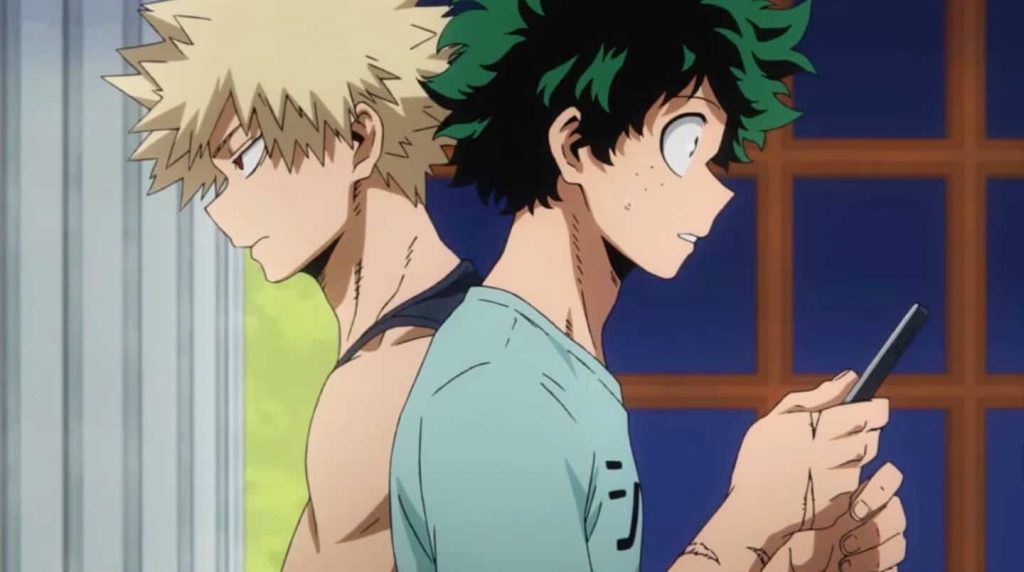 My Hero Academia is a battle-oriented shonen manga written and illustrated by Kohei Horikoshi. It is currently being published in Shueisha's Weekly Shonen Jump.
With the end of Kimetsu no Yaiba, it is currently the most influential new generation title. Out of all ongoing Shueisha series, it is probably the second or third most popular, beaten only by My Hero Academia and Kingdom.
My Hero Academia Manga 276 brings us closer to the main showdowns of this Paranormal Liberation Front War arc. While it seemed initially that the heroes are going to clean the villain world smoothly, things have taken a drastic turn.
With Shigaraki's awakening, one battlefront is being completely overwhelmed by him while in the other battlefront, the villains have managed to regroup! The upcoming fights are bound to bring huge damage and destruction.
Also, check our articles on One Piece 983 and Black Clover 254 while you wait for the upcoming bnha 276.
My Hero Academia 275 Recap:
Chapter 275: Encounter 2
Shigaraki realizes that One For All has been passed on. He uses the Quirk: Search to find Deku's location. He realizes he can find One for All since it was the previous user who had noted Deku's data.
Endeavor is confused by Deku's idea. But he sees Shigaraki move quickly towards south west and decides to listen. As they try to lure and hold off Shigaraki, Endeavor wonders if he is heading towards Deku. He cautions everyone about the situation.
Deku moves deeper into deserted territory and Bakugo follows him. He too wants a piece of Shigaraki and Deku is somewhat glad. Bakugo feels guilty thinking that he was the one who caused the downfall of All Might. After all it was him, who got captured by All for One. But he is confident as he has a plan to defeat Shigaraki.
At this time, Deku can easily output 30% One for All power with full cowling. In dangerous times, he can move up to 45% and fight. Bakugo can keep up with Deku but somehow, Deku keeps moving forward. Bakugo is determined that he will not fall behind and become an even stronger hero.
Shigaraki combines Air Cannon and Radio Waves Quirks to cut off communications. He decides to take out Endeavor. He appears before Deku. Deku is reminded of his summer in Kamino and the fright. It is 'Death's Image' to him, when Shigaraki extends his arm and tries to take One for All.
At this point, Gran Torino appears and takes Deku away. He had realized that Deku would attempt to fight Shigaraki. At his level, he would surely lose as any contact with Decay Quirk would end him. He trusts in the Heroes who are still standing, believing that someone will manage to put him down.
At the secluded part, Eraser Head arrives. He wonders why Deku and Bakugo were there. The memories of fellow heroes decaying make him enraged. He warns Shigaraki not to touch his students and decides to fight him there. Shigaraki welcomes the challenge!
My Hero Academia 276 Spoilers:
Will Deku be taken out of this battle, and in extension, from this war against the villains? We believe he will be put in the sidelines.
Even if he is allowed to fight, it will just be against minions or so. Currently, it is impossible for him to face Shigaraki. So the Pro Heroes will try to keep him away.
However, Boku no Hero Academia Chapter 276 might Shigaraki going straight after Deku since he can track him constantly. This opens up multiple directions. The Heroes can utilize this and try to trap Shigaraki, or they might be too late and he will come before Deku. In that case, a fight seems inevitable.
There is an ongoing theory that One for All will be taken from Deku. But it is a moving quirk and two people can have it. So Shigaraki will take it and find quirk singularity while Deku will train and combine his six other quirks will One for All getting immensely strong – strong enough to fight Shigaraki. But all that is a long way down the road and maybe Horikoshi will take a different direction.
Hero Academia 276 might reveal to us the fate of Endeavor. Here's what happened chronologically :
Shigaraki was annoyed by Endeavor
Shigaraki jammed signals and decided to face Endeavor
Endeavor is isolated and Burnin realizes something is wrong
higaraki is seen in town, ready to fight Eraser Head
This means, Shigaraki might have already fought and defeated Endeavor. Or maybe he just decided to escape faster.
Either way, the fate of Endeavor is unknown. If he is alive, hopefully, then we will see him fight Shigaraki and with the help of others, drive him back.
The upcoming chapter might finally show us the other battlefront. It is heating up too – ReDextro has reassembled his troops. Toga has gone rampant. Compress and Dabi is on standby, ready to go anytime.
And Gigantomachia is active, probably wanting to return to Shigaraki, whilst destroying everything in his path. We might get to see Heroes vs Gigantomachia soon.
Lastly, we will see Eraser Head fight Shigaraki. His Quirk erasing will come in handy, allowing him to put an end to decay for a while. So he can fight without the fear of disintegrating and go all out. It might be a great battle and other heroes might come in to assist him.
Boku no Hero Academia Manga 276 Raw Scans:
My Hero Academia is a manga, so it's raw scans are in the Japanese language. These get released usually on Wednesday, in the new issue of Weekly Shonen Jump. However, sometimes there are leaks, which are major sources of spoilers.
We are trying our best to get My Hero Academia 276 raw scans for you. Keep an eye on our site to find the notifications of their release. Meanwhile, do check out 'r/BokuNoHeroAcademia' subreddit for a lot of content related to My Hero Academia manga spoilers and raw scans.
My Hero Academia Chapter 276 Release Date:
Between June 17 to June 22, 2020, My Hero Academia Chapter 276 will release in a new issue of Shonen Jump. These raws will be picked up by various scanlation teams and they will translate it to provide us the fan-translated versions. It takes less than 2 days so you can expect them by June 19 to June 24, 2020.
As for the official English translations for the upcoming My Hero Academia Chapter, they will be available on June 26, 2020, in Viz and Mangaplus website and Shonen Jump app.
Manga Chapters like Kingdom 644 and Solo Leveling 111 will be releasing soon as well, so while you are waiting for the Hero Academia Chapter, check them out.