Jin woo vs the Ant King is heating up and we can't wait to read Solo Leveling 104 raw scans and spoilers online.
Solo Leveling is back after a short break due to the artist being sick. Now, Jin-woo is facing the strongest opponent he's ever met. He's currently fighting the boss of the S level rank dungeon on Jeju island. Defeating him will make him a national level hunter.
The fight against the Ant king is going to be intense but Jin-Woo has the upper hand right now, but it's not going to be the same the whole fight. The ant king will come back stronger in the next chapter for sure.
Solo Leveling Manhwa Chapter 104 is going to be released soon and the fight will resume with Jin-Woo using his full power against the Ant king and showing everyone how strong he is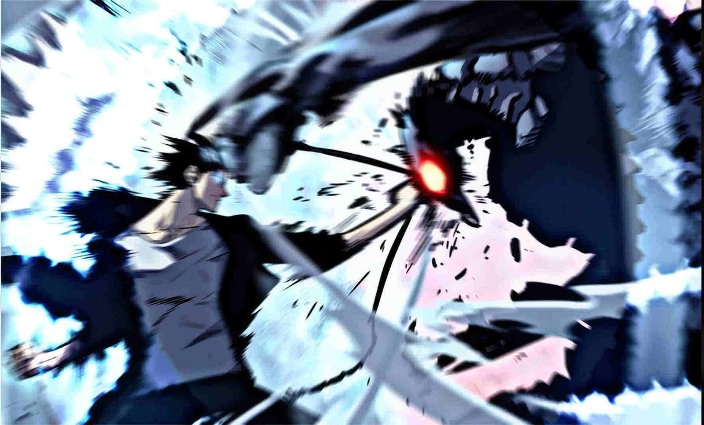 Don't forget our articles on One Piece Manga and Black Clover Manga news. We will be posting Spoilers and raw scans release dates here regularly for you guys to check, so make sure to subscribe to our blog feed.
Update- The Chapter will be released tomorrow and we will update the links here as soon as they get released
Solo Leveling chapter 103 summary and recap
The fight begins right where we left off. Ant King realizes this is no normal human being. Soon Jin-woo breaks his strong exoskeleton, which surprises him. After this, he tries a new attack. He uses his tongue to poison Jin-woo. This poisons him with one of the most dangerous poisons available.
We also see the other S rank hunters from Japan. Minoru tried to explain what killed Goto. And he knows they're no match for him.
But as we know, the system protects Jin-woo from all types of poisons. He finds out that he needs to end this fight quickly or else Cha Hae-in will die. After failing the strength battle, ant King tries his next tactic, trying to outspeed Jin-woo.
All he needs to do is reduce his size and move extremely fast. But to his surprise, Jin-woo dodges his attack. And then not only does he match his speed, but he gets even faster.
Jin-woo tried to end this quickly by attacking him with his twin daggers and also activating the critical hit skill. Which gets upgraded to the critical chain. Then he rips his handoff.
At this point, the ant, out of options in a last-ditch attempt tries to summon all the remaining ants to kill him. But little does he know this is where Jin-woo is the strongest. He summons his shadow army. And an all-out battle begins between them in the next Solo Leveling 104 English Chapter.
Solo Leveling 104 Spoilers Are Out
The chapter has finally been released and we got to see Jin-Woo going against the Ant king and finally destroying him one on one. Jin wo summon Tusk to take care of the Ant horde and then finished off the Ant king using his powers.
jin-Woo defeats the Ant king using the Skill: Critical skill and now has gained a new level. The new Jin-Woo is now one step higher than before and more powerful.
Then we see him moving forward and asking the guy to stop filming and then command Tusk to find the body of Byung'Gu's body and the shadows finally find the body.
Then Jin-Woo using his powers over the dead asks the body to arise and become a shadow of his own and that's when the chapter ends. The Solo leveling 105 will be very interesting to read and I can't wait to read the upcoming chapter.
Stay tuned as we will be posting about the new chapter soon. The chapter is out and you can read the new chapter on SoloLeveling.net website. Go have a read and let us know how it went for you.
Solo Leveling Chapter 104 spoilers
Ant King is defeated in all three departments he thinks he's better at. Jin-woo summons his shadow army first time in front of other hunters. It will be interesting to see how they respond to it.
Another issue is the broadcast. Jin-woo cannot afford others knowing about his ability. He might ask the A rank hunter or the company to edit or delete that footage. But that's not possible as it is live with a ten-minute delay
Some S rank Japanese hunters still survive as they were shown. But in Solo Leveling chapter 104, they might get killed too.
Jin-woo needs to end this fight as soon as possible because Cha Hae-in is in grave danger and might succumb to her injuries. But it won't happen as the ant King is heavily injured and will die soon. When the ant King dies he will finally join Jin-woo. It will be amazing how the artist portrays his shadowfication.
Which will make him the strongest shadow available to Jin-woo. All these will definitely make the next chapter amazing, so look forward to Solo Leveling chapter 104.
Solo Leveling Chapter 104 English Raw Scans Release
The Chapter first gets released in the Korean language first and then gets translated to English and French. The Solo Leveling English chapter raw scans will be released two days before the official chapter release.
We will share the chapter as soon as they get released. Make sure to bookmark this page so that you get to read the raw scans as they get released here at Strawhat Manga.
Solo Leveling Chapter 104 release date
Solo Leveling Chapter 104 will be available on 5th February. The raw scans and spoilers will be available to read few days before the manhwa release and we will share the links here as soon as they get released.