Lolopechka has been kidnapped and Noelle got left behind by Megicula and Vanica to get stronger and rescue Lolo, and fans can't wait for Black Clover 256 to read what will happen with our precious Lolo.
Black Clover storyline has been getting better with every released chapter and the thing that we feared the most will be most likely happening very soon and we will see Yami getting defeated and devils swarming the earth.
For the last few chapters, we didn't get to see anything from Yami, and Dante's Pov and fans expected that Yami defeated Dante but that was not the case.
Dark triad's Dante and Yami are still going on with their fight and both are still strong and Dante will be showing his true devil powers in the upcoming Black Clover Chapter 256.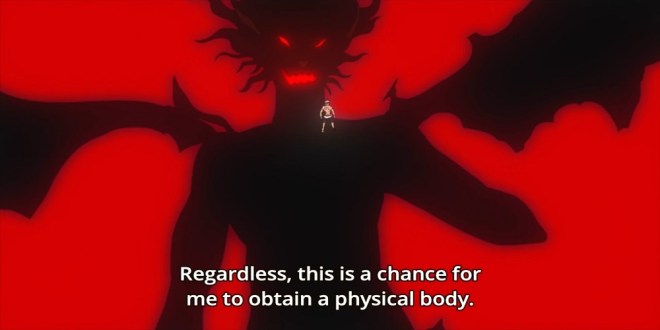 The last time we saw Yami fight Dante, we though Yami had finished him off but to everyone's surprise Dante is still alive and kicking and seems more powerful than before.
All three of the Dark triad leaders have devils as they host and that is why they can use devil's powers to increase the strength and that gives them unimaginable powers of regeneration and raw strength.
As we saw in the last Black Clover Chapter 255, Noelle's attack had no effect on Vanica and even Noelle's point blank sea dragon's roar failed to injure her.
It proves how strong Vanica is with devil Megicula. Vanica remembers fighting Noelle's mother and how she got stronger when Vanica kidnapped one of her friends and decides to do the same with Noelle by kidnapping Lolo.
Now Noelle needs to get stronger and defeat Megicula in order to rescue Lolo and we will also have to see who helps her in this fight.
Noelle will soon be moving towards the Spade kingdom once her wounds get healed and she must gather some friends from the black bulls if she wants to win.
Yami and Dante will be going at each other at full strength in the upcoming Chapter 256 and only time will tell if Dante will be able to capture Yami or not.
All will be answered when the Black Clover 256 spoilers get released and since this week we got the chapter early, we will have to wait more than a week this time to get the upcoming Chapter.
[Update 1st July] – No Spoilers have been released till now. We will share them here once they are out.
Black Clover Chapter 256 Release Date
As you all know, Black Clover manga was on break last week and we don't know why but some of the manga like Mha, Haikyuu, and Black Clover got released early this week.
So now for the upcoming Chapter 256, we will have to wait for than a week. Manga will be returning to its usual release date i.e Sunday and everything will be all on schedule now.
The official release date for Black Clover Manga 256 is 5th July 2020 and it will be available to read on the Viz official website.
One Piece Manga 984 and My Hero Academia Chapter 277 will be released on the same day as Black Clover manga and you can read it all on Viz.
Black Clover 256 Spoilers & Raw Scans Release
Black Clover raw scans don't easily get leaked and this is why spoilers get released pretty late every week. The spoilers for Chapter 256 of Black Clover manga will be released on 2nd July 2020 for everyone to read.
We will share all the spoilers here once they get released, so stay tuned and read our predictions and fan speculations while you wait for the spoilers to get released.
Noelle's ability to dominate whatever touches her mana will give her the ability to kill devils. This is a fan speculation we found on Reddit and its true.
Even though Vanica claims that Noelle's attacks didn't affect her, we see her coughing blood, which means that Noelle's attacks damaged her vitals but the devil megicula is so strong that she was able to regenerate in no time.
One fan even shared his theory on how arcane stage mage are people with the ability to kill devils and you can read it here.
Card
Yami vs Dante is very important, because if somehow Dante is able to defeat Yami and take him away, he will be able to use Yami's black magic and Vanegance world tree magic to summon devils to the ground.
We will get to see Dante at full power in the upcoming chapter and Yami will showcase will full power as well. The upcoming chapter will be very exciting as we know it will be full of action.
Noelle's character development has been immense in the manga and now that she will get even stronger, Asta is down and he needs to play a big role in this fight as well.
As Dante takes away Yami after defeating him, Asta will follow him and reach Dark triad's hideout where he will find Vangeance as well.
And thus the fight against devils will start. Backstory on Asta is highly requested as well, so we might get to see Asta's origins and the source for his powers as well.
We will keep you updated with all the spoilers and raw scans release date, so stay tuned and also check our articles on Plunderer Season 2 and Boruto Chapter 48.