Finally after a month, the much awaited last chapter got released and now fans are eagerly waiting to read Kingdom 643 raw scans and spoilers.
Kingdom Chapter 643 spoilers will feature what will happen now that the award ceremony is over, will the so awaited full on war against Zhao capital will start or there's some time before that happens?
Fans are pretty disappointed with how the award ceremony was held, the Kingdom manga was on a month break and all we got for the award ceremony were only a few panels.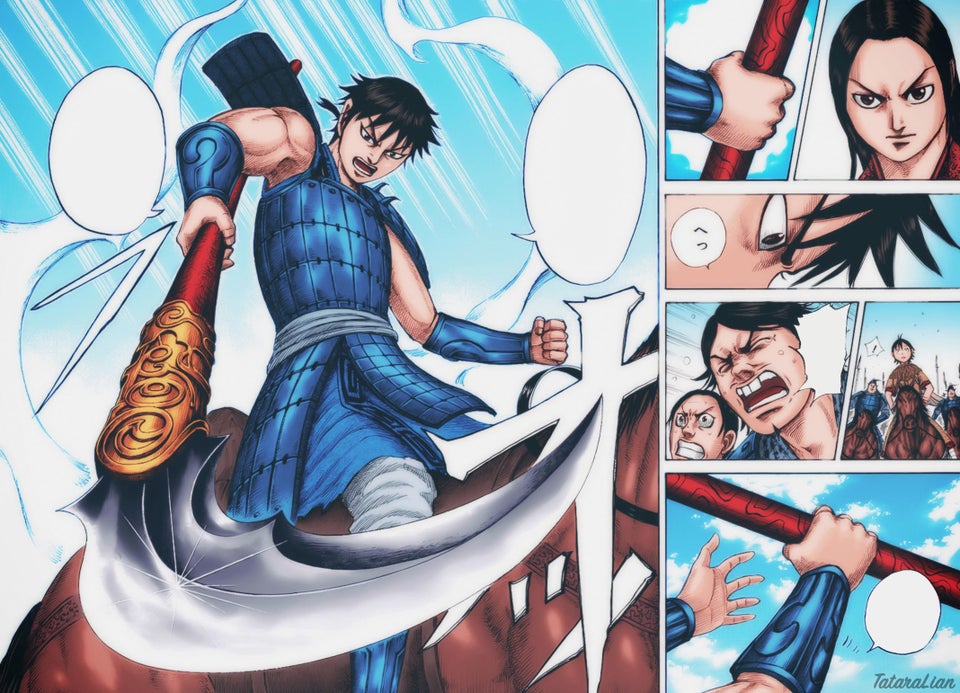 This award ceremony was a very important for all of the Kingdom fans because of Shin finally accomplishing his long dream of becoming general.
Ri Shin, Mou ten, and Ou Hon finally made Generals and even though the chapter ended with the announcement, we expect the feast at palace to be held in the upcoming Kingdom 643.
The last chapter started with civilians migrating from the state of Qin to its new acquired territory. It's been more than five months since the fall of Gyou and Qin is moving some people to the new acquired lands to gain full control of it's borders.
Karyo Ten and Mouki meet up at the castle where they talk about the past war and get ready for a proper debriefing of the war.
With its last war, Qin has easily increased his borders inside the past territories of Zhao. Qin now occupies Gyou, Retsubi, and Ryouyou.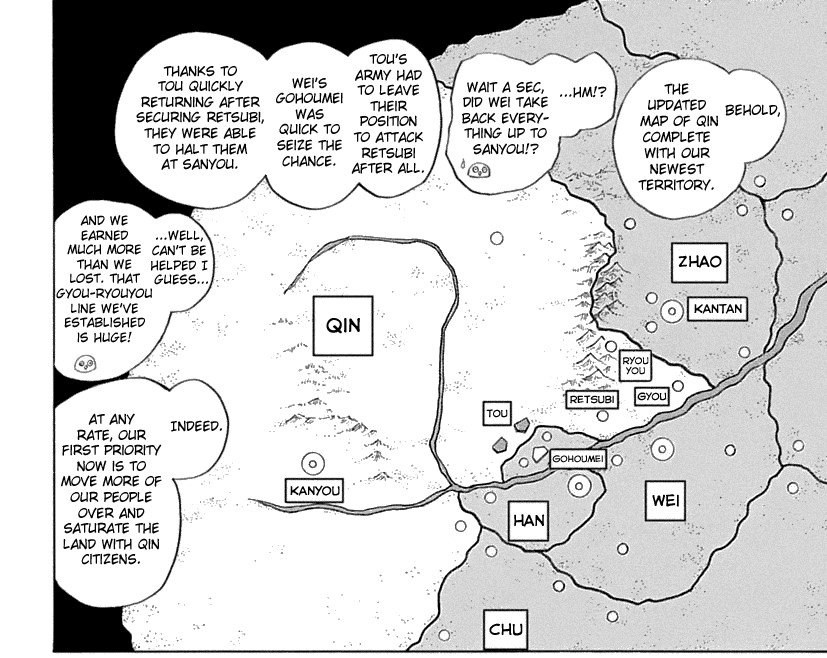 Even though Qin has conquered those lands, they are still on the borders of he Zhao kingdom and in no way Zhao will take it lying down. Zhao is sure to make a counter attack to reclaim its lost land and before it happens, Qin needs to take advantage of the present and attack Zhao now!
Riboku is still in prison and even though a death penalty was expected for him, his followers have prevented that with their continuous pressure on the the Zhao State.
The award ceremony commences and Ousen is given the First class award of supreme exemplary service. It's not wise for all the three generals to leave their posts, and this is why only Ousen was present.
Yotanwa and Kanki also received their exemplary service awards for all their great work in the war. And then came the moment we were all waiting for many years.
Ri Shin is finally a general and even though it's been a great day for our hero Shin, fans are very disappointed. Fans think that Shin had much more exploits then the other two and deserved more.
There were many people who were not shown receiving rewards and one of them was Bihei. So what do you think will happen in the upcoming chapter? We will be discussing that today in this article of ours.
Today we will be discussing Kingdom Manga Chapter 643 spoilers and when the raw scans will be released.
Kingdom Season 5 anime has been delayed because of the ongoing pandemic and has suffered the same fate as One Piece Episode 930 and Black Clover Episode 133.
So without further ado, let's get started with the spoilers.
Kingdom 643 Spoilers Release Date
To all of you who are here to read the spoilers for the upcoming Kingdom Chapter, we are very sorry to tell you that the spoilers have not been released yet.
The Kingdom Chapter 643 spoilers will be released on 8th June 2020 for everyone to read and we will be sharing when they get released.
So while we wait for the spoilers to be released, let's take a look at what fans think will happen in the upcoming Chapter 643.
In the upcoming chapter, there will most likely be a feast prepared and held at the castle. Everyone will take part in it before the details of the next war is decided.
Fans think that before Qin decides to make a move, news from Zhao borders will come flying in as there will be a counter attack for sure. We can expect a full blown attack on Zhao in the near future for sure.
If EI Sei's dream of uniting all of China into one is to be realized, Zhao should and will be the first to fall. Thus increasing Qin's power and territories beyond expectations.
The three new generals will have a huge role to play in all of this and we can't wait to read how it turns out.
As soon as the last chapter released, we saw fans showing their love and support for Ri shin on Reddit.
Here's what they had to say.
Card
Card
Kingdom Chapter 643 Raw Scans And Official Release Date
As we all know, the Kingdom 643 will be officially announced on 10th June 2020 for everyone to read and we will be sharing the links to the official chapter as soon as they get released.
The Chapter 643 raw scans usually get leaked by Saturday every week and get translated by Monday. So we can expect the raw scans to be released very soon.
All the links to the Kingdom Manga Chapter spoilers and raw scans in this article for everyone to read.
Black Clover 253 and One Piece Manga 981 will be releasing soon, so check them out as well if you have time to spare.
We will keep you updated with all the latest manga and anime news on our website, so stay tuned for follw us on all our social media channels.