Solo Leveling is getting more and more interesting with every chapter and today we are here with Solo Leveling Chapter 100 spoilers, Solo Leveling Chapter 100 raw scans, and release date.
Solo leveling is easily one of the most popular manhwas of all time which can be observed by the fact that it shot up to the top ten in the top manga list on MyAnimelist as soon as it was added there. The manhwa has millions of readers worldwide and they keep increasing everyday. So today we're going to present to you the Solo leveling 100 spoilers, Solo leveling chapter 100 release date, and raw scans.
Solo leveling will soon hit the 100 chapters milestone and it's just getting better and better. The innumerable fans of Solo leveling are hoping that it will soon be animated, but we haven't gotten any news of this yet. Well, we can all hope.
Solo leveling story so far (recap and summary)
A weak D rank hunter, Sung Jin-woo, mysteriously gains the power of continuously leveling up and get stronger. This allows him to clear dungeons to get rare items and also helps him to cure an incurable disease that had bedridden his mom. After the strong s rank hunters learned of his powers, they tried to recruit him for their clan but he doesn't accept their invitations.
The Jeju island arc kicked off in chapter 98 and since then we've only seen the strong S rank hunters in a one-sided fight against the endless hordes of ants. So far they've shown their prowess against them annihilating them in every manner possible.
The plan was going smoothly, the S rank hunters with some effort and teamwork, successfully defeated the Queen's royal guards. Soon after they were successful in slaying the Queen too.
All this… seemed too easy? Did they just clear a high level S rank dungeon so easily?
Of course not.
Whom they believed to be the main boss, was not the boss after all. As you can see towards her end she calls for help. And her call is answered by none other than the Ant king.
Solo leveling chapter 99 summary and recap.
It was a red Christmas for the hunters on Jeju island. Readers of this manhwa are used to one hunter overpowering monsters, but this time it's the other way round. This chapter of Solo leveling should be called Solo beating.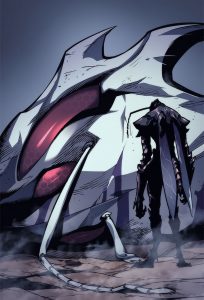 As I had predicted correctly in the last article, the ant king has arrived. As soon as he arrives, even the strongest hunters seem frightened by this overwhelming aura.
This overpowering presence forcing them into submission. It's unbelievable, such energy from just ONE ant? They know this is no ordinary ant.
As soon as the ant king enters, all the hunters seem petrified, unable to move their body. He notices the headless, cold body of the queen, which sets him off in a fit of rage. Instantly gauges the strength of the hunters in the room and goes for the strongest one there.
The first victim of the ant king's rage is Cha Hae-in. She doesn't even notice, or in fact, is unable to react to his speed when he swoops in and lands a lethal blow almost instantly. Throwing her far away onto a wall.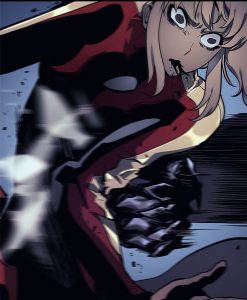 Next is the tank of the raid team Ma Dong-wook. He tries to take the ant king head-on, naturally, this ends as you would have guessed it; not in his favor. Ant King rapidly severs his arms.
Similarly, he defeats other S rank hunters Baek Yoon-ho slashing him along his chests. The hunter Choi Jong-in doesn't even get a chance to activate his magic is defeated immediately.
Next Lim Tae-gyu tries to take advantage of his long-range weapon. As soon as he shoots his arrow, the ant King catches it immediately. And he faces the same fate as the others.
But the hunters have an ace up their sleeve as well, yes, the s rank healer Min Byung-gyu who can even regenerate broken arms. Using his special skill to hide his presence, he can help his fellow hunters.
But the ant King could not be deceived for long. He noticed this and found the healer. And as I had predicted in my previous article, he was killed. And the chapter ends with his death leaving all the hunters in a hopeless situation.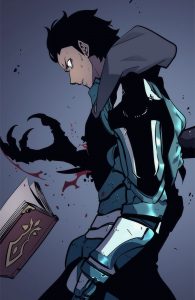 What will be the fate of the rest of the hunters? Will they be rescued? When will Sung Jin-woo join this raid? Can he defeat the ant King? To know more let's head on to the Solo leveling chapter 100 spoilers.
Solo leveling chapter 100 spoilers [Unconfirmed]
This manhwa leaves us craving for more and more. So we have brought to you the spoilers for Solo leveling chapter 100.
So in solo leveling chapter 100, we might see the ant King trying to learn the language of human beings by eating their heads. Yes, by eating the heads of the hunters he has slain. I think he will eat the Min Byung-Gyu's head. Also, Sung Jin-woo might appear in the next chapter. But before that, he has to fight Goto. That will be an interesting fight to look forward too.
In Solo leveling chapter 100, we might see even more s rank hunters dying. I imagine Goto dying in a fight against the ant King.
Ant King is the strongest villain in the story so far so fans cannot wait to see him duel Sung Jin-woo, hopefully, we get to see that in Solo leveling chapter 100.
So are you guys ready for the battle between solo leveler vs solo beater?
Solo leveling chapter 100 release date
The translated version of Solo leveling chapter 100 will be available by 1st January 2020.
Read Solo Leveling 100 Raw Scans Here (Soon)
Fans are excitedly waiting for the release of the next chapter of Solo Leveling manhwa and can't wait for the translated raw scans of the manhwa.
Initially, the manhwa chapters are available in the Korean language, which is then translated to English. It takes some time to do the translations so the upcoming Solo Leveling chapter 100 raw scans might get delayed this week.
We will update this article with the Solo leveling 100 raw scans as soon as they get released on the internet. So Stay tuned!
Don't forget to check out our list of best sites to read One Piece Manga and best sites to watch One Piece episodes.