The ant king is done for good and now we can't wait to read Solo Leveling 105 spoilers and raw scans. Now that the ant king is dead, what will jin-woo be doing?
Last Solo Leveling Chapter was intense and Jin-woo humiliated the Ant king and showed him that he is not the strongest being alive. That last chapter ended with Jin-Woo making a shadow soldier with Min Byung-Gu soul.
Cha-Hae In is lying on the ground wounded and injured and by the looks of it, the injury looks fatal and without help, she will not survive. This is where Jin-Woo's power will come for help and we will get to see Min Byung-Gu help heal Cha-Hae In.
Before we start talking about the upcoming Solo Leveling Chapter 105 we doing a recap of what happened in the Solo Leveling Chapter 104 and we will be sharing the raw scans and spoilers of the upcoming Solo Leveling Manhwa.
[Update]- The next chapter is due to be released tomorrow. We will be sharing the spoilers and raw scans as soon as they get released.
Solo Leveling 104 recap and summary
The last chapter started with the Ant king summoning a horde of ants to protect himself as he already knows that jin-woo is stronger and he can't beat Jin-woo in a fair fight.
Jin-Woo summons Tusk, the strongest shadow soldier under his command and instructs him to only kill ants and not humans.
Tusk uses his Hymn of Fire Dragons to exterminate all the summoned ants in one breath. All the heroes present there cannot believe what they are seeing if it's really a summoned beast or the demon king has descended in the human world itself.
The Ant King is now scared beyond disbelief and starts running away when Jin-woo activates Dominator touch to bring the flying Ant king to the ground and use the Mutilate skill to cut down the Ant king for good and his level goes up once again.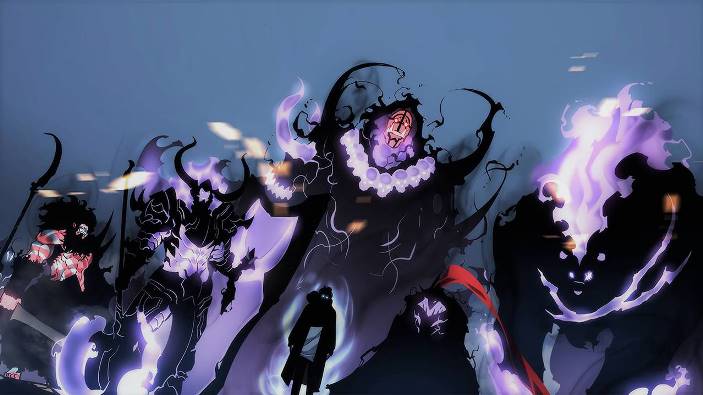 Then he gets the information that hunter Chae Hae-In is wounded and Jin-woo must do something to help her. This is when Jin-woo uses his skill shadow extraction to shadow extract Byung-Gu's body to find a healer that can heal Chae Hae-in.
This is where the chapter ends and we are left to wait for the upcoming Solo Leveling 104 spoilers. The chapter will be out soon and till then read One Piece Manga and Boruto Chapter 43.
Solo Leveling 105 spoilers and predictions
Sung Jin-Woo dominated the Ant King and lay down a crushing defeat on him. However, we haven't seen it actually die. Is the Ant-king truly dead?
We have already seen that it possesses a great healing ability. Will it make a last-ditch effort to retreat by using the remaining ants as a distraction?
However, we believe that it will die, which is much more likely. Question is, can Jin Woo successfully extract its shadow?
We have seen shadow extraction of powerful foes is incredibly hard and Jin-Woo only has 3 tries to get it right. The extraction of Baruka failed. If Jin-Woo gets the Ant-King's shadow, it will become the strongest shadow in his possession, possibly outranking even Igris. However, it will probably be a Marshal grade shadow.
Cha Hae-in is mortally wounded and we will see her getting cured by the healer shadow. How will the S-rank hunters react to this? Jin Woo's power is completely new to them and everyone is shocked. How will Jin Woo convince them to keep it a secret?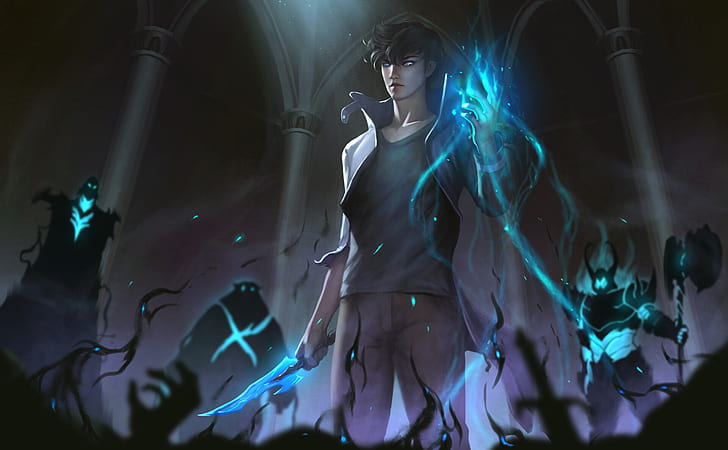 Jin Woo has already stopped the broadcast but has he successfully hidden his abilities from the world?
If the world discovers Jin Woo's strength, hunters from all over the world will come to challenge him. Will that escalate into an international conflict? South Korea is already weakened massively and so, they will have lots of trouble if an international conflict breaks out. Also, international guilds will now express interest in acquiring Jin Woo.
We know Jin Woo's father, IL-Hwan is tied to this Jeju Island. How will he react to all this? What is the impending danger he spoke of? Will he make an appearance in chapter 105?
Solo Leveling Chapter 105 Raw Scans Release Date
Solo Leveling manhwa is first released in the Korean language, which is then translated to Japanese and other languages around the world. Since the release of the Solo Leveling manhwa chapter, it takes ten to fifteen hours to translate the chapter to English and that is why the Solo leveling English raw scans are released late.
We will be sharing the Solo Leveling raw scans as soon as they get released here. Make sure to check our Strawhatnews Subreddit for the Solo Leveling Chapter 104 spoilers and raw scans.
There are many questions going on in everybody's mind after the last chapter and we will be providing the answers to all of them so make sure to comment them below.
When will Solo Leveling 105 get released?
The Solo Leveling Chapter 105 will be officially released on 13th February 2020.
Where can we read the upcoming Solo Leveling Chapter?
We will be sharing the links to read the upcoming chapter on our subreddit. So make sure to check that.
What will jin-woo do with Byung-Hu's shadow warrior?
Jin-woo being an upstanding man will relieve the Byung-Hu shadow so that he can rest easy.