Boku no My Hero Academia Chapter 262 is going to be released soon and we can't wait to read what happens in the upcoming chapter.
My Hero Academia 262 will be all about Miriko vs the Nomu's. Mirko will have to go through the advanced genetic talking Nomu's to get to Ujiko and she can't let him escape if the heroes want to put an end to these endless Nomu's.
Boku no Hero Academia 261 was intense and the panel started with Mirko kicking the door open and the door opens to a basement full of Nomu's in containers filled with some strange liquid.
Now we all know that Ujiko is the one that creates Nomu's and gives them special abilities. The basement has multiple Nomu's that look strong, Mirko lets the other heroes know about the situation in there and requests for backup.
The other heroes and Endeavor are busy handling the Nomu's in the hospital and will not be able to assist Mirko for some time. Mirko will have to fight all the Nomu's in there alone and it's going to be a great fight.
Mirko goes for a kick against Ujiko's head but a Nomu intervenes and somehow saved the doctor. The doctor is grateful as he was just about to die and the Nomu saved him.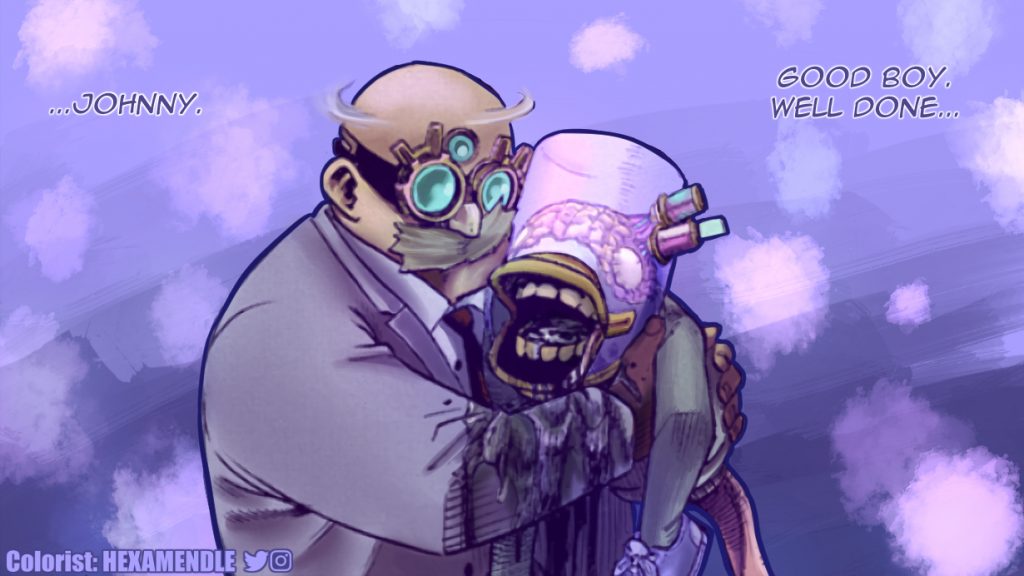 Knowing that Mirko will not let him leave alone, Ujiko activates each of the Nomu's and orders them to take care of all the heroes including Mirko.
The Nomu's from the containers look strong and can talk. The doctor must have genetically mutated them and given them the ability to talk. Mirko is having problems fighting 1vs3 and Ujiko has started making his escape.
Blood seems to come from Mirko's head, but the fight is not over yet. Mirko vs Nomu is just starting and she intends to defeat all of them and capture Ujiko before he escapes.
The chapter ends there and now we can't wait to read My hero academia 262. The next Boku no Hero Academia Chapter 262 will show us how the fight unfolds and if Mirko will be able to go after Ujiko.
My Hero Academia Chapter 262 spoilers and theories
Mirko will be kicking Nomu's ass in the upcoming Boku no Hero Academia Chapter 262. She is strong but she will need help in fighting all those Nomu's and she needs to finish them fast if she intends to go after the doctor.
Hero Endeavor will finish off all the hospital Nomu's and go help Mirko. The Doctor is sure to escape in the next chapter as he has become an important part of the manga.
Ujiko is the one who created artificial Nomu's and if he gets caught then Shigaraki will have no access to Nomu's in the future. So Ujiko will not get caught in the next chapter.
My hero academia 262 spoilers will be released soon and we will get to learn more about the upcoming chapter when the spoilers get released.
Haikyuu 384 and Demon Slayer 195 spoilers will be releasing on the same day as My Hero Academia chapter, so make sure to check them out as well.
Boku no Hero Academia 262 Raw Scans Release Date
Hero Academia 262 raw scans are going to be released soon and that is when we will get to know what finally happens in the upcoming chapter.
The raw scans usually get released on Thursday, but because of a scarce number of scanlation groups, online the raw scans might get release late.
Boku no Hero Academia Chapter 262 raw scans will be released on 20th February 2020 and we will share the links as soon as the raw scans get released online.
What is the My Hero Academia 262 official release date?
The hero Academia Chapter 262 will be officially released on 22nd February 2020.
Where can we read the upcoming Hero Academia Chapter?
The chapter will be available to read on Viz and Mangaplus when it officially gets released.
We will be updating the article with My Hero Academia spoilers and raw scans as soon as they get released and make sure to check out our Solo Leveling and One Piece articles while you wait.