Kingdom manga is getting better and better with every new chapter and we can't wait to read the upcoming Kingdom 632 spoilers and raw scans.
Kingdom Chapter 632 will show us what really happened in the void and how is Shin after all? How did Kyoukai succeed in reviving Shin? How is Shin standing like that after getting severely injured or you can say, dying?
Last Kingdom's chapter was intense as we see Kyoukai trying to revive Shin with her dark rituals.
Kingdom 631 started with Kyoukai and Shin in a dark void where there's nothing but red stairs going up.
Shin wakes up and heads towards the stairs as Kyoukai is calling him non stop and trying to stop Shin from going upstairs. On the top of the stairs, it's afterlife waiting for Shin and once Shin climbs up and reaches the top, he will be gone for good.
As Shin starts moving towards the Stairs Kyoukai calls out to him but he is not listening at all. Shin sees an image of Hyou who asks Shin if he has accomplished everything he set out to, to which Shin replies but is not able to remember his unit name.
Kyoukai musters up all her strength and calls up to Shin and yells the name of their unit "Hi Shin unit". Shin regains consciousness in the void and lets Hyou know that it's not his time yet and he still has to become the great general before he meets Hyou again in the afterlife.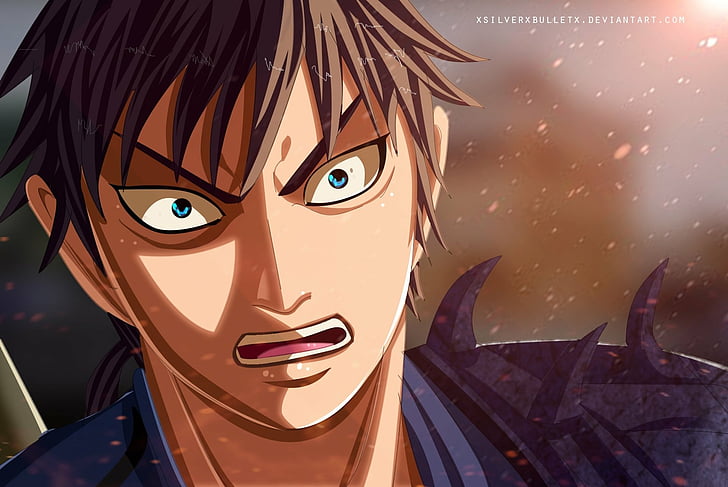 Kyoukai pushes Shin out of the void and we see Shin standing up the battleground and everyone is astonished to what has happened.
We will see how Shin is doing and is Kyoukai alright? We will get the answers to all our questions in the upcoming Kingdom 631 manga Chapter.
The Spoilers are still to be released and since then make sure to check our articles on Solo Leveling 106 and One Piece Manga.
The Kingdom Chapter 632 spoilers will be released soon and we are here to discuss what finally happens in the upcoming Kingdom manga chapter.
Kingdom 632 Spoilers Releasing Soon
Shin is finally alive and from what we know, Kyoukai is not dead as well. The last Kingdom chapter only saw Shin alive and in good health and it feels like he never had any injury or he never died at all.
Kingdom Chapter 632 will start with the whole Hu Shin units overjoyed after seeing Shin alive. They must be confused to see him alive and in good health and we think that Shin will be the most confused as to what happened.
We will finally get to see how Kyoukai is doing. As we all know, she used all her life force in order to revive Shin and giving all the life force means death. Kingdom 632 will not be a battle chapter but focussed on Shin's revival.
We will be sharing the Kingdom Manga Chapter 632 spoilers as soon as they released for all of you to read and we will be posting links to Kingdom English raw scans as well.
So the Kingdom 632 spoilers have finally been released and it seems like Shin is fully alive with all the energy in the world, but Kyoukai is lying on the ground unconscious.
What has happened to Kyoukai? Will she survive? How will Shin feel after knowing that Kyoukai gave all her life force to revive Shin?
We will get the answer to all these questions in the upcoming Kingdom Manga 633, so don't forget to read when it comes out.
Kingdom Chapter 632 Raw Scans Release Date
Kingdom Chapter 632 raw scans will be released on 18th February 2020 for everyone to read. The Kingdom raw scans first get released in the Japanese language which is then translated to international languages like English.
Chapter 632 English raw scans will be released soon and we will be sharing the raw scan links as soon as they get released. Feel free to read Haikyuu manga until you wait for Kingdom manga spoilers.
When will Kingdom 632 get released officially?
Kingdom manga 632 will be officially released around 22nd February 2020.
Is Kyoukai going to die in Kingdom manga 632?
She gave all her life force to do the ritual or dark magic, whatever you say. She is not dead right now but her life expectancy has been shortened for sure.