The latest chapter has been amazing and fans can't wait to read Dragon Ball Super 63. The revelations have been amazing and the opponent is tougher than ever. It's another high stakes fight!
The dragon Ball super series is live on Shueisha's v jump monthly magazine in Japan, and the viz media site in publishing it in their shonen jump digital. Toriyama and Totoyarou have created a very successful sequel to the original Dragon Ball manga.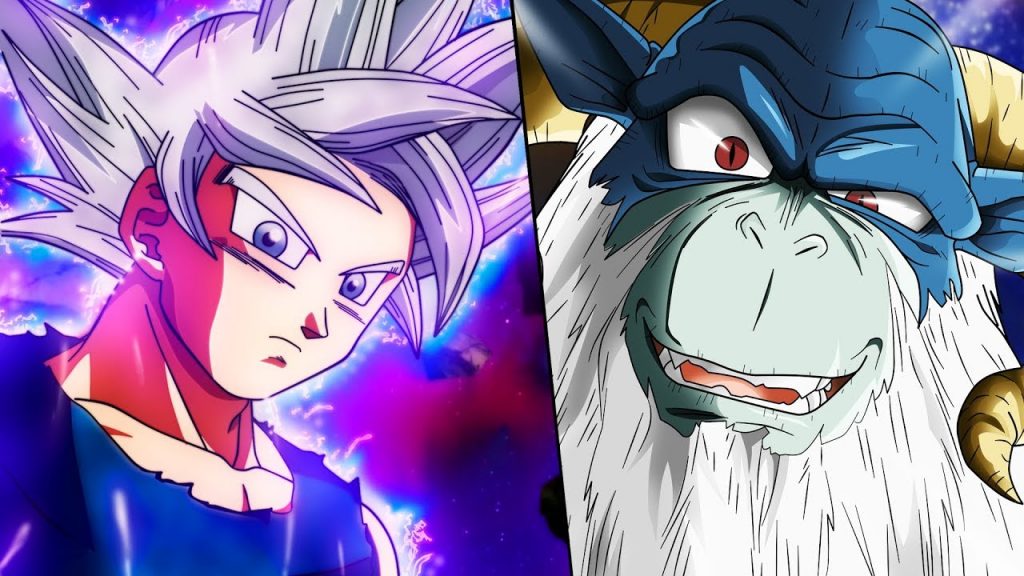 Dragon Ball super chapter 63 is going to continue this fight with Moro. Chapter 62 was a dark phase for z fighters. Goku getting a hole in his right chest and Vegeta totally getting knocked out. Moro has regained his chi and once again proven to be the most powerful wizard in the DBZ universe.
The upcoming chapter is going to be a huge one and we can't wait to read what happens next. Boruto Chapter 49 and Berserk Chapter 362 is going to be released soon so you should check them out too.
Dragon Ball Super 62 recap
We have already seen Moro eating seven-three and absorbing his ability in chapter 61 regaining his full strength might say his chi has bigger than before. In chapter DBS Chapter 63 we have seen that Moro has not only to absorb seven three's chi but his power is also added two Moro's strengths.
Vegeta being furious attacks Moro but misses it every time. It has been revealed that Moro has no time limit unlike seven-three's weakness. Moro even gets to know Dende's healing ability thus forming a doomed area around them to keep him away.
Meanwhile, Moro punches a hole in Goku's chest and knocks him out. After a devastating defeat of z fighter agent Merus lands in the end scene.
Meanwhile, Gohan reminds that Moro has Seven Three's power for 30 minutes only. So all they have to do is run out the clock. Moro reveals that there is no time limit.
He then retaliates. Grabbing Vegeta's neck from behind he proves his speed. Vegeta quickly moves out. However, Moro has already copied Vegeta's ability.
We have even encountered with a scene where Moro grabs Vegeta's neck thus copying his ability. Moro knockout vegeta with his new stolen ability big bang attack. Piccolo confirm that at this point Vegeta's forced spirit force won't work on Moro anymore, thus surpassing everyone Moro is the strongest in the universe right now.
Piccolo confirms from Moro that he has added Seven Three's powers. Goku is frustrated. Vegeta unleashes power and attacks again. Moro repeatedly dodges Vegeta without breaking a sweat. Moro knows that Vegeta's ability needs to deal damage to the opponent. Moro won't fall for it again. Vegeta is flustered.
For the time Vegeta has surpassed Goku in both abilities and strength, Vegeta has more stable and controlled chi than Goku which helped him to achieve his new technique Forced spirit fission.
It is a tear apart thing then fusion and absorption. It's actually opposite of fusion, thus breaking down chi. As result the chi Moro gathered by absorbing energy from different planets are actually getting broken down when returning back.
Vegeta has learned an ability that's actually a counter-attack to Moro's ability, giving an advantage over Moro. But not to forget Moro is a wizard with magic apart from being the strongest in the universe.
Dragon Ball Super 63 release date
DBS is a monthly manga published by Shueisha. While it doesn't appear in the Weekly Shonen Jump, it is still a viable title. It is available digitally. You can read it on Viz, MangaPLUS, and Shonen Jump app. You can also buy the volumes.
Dragon Ball Super Manga 63 official scans are supposed to release on August 20, 2020. Since there is no paper printing involved, we don't think the raws will be available earlier. And therefore, there is no need for scanlations either. Still, keep an eye on 'r/DragonBallSuper' subreddit.
Dragon Ball Super Manga 63 spoilers
As of now, no officials spoilers have been leaked. Reddit is completely devoid of any leaks or panels for DBS chapter 63. But this is just the first week; please be patient and wait for the spoiler to drop.
There will be some leaks within the next 2 weeks, we will definitely put it up on our website for you to read, so keep an eye out.
We will be sharing all the Dragon Ball Super 63 spoilers as soon as they get released. So stay tuned and read some of the fan predictions from the Internet.
Who will defeat Moro? Will Merus break his law and fight Moro? Is Goku really dead? At this moment Moro is at his peak. He is the most powerful wizard in the universe. On the other hand Merus is an angel in training whose law forbid them from fighting.
They are to stay as neutral as possible and are not allowed to use their Angel powers as long as they are in training. So it is a debatable question whether Merus will fight more or not. Dragon Ball Super Chapter 63 will shed more light on this.
We believe Goku isn't dead yet. Moro already said that he will devour Goku's energy before he passes out. Whether Merus will save Goku or not will be revealed on Dragon Ball Super 63. Until then, Goku's fate is unknown. We can only hope for the best.
Now let's look at Moro. We believe Moro has copied Goku power when he punched a hole in his chest as far we have seen when Seven-Three copies and opponent ability by grabbing his neck the background changes with a whirling pattern same background has been seen when Goku was punched a hole in his chest by more. It's just an assumption right now, but it has the backing to be true.
We will keep you updated when the spoilers drop so stay tuned and don't forget to follow us on all our social media channels.