Although most chapters of Jahy-sama won't be discouraged follow events that happen and end in the same chapter but before we can talk about chapter 42, we will have to take a look back at chapter 41, as the story between both chapters is linked.
Jahy-sama won't be Discouraged Chapter 41 Recap
The chapter starts with the magical girl slamming on Jahy-sama's door. she tries to invite jahy to her house, To which she gets an instant rejection. However after she mentions that she would give jahy back all the mystic gems that she has gathered, jahy finally accepts her offer. Now that jahy finally accepts her offer the magical girl is moved to tears.
As they walk towards the magical girl's house, excitement on her face is clearly visible and her body shakes and quivers with the thought of finally having a Friend she can bring home to play.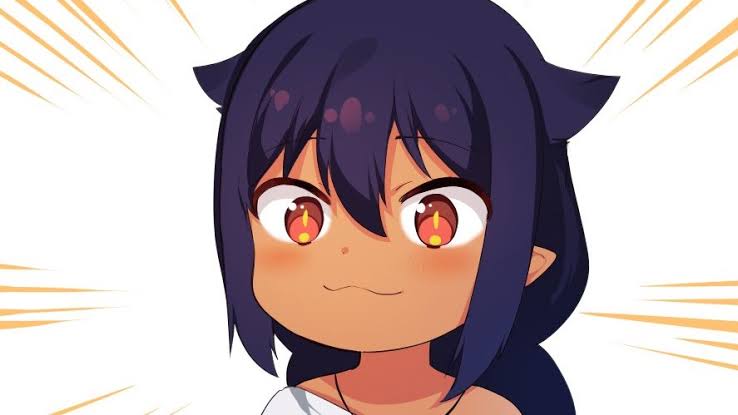 there's also a  part where the relationship between the Demon realms no.2 and the magical girl is touched for a bit with a comedic twist where magical girl starts crying on the street when jahy Says "eh? I'm your friend".
After jahy clears the misunderstanding, she asks the magical girl why she destroyed the Demon world and it is revealed that she was merely taking orders from someone. When jahy tries to pursue the subject even more magical girl changes the subject.
Jahy imagines the magical girl to live in luxury however when they finally reach her house, it is a run-down building with an aura so terrifying even jahy gets scared. Upon entering the house one after another bad thing happens due to the effect of the mystic gems. In this run-down building jahy senses something, which is then found out to be the small-statured demon lord.
She's found sipping on some noodles she stole from magical girl's refrigerator. The chapter ends with jahy hitting the magical girl in the head, as she tries to attack the Demon lord thinking of her as a ghost after which she's sent to fetch some water.
Chapter 42 spoilers and predictions
This chapter of jahy sama is going to be a rather relaxed one. jahy, demon lord and the magical girl simply be having a good time inside the magical girl's house.
Here what to expect in the upcoming chapter.
The Demon lord's character is established.
The friendship between jahy and magical girl is improving.
Magical girl orders junk food for them to enjoy. Demon lord eats all of the food but she offers some to jahy after she's done eating.
Being able to host her first Friend the magical is excited and many interesting facial and bodily expressions can be expected. Jahy almost cried but didn't get discouraged thanks to the Demon lord.
There are many lines of dialogue in this chapter unlike some chapters in the series where the art itself portraits the sequence of events. There's also the possibility of Jahy-sama and magical girl to start working together to find the remaining mystic gems.
Jahy-sama wa Kujikenai Chapter 42 Release Date
Due to New year the chapter release is currently slower than usual but it should soon be on the regular release schedule.
The release date for this chapter is yet to be confirmed as the scanlation group, translating this Manga doesn't reveal much about themselves and their releases.
We will be updating this article soon with the release date, till then don't forget to check our Black Clover and Dr stone articles and visit here whenever you want to read one piece.