So the One Piece manga 977 spoilers have finally been released and some major details regarding Kaido and his squad has been revealed.
It looks like Kaido has a child, I know we never expected it but that's how it is. Oda is making One Piece more and more exciting with every new releasing chapter and we can't wait to read what happens next.
The spoilers for the One Piece manga 977 give us more details about Kaido's squad, the flying six and Law's plan to attack Onigashima.
Today we will be sharing with you all the latest unofficial spoilers. The raw scans have finally been released and they are being translated right now.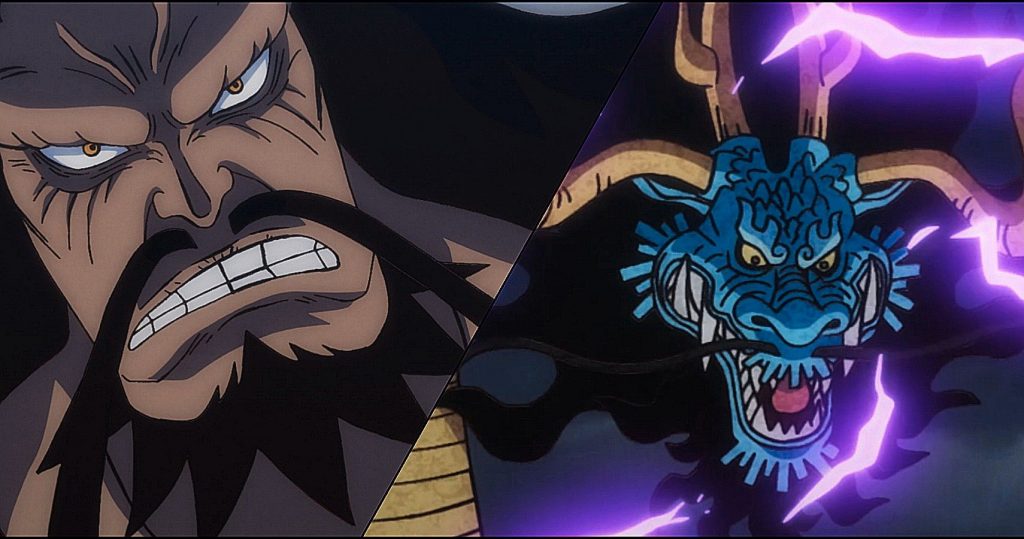 The One Piece 977 is supposed to be officially released on 12th April 2020 and you can read the official release on Viz or Mangaplus.
Various scanlation teams are working right now to translate One Piece japanese raw scans to English and that is why very few spoilers have been released.
We are sharing the spoilers we know of right now below for you to read, and we will be updating this article with more spoilers in the future. So keep visiting and most likely all the spoilers will be released today.
The spoilers for Black Clover 247 and Kimetsu no Yaiba 202 have been released as well and we will be sharing them soon on our website.
One Piece Manga 977 Spoilers
One Piece Chapter 977 is titled "the Party won't start now" and on the cover page, we see Lola and Chiffon reuniting.
The party at Onigashima will be starting soon and everyone has gathered. Even the flying six have arrived.
Till now only four raw scans have been translated. The full spoilers are not here yet for the One Piece 977 spoilers to get completed.
So here are the spoilers for the upcoming One Piece 977 chapter.
Strawhats try to start a party in honor of Jinbei joining their group buy Luffy for once asks them to not party now but once they defeat Kaido.
Kyoshiro and Kinemon are talking about the battle plans and suddely find strawhat ships getting out of sight.
Kyoshiro says that he forgot to warn the strawhats that the entrance through Tori gate is dangerous, and then there's an explosion.
The guards have been wiped out at the Tori gate and the strawhats start looking for Sake barrels to celebrate Jinbei joining the crew.
A mini map of Onigashima has been shown and Law starts making a plan and warns everyone that no matter what plans you make, there are few who will try to go through the front gates.
He is obviously talking about Luffy here as he knows how dumb and stupid Luffy is in these conditions.
In the first picture of the spoilers
Kaido: Whers is that guy?
Underlings: ??
Kaido: My son, he should atleast show his face. Its a banquet.
Underlings: We will search for him immediately.
Kaido: Yeah, have him meet Charlotte Linlin
Underlings: Big Mom is changing into a kimono.
So from the first image it looks Kaido has a son, and who would have guesses that he has a son? Anyone?
I didn't. The face has not been revealed yet and we might get to see Kaido's son's face as more scans get translated.
Who is his son? Fans were so sure that it was Katakuri but it was wrong. More on that soon.
In the second image of spoilers the flying six have just arrived on the island and that is where the One Piece 977 spoilers end for now.
More chapters are being translated and we will share them here once they are done and all the spoilers have been released for everyone to read.
Stay patient as it will take three to four hours more for the translation process.
The next chapter, One Piece 978 is on break and the release date has not been announced yet. We will keep you updated with all the One Piece manga spoilers for Chapter 977 and One Piece Manga 978 spoilers when it gets released.
In the meantime, read our articles on Solo Leveling anime and our theory on Luffy vs Kaido fight. Who will win?