Fans looking to read One Piece 983 spoilers are going to be very happy by the fact that the English raw scans are finally out and spoilers are available to read now.
This week's chapter revealed so many new things about the ongoing raid and finally the infamous Yamato arrives.
Fans have been eagerly waiting to know who Yamato is, how he looks and Oda finally decided to reveal Yamato to all of us.
In the last chapter Ulti and Page on came face to face against Luffy and fans expected a fight and that is exactly what happens and Ulti's devil fruit gets revealed as well.
The upcoming One Piece Chapter 983 will tell us a lot about how the raid is going to start and what is the mystery behind Yamato and why is Kaido so eager to find him out and brought back to the castle.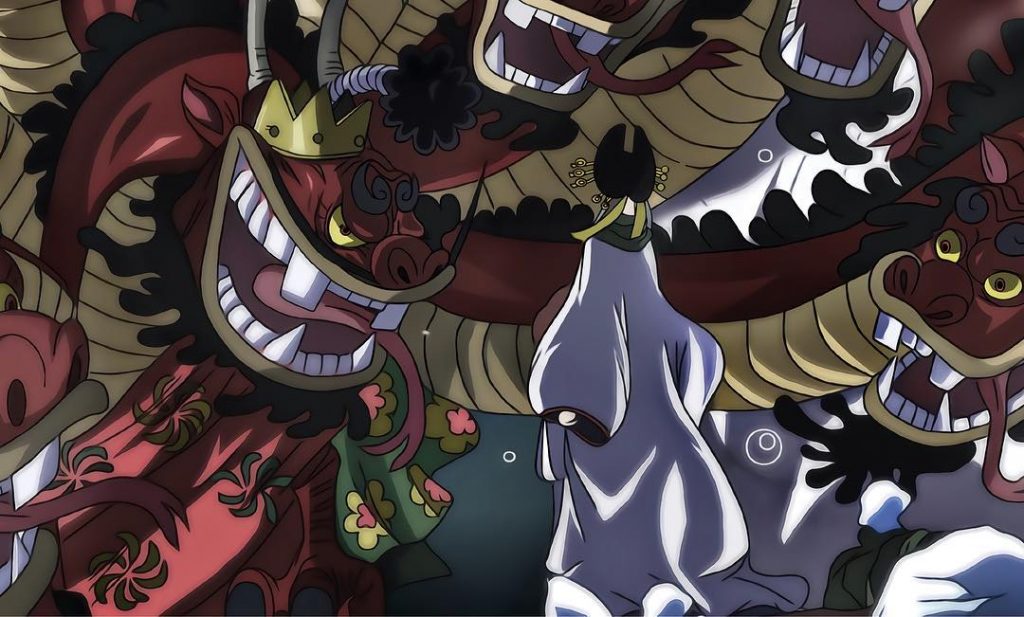 Yamato has been the subject of discussion for last few chapters and we finally get a face reveal and body reveal. To the fans who were eagerly waiting for the spoilers to be released, they are finally out and available below for everyone to read.
As we mentioned above, One Piece Manga 983 spoilers include Ulti's devil fruit reveal, Yamato's reveal and Big Mom pirates move towards Onigashima.
Talking about anime, One Piece Episode 930 has been delayed and will be returning soon as well, same with Boruto Chapter 47.
Before we move on to the spoilers and raw scans release dates, let's do a recap of the last chapter first.
One Piece Chapter 982 Recap
Chapter starts with Kaido and Orochi celebrating at the castle. Black Maria is there and Kaido asks why is he not on finding Yamato's mission, to which she replies that the rest of the flying six are already looking for him and there is no need for her to get involved.
She just wants to party with Kaido. Orochi is very happy because he thinks that he has got rid of the ghosts of Akazaya nine and they will not be back to take his head.
Orochi also informs Kaido that Kanjuro will be arriving soon, Kaido is amused that someone like him exists and there is a high chance that Kaido could have killed him but he is still alive.
Kanjuro arrives and along with him is Momonosuke, Kaido is amused to see Momo looking just like he used to look twenty years ago.
Kanjuro reveals that the Akazaya nine are still alive and this starts troubling Orochi once again. The news of four pirates being sighted at the island also gets reported and Kaido finds out who they are.
Upon asking why all has not been reported to him, they answer that Master Queen is personally dealing with all this.
Momo is beaten up and barely conscious, Orochi takes him from Black Maria and orders to prepare a crucification ceremony.
Inurashi and Nekomamushi get in contact and Neko tells him that they have finally made up the waterfall and soon be arriving at Onigashima.
We see Marco, Nekomamushi talking and also how Marco didn't need to send a message for Luffy as he has already arrived on the island.
We also see the message, it says, I might be late but I will be there. Sasaki and Denjiro run into each other and Denjiro asks his Samurai to strangle him and tells him about his identity as a Red Scabbard.
Nami is worried about Chopper getting chased by Big Mom, meanwhile prometheus finds the whereabouts of Nami. Everything seems to be going wrong for the strawhats, and meanwhile Ulti and Page on bumps into Luffy and that's where the chapter ended.
Read One Piece 983 Spoilers!
So for the first time in years, the spoilers for the next chapter has been released on the same day as the last chapter got released.
Yes, you heard it right. The Spoilers for One Piece Chapter 983 got leaked on the same day as One Piece 982.
The spoilers are here for everyone to read and let's start without wasting much time.
The title for the upcoming chapter has not been released yet, but the cover story features Lola and Chiffon meeting their birth father Pound.
Marco kicked Big mom's stream downhill and since they couldn't climb back up, Perospero is moving alone towards Onigashima island using his Candy ability to move on water.
Perospero is not happy about the alliance and moving towards the island to meet Big Mom and give her all the news.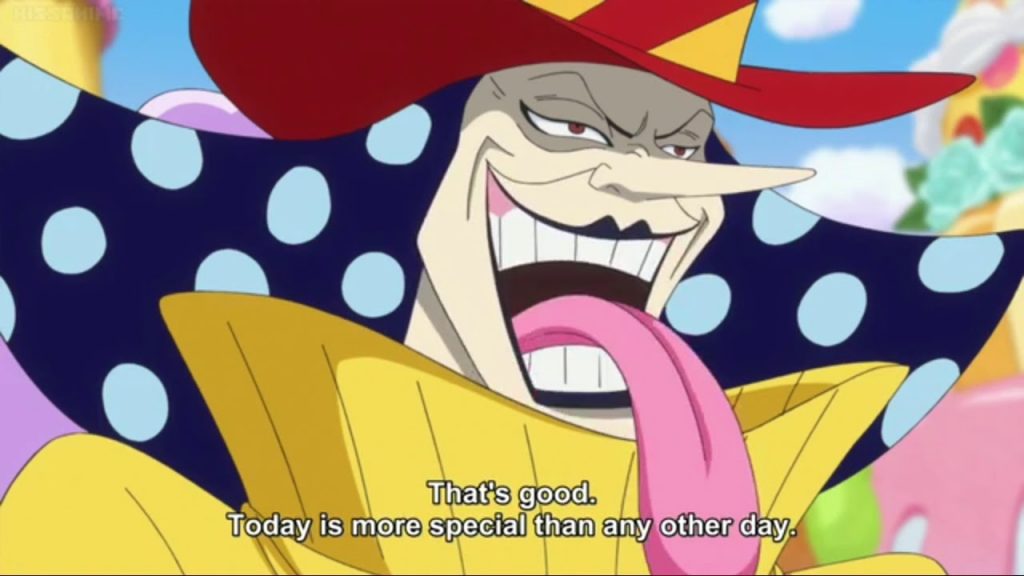 Prometheus is chasing Nami and Zeus is worried that if he goes back to Big Mom, he will be killed.
Zoro and Kid are engaging with the gifters while Luffy is occupied with Ulti of the flying six.
Ulti ate the Pachycephalosaurus Dinosaur Zoan devil fruit and we all know about Page one devil fruit.
Yamato suddently appears in front of Luffy and Ulti, and he appears wearing a Oni demon mask. Yamato attacks Ulti and makes her fall behind.
Yamato refers to himself as Boku and he picks up Luffy from there and escapes from the beast pirates.
Yamato tells Luffy that he has been waiting for him for so long. Yamato seems to be very tall and Yamato's arm length is same as Luffy's full body length.
Momonosuke is tied to a cross and is about to be executed maybe. Who will come for rescue?
So these are the spoilers we have for now and the raw scans are still being translated and we will have more One Piece 983 spoilers soon.
Fans theories about Yamato and Momo
Since the spoilers release, a lot of theories and speculations have been shared on Reddit regarding the upcoming Chapter.
Fans are confused as to why Kaido's son is siding with Strawhats? Some are calling him first commander level while someone are saying that he is not that strong.
In this fight against Kaido, will Yamato fight from Strawhats side? What is Yamato's backstory and why has he been waiting for Luffy all this time?
Maybe a backstory is pending from Oda and maybe will get to see them very soon.
Fans are also talking about how the Youtuber Joyboy shared that we might get a situation for Momo where he unlocks his hidden powers, just like how Doflamingo unlocked Conquerors Haki in distress.
Maybe Momonosuke will awaken Conqueror's Haki as well. Momo has a bigger role to play and we can't wait to see what Oda has in plans for us.
One Piece Manga 983 Raw Scans and Release date
As we all know, the raw scans usually get revealed by Thursday every week but the raw scans have been leaked early and that is why we have the early spoilers this week.
The One Piece Manga Chapter 983 raw scans willl be available to read and shared here once it gets translated. So rest easy and wait for us to publish all the links here.
We will only be sharing official links, because we support original creators so it might be a while before you read the English raw scans.
As for the official release date, One Piece Manga 983 will be officially released this sunday and there will be a break next week.
Black Clover 254 and My Hero Academia Chapter 276 will be released on the same day, so check them out as well.
So the One Piece 984 will not be released this week because of the break. We will be sharing all the latest news about this week's and the upcoming chapter on our site, so stay tuned!
What is the One Piece 983 official release date?
One Piece Chapter 983 will be officially released on 21st June 2020.
Where to read the upcoming One Piece Chapter 983?
Chapter 983 will be officially released on Viz official website. You can also read it on your smartphone by download the Shonen Jump app.
All the news regarding the spoilers and raw scans for the upcoming chapter will be updated here once released, so keep visiting and also check our article on Solo Leveling 111.